From September 15 to October 15, we celebrate National Hispanic Heritage Month by recognizing the rich heritage, culture, and many contributions of Hispanic Americans. This year, we're commemorating the month by highlighting three local Hispanic founders; Daniel Rendon of SUJO, Mia Velasquez of Commit, and Victor Abundis of Interpreter Tap. On this Hispanic Heritage Month, they reflect on culture, entrepreneurship, and community.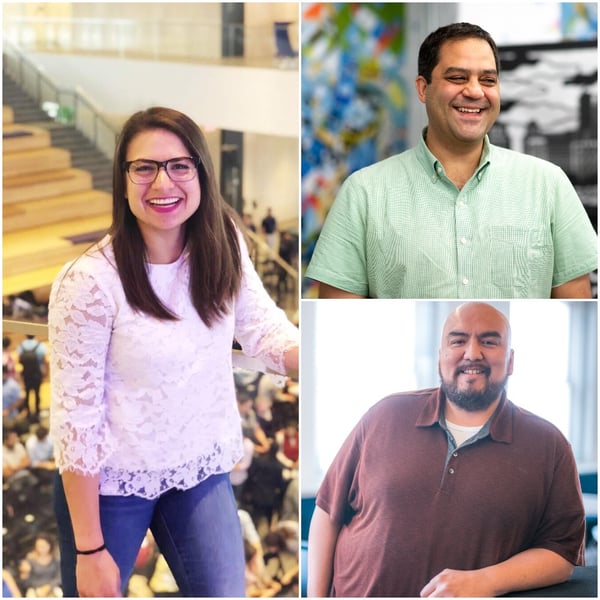 One of Daniel Rendon's fondest memories is running around the Latino Learning Center in Houston as a youth. Growing up in a Hispanic community, he learned about the rich culture behind his heritage -- which he celebrated every September during Hispanic Heritage Month.
"Hispanic Heritage Month is a time of year where we observe the unique contribution that Hispanics have made to the story of the United States and what our community has provided. People forget that a third of this country was once Spain or Mexico, and our diverse cultures have all played an influential role in American history."– Daniel Rendon, Founder and CEO, SUJO
Rendon's sentiment is shared by Mia Velasquez. As a first-generation Columbian-American, she knows that cultures, even within the Hispanic community, can often vary; that's why she says Hispanic Heritage Month is so important to her and her family.
"There's a wide range for what it means to be Hispanic. It applies to someone who's fourth generation or, in my case, to someone who's an immigrant. There's also a lot of diversity in terms of the Hispanic experience, it's not just one point of view or perspective -- it's incredibly diverse, and Hispanic Heritage Month serves as a means for all members of the Hispanic community, regardless of their background, to connect with their heritage." – Mia Velasquez, Co-Founder and CEO, Commit
For Victor Abundis, connecting with his heritage goes hand-in-hand with raising awareness. As the co-founder of Interpreter Tap, an app that connects non-native speakers with live interpreters, Abundis understands all too well the need for education when it comes to diverse cultures and ethnicities.
"To me, this month is all about bringing awareness to our community and showing our everyday struggles. It means we can highlight the people that would normally not get highlighted and it also shows the beauty of our culture to people who have the privilege that we don't. It shows them that they can stand up for us and that we'll have their back if they do." – Victor Abundis, Co-founder and COO, Interpreter Tap
For entrepreneurs like Abundis, there are business challenges that come with having a different culture and heritage. He says that, though it's important for Hispanic founders to recognize barriers in business, it's also important to stay positive.
"This month is also when I think about how my heritage applies to business, and I do believe that sometimes your race, culture, and gender can put you at a disadvantage with certain things like securing investment. You have to accept that, but don't get disheartened -- more and more, you're seeing organizations supporting minority entrepreneurs and going the extra mile to help them meet their goals." – Victor Abundis, Co-founder and COO, Interpreter Tap
Abundis' sentiment is echoed by Daniel Rendon. As the founder of SUJO, a news app that curates and summarizes news and opinion pieces from verified publications and also influencers, Rendon knows that his background has impacted the way others perceive him.
"You might have a great product, you might be very smart, but sometimes it just doesn't matter. There's cultural biases that are going to come into play and you have to be able to navigate them. At first, you'll start to feel certain prejudices because of those differences and it can make you pull away from a potential investor, partner, or customer -- but that's the absolute worst thing you can do because entrepreneurship can be a numbers game." – Daniel Rendon, Founder and CEO, SUJO
But even after recognizing the hurdles that many Hispanic entrepreneurs deal with on a day-to-day basis, Rendon says he wouldn't have it any other way.
"You have to work twice as hard and cover twice as much ground, but I'm proud to represent my community in the tech and business industries. I think that we need to see more representation from Hispanic entrepreneurs, not just because it shows people that we're out there and just as successful as other entrepreneurs, but also because it can inspire Hispanic youth to follow this path and serve as an example for youth in our community." – Daniel Rendon, Founder and CEO, SUJO
If you've seen the word 'community' pop up more than few times already, that's because it's central for many Hispanic entrepreneurs. In fact, Mia Velasquez built her entire company -- Commit -- a B2C platform for organizing social events with a focus on group payments, around the idea of community.
"The origin and personal motivation for my business is rooted in community, and I think that's a direct result of my culture. In Hispanic culture, your community becomes a family, and I believe deeply in sharing that with others. As an entrepreneur, I don't make decisions like 'this is exactly what a Hispanic entrepreneur would do!' However, I think it's fair to say that my heritage plays an inherent role in everything that I do." – Mia Velasquez, Co-Founder and CEO, Commit
For Velasquez, community roots run in the family. As the daughter of one of the Chairs for the Institute of Hispanic Culture in Houston, she plans on celebrating this year's Hispanic Heritage Month by traveling to Houston and supporting her family and community at a gala that her mother is holding.
Abundis celebrates the month with a similar plan.
"My community is everything to me. It's where I'm from and in many ways, it's who I am -- so every year, I celebrate Hispanic Heritage Month by going to the 26th Street Mexican Independence Day Parade. It's in Little Village, and I love heading over there." – Victor Abundis, Co-founder and COO, Interpreter Tap
And with each and every year, the parade reflects the progress that Abundis' community has made. He says he's particularly proud of the entrepreneurs and professionals who give back.
"There are a lot of small business owners that I've come to know, and they strive to instill a community-first mindset in their children and help our neighborhood grow. And then, I'm so proud of all the Hispanic teachers and educators who have gone to four-year universities and leave lucrative teaching positions to come back to our communities and teach. I never once had a Latino teacher growing up as a student in CPS, and it's important to have those role models growing up." – Victor Abundis, Co-founder and COO, Interpreter Tap
Indeed they are -- as a Hispanic entrepreneur, Rendon has always been inspired by pioneers from his community. And though there's a long list of Hispanic innovators and leaders, Rendon says there's one individual that stands out the most to him.
"I really admire Cesar Chavez. He was the leader of the United Farm Workers of America and he was a farm worker himself. Chavez was able to rise from a very modest role and become a big figure who made significant change. I think that's a huge influence, especially as an entrepreneur. It shows that even if you come from nothing, you can do anything as long as you take a stand on something." – Daniel Rendon, Founder and CEO, SUJO
This year, Rendon will celebrate Hispanic Heritage Month by returning to his childhood home in Houston and listening, reading, and reflecting on the many Hispanic pioneers that have contributed tremendous advancements for both the United States and its Hispanic community.
More than anything else, Rendon, Velasquez, and Abundis look forward to celebrating this year's Hispanic Heritage Month by spending quality time with the individuals who they consider their role models, inspirations, and heroes.
"My family has always been an inspiration for me and I admire them for being so active in the Hispanic community down there. They live the values that I follow and being around them, along with the tremendous community down there, is always something I look forward to." – Daniel Rendon, Founder and CEO, SUJO
"When I think about the people that I look up to, first and foremost, I think about my family. Everyone from my relatives and my parents to my older sister have served as role models for me. They've all had obstacles but they've always overcome them and just watching their work ethic and their commitment to helping our neighborhood grow is very inspiring. I'm very proud of them and what they've achieved." – Victor Abundis, Co-founder and COO, Interpreter Tap
"My heroes are my parents. They made incredible sacrifices in choosing to immigrate to the U.S. with two young children and then raise us here, and everything I do is to make them proud. As a first-generation immigrant, it wasn't until I started working myself that I realized how much my parents went through to build a good life for us -- they came here with very little knowledge of the culture, the rules, and even the language. I'm in awe of what they've achieved and their sacrifices drive and motivate me every day." – Mia Velasquez, Co-Founder and CEO, Commit
Here at 1871, we echo their views. This Hispanic Heritage Month, we honor the heroes and pioneers from the Hispanic community -- past, present, and future.
If you'd like to connect with our Hispanic entrepreneur community, make sure you attend our Celebrando La Innovación event series, a free series of five events celebrating Hispanic Heritage Month built in partnership with the Illinois Hispanic Chamber of Commerce (IHCC).