There's a lot of fake news out there today. Take Twitter as an example -- recent studies show that false information spreads six times faster than the truth on the social media giant. It's an issue that Daniel Rendon, a former CBS employee and current CEO of SUJO, plans on solving. In this article, he takes a look at the very real impact of fake news and how we can prevent fiction from turning into fact.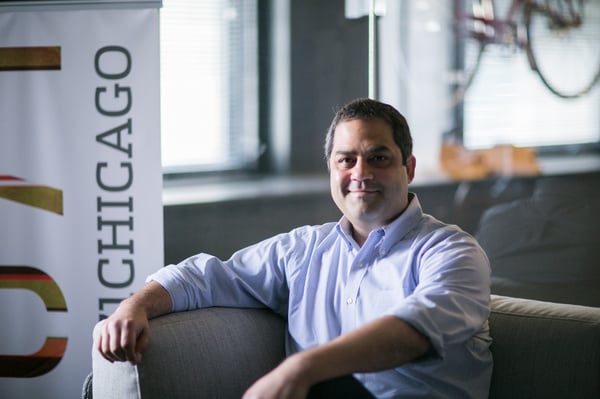 While the current president may have popularized the term 'fake news,' it's important to remember that journalistic publications and outlets have been manipulating the truth for decades. In fact, you might be surprised to learn that Joseph Pulitzer, the famed reporter and publisher of which journalism's highest accolade -- the Pulitzer Prize -- is named after, pioneered one of the largest and most successful fake news campaigns in American history.
And though it's been more than a century since Pulitzer's less-than-honest practices, it's safe to say that there's some truth to the phrase that 'the more things change, the more they stay the same.' However, there are two things that exist today that weren't around during Pulitzer's time: digital technology and Daniel Rendon.
"I think it says something when nearly 75 percent of Americans believe that there are overwhelming inaccuracies and misinformation in the media and the news. We are in a crisis of trust and that's creating a lot of division over what's true and what isn't. We know that people are more hungry for information today than they were in the past but unfortunately, they're being fed a poor media diet."
Rendon makes a good point; in fact, almost seven out of every ten Americans are worn out by their daily stream of news and staying on top of what's real and what's not. After hearing one polarizing conversation after another about weekly headlines, Rendon left CBS to start working on SUJO, a platform that could help people navigate what he calls a 'post-truth news environment.'
"We're at a moment where people have a hard time separating objective truth from influencer opinion. SUJO solves that problem by curating and summarizing fact-verified news, opinion pieces from influencers, and creating a platform for users to provide their own feedback or reactions to the news."
With a mission statement to create more empathetic and more informed communities, SUJO works as an app with a Twitter-like feed that features news streams and both user and influencer posts. Rendon has a team of professional journalists who check facts, verify sources, and summarize news articles before posting them to the app. To make user navigation easier, each category -- news, opinion, or user post -- is separated by color; for instance, opinion pieces are highlighted in purple while news stories and updates are in blue. Rendon credits CTO Vlad Filippov and his tech consultancy Spark Equation for building out the app.
So far, SUJO's exceeded expectations. Rendon says the app has performed well and if SUJO's thousands of downloads are any indication, his rapidly growing user base will only continue to grow. Although he's happy with the app's progress, Rendon hopes his platform will launch conversations that can eventually spur social change.
"I grew up in Texas and Texas has very diverse families and very diverse politics. That instilled in me a desire to consume objective-centric news or opinions that I differ with -- I wanted to understand where others were coming from. What I've come to learn from that experience is that there's a lot more middle ground in our society than we realize, and I want SUJO to help others see that, or at least see things from another perspective."
And as one might expect, social change can take a lot of work. However, Rendon's put in his hours and then some. His entrepreneurial journey started at Fullstack Academy, where he learned about -- and eventually joined -- 1871. Having attended a number of classes and workshops, Rendon also attended and graduated from the third cohort of the LatinX Incubator (formerly known as the Hispanic Tech Incubator).
"When I was starting SUJO, I didn't really know much about the startup world and I didn't come in with a team or a strong network. Fast-forward to today and I've been able to build those connections. In fact, many members of my current team are people that I met at 1871."
Like many entrepreneurs, Rendon focused on building his network, business, and community around people who have similar ideals and principles. For Rendon, that means mission before money.
"It isn't that money isn't a motivator. You have to be realistic, but if you don't believe that there's some bigger purpose for your project or for what you're doing, then you're missing the passion ingredient -- and if you don't have that, you're going to have a rough time."
Along with passion, Rendon believes that the most important qualities an entrepreneur can have are initiative and accountability. He says that both traits have helped him transition from employee to entrepreneur.
"I had worked in corporate my entire life so when I decided to start my own business, I knew that feedback was important. To get that, you have to be proactive. Test as much with as little as possible so you can learn from it. Talk to people about your idea to see if they see the same things you do and learn from that. You won't know what works unless you take those first steps. And then, hold yourself and others accountable. You can have people waste a lot of your time so make sure you set deadlines and benchmarks."
And Rendon's right; it's important to hold people accountable -- particularly those who report the news and disseminate facts. Fortunately, you can now do that at the touch of a button.
Interested in joining Chicago's tech and entrepreneur community? Check out our membership options or book a tour to learn more.