Stephanie Choporis, Co-founder and Managing Editor of Happenstance, shares her thoughts on why spontaneous, authentic stories are the future of journalism.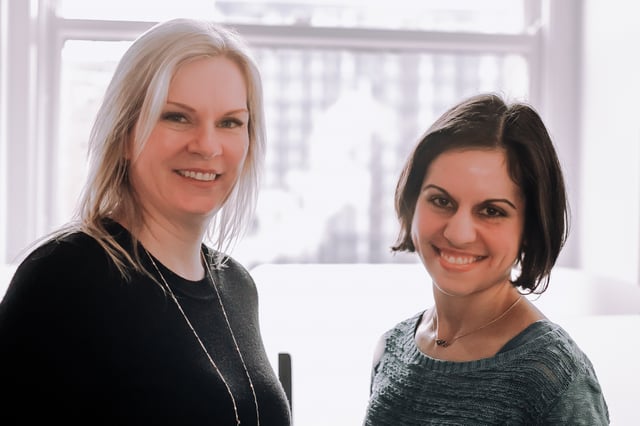 Stephanie Choporis (on the right) is pictured here with fellow Happenstance Co-founder, Kathy Bartlett
When Stephanie Choporis came up with the idea for Happenstance -- an app that tells real-time, spontaneous audio-journalism stories, she didn't know that she'd be taking the first step in her entrepreneurial journey. At the time, Choporis was a journalism student who had her heart set on becoming a feature writer or reporter.
"Happenstance started as a class project. I was studying at Northwestern and I had a class project where we had to come up with new media products. Well, halfway through the class, our professor actually brought in an early-stage investor to give us all feedback on our projects. The investor told my team that our project was most likely to succeed and offered to work with us on an advisory basis to build it out."
Equipped with geolocation technology, Happenstance allows users to hear and tell short, mini-feature audio stories that run from 30 seconds to roughly two minutes. It's a quick and easy way for residents to stay informed about local events and listen to fun, quirky stories about their neighborhoods. However, Choporis quickly found that news hounds weren't the only ones interested in the app.
"As we started digging deeper, we also found that Happenstance could help a lot of local businesses advertise to their customers. We found that, for brick-and-mortar businesses, Happenstance was a platform that could help them reach people right outside their doorstep."
After finding her audiences, Choporis got to work. There were plenty of long days and late nights; nothing out of the ordinary for a seasoned entrepreneur. Except, Choporis wasn't a seasoned entrepreneur -- in fact, she didn't have a day's worth of experience in the tech or business sector. While some of her peers had already become startup veterans, Choporis had to learn her trade through a trial-by-fire. While she struggled at first, she cites preparation and readiness as two of the biggest factors when it comes to running a successful business.
"I didn't know what I was getting into until I got in it, so to speak. One of the most important things I've learned is that you always want to understand what you're getting into before you actually make the leap. You have to really make sure you have the right reasons for starting a business because passion wavers."
And while Choporis has always had the passion, she admits that -- at first -- she didn't have enough prowess. But as a member of WiSTEM, 1871's accelerator program for women-founded businesses, she's expanded her entrepreneurial capabilities and now recognizes, and quickly overcomes, challenges that would have been obstacles in the past.
"Since I've gotten into the program, I've started working on real-life scenarios and practical challenges that are key for entrepreneurs. I've gotten so much out of this program and coming into WiSTEM as a sponge, I've absorbed a lot of very valuable lessons."
Although Choporis is learning how to build businesses, she hasn't forgotten her journalistic roots. Happenstance evolved from her prior experience reporting stories, where she found that the best stories are often the ones that you never hear about. Choporis wanted to build a platform to tell those smaller, more localized stories; after all, most city residents could probably list off a number of politicians, athletes, and celebrities, but couldn't name their neighbor right across the hall.
"We talked to Chicagoans who had lived here for a few years and also Chicagoans who were new to the city, and what we found was that most people wanted to know what was going on in their neighborhood, what was going on in their immediate vicinity, and they wanted to learn more about their community."
And while there are plenty of great, local tales to tell -- Choporis says that her story is just beginning.
"We're shooting to launch a beta in River North within the next month and if all goes well, we'll want to expand and blanket the entire city with all of these stories. From there, we'll probably look to launch in other major cities -- in and maybe even outside of the United States. It's an exciting time."
Learn more about WiSTEM and the other companies of Cohort 6.