Today we kick off the sixth cohort of WiSTEM, the 1871 accelerator program that has graduated five cohorts, supported 64 companies and 72 individual women, and raised more than $10 million in capital collectively since the program's inception in Fall of 2015.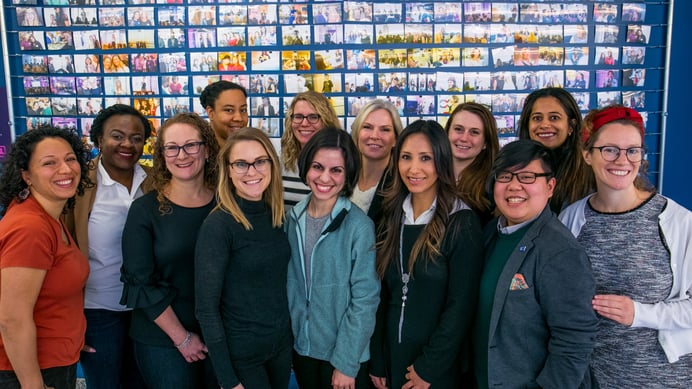 The 14 entrepreneurs for Cohort 6 will undergo a rigorous 12-week program starting today which will include curated programming, mentorship, and facilitated introductions to key corporate and venture partners. The program will culminate in a community showcase event open to Chicago's tech leaders, supporters and potential investors at 1871.
About the Companies:
I can't wait to engage with other female entrepreneurs; I want to hear how they solve problems within their industries, how they celebrate their wins, and see how I can incorporate their learned skills into my everyday. —Rachel Struna, AptAmigo
I wanted to learn from those who have more experience than I do when it comes to creating sustainable businesses. Also to successfully build Dresscode we need the brightest minds around to help us grow and scale. Knowing the reputation of WiSTEM and 1871, I knew it would give me the opportunity to cultivate lasting relationships with the cohort and other talented tech leaders in Chicago. It is an honor and a privilege to be part of WiSTEM C6! —Kayte Malik, Dresscode
As an experienced executive but a rookie at tech and entrepreneurship, I have learned a TON since starting Jugl in January, yet it is humbling how much I still need to learn. I am the MOST excited about building relationships with other women going through the many of the same experiences and challenges as I am right now (this entrepreneurship life is not for the faint of heart!). I know the comraderie, peer mentorship and encouragement that we will be able to provide each other will be invaluable. —Amy Rosenow, Jugl
We are excited for the opportunity to join a community of female entrepreneurs as well as the 1871 ecosystem. We're looking forward to learning from the cohort's experiences, and can't wait to see how Provide grows over the next three months. —Hannah Meyer, Provide
I have had the privilege of meeting many WiSTEM alumni who described not only the immense value the program added to their startup journey, but also about the meaningful relationships they build with other female entrepreneurs that have last out the program. As a first-time entrepreneur, I could use both -- the business rigor and the emotional support! —Disha Gulati, Style545
I'm most looking forward to the connections we will make as a cohort and meeting other female entrepreneurs. I'm particularly interested in sharing experiences navigating the tech industry and how to engage with investors or clients that are male-dominated. —Jessica Chung, Trax MRE
I applied to this program to get a range of perspectives about what I am doing and how I can do it better. I am looking forward to being a part of a network of entrepreneurs who can provide mentorship and guidance as I work to create a sustainable business. —Florence Hardy, truCrowd Illinois
I applied to WISTEM because I wanted to grow together with other women entrepreneurs who are in the same boat as I am. Entrepreneurship is a lonely journey and having other women share and help each other succeed would make it so much more fulfilling. I am looking to learn from my team, instructors and mentors and full utilize the 1871 resources to get to revenue asap in 2018 and get prepared to grow fast. —Deepa Kartha, Zinda.xyz
Led by co-facilitators Jessica Williams and Ms. Tech Founder Nicole Yeary, the WiSTEM curriculum is built upon three pillars: community, technology and access to capital. Each week the cohort gathers at 1871 to receive training, ask for assistance and networking connections and celebrate their successes. The curriculum focuses on all aspects of the startup process to prepare the founders as they begin to seek investment, gain customers and expand their companies. The program is also supported by Ms. Tech, Yeary's network of women entrepreneurs and includes "Ms. Tech Mastermind" programming that brings in inspiring and successful female leaders, as well as other resources provided by the organization.
"With every new cohort, our expectations continue to be surpassed, both for the caliber of the businesses applying as well as the incredible diversity of backgrounds and industries represented. The enthusiasm they bring to the table is evidence of the very real value that the WiSTEM program delivers to women entrepreneurs in Chicago." —Howard A. Tullman, CEO, 1871
Interested in learning more about WiSTEM? Check out 1871.com/wistem.