For many people, shopping is therapy -- and just like a good therapist, the best retailers are the ones that truly understand their customers. Unfortunately, that doesn't happen as often as most retailers or shoppers would like. Fortunately, Geetha Natarajan, CEO and Co-founder of WishYourPrice, is using her magic to help retailers step into the shoes of their consumers and get a feel for what they really want.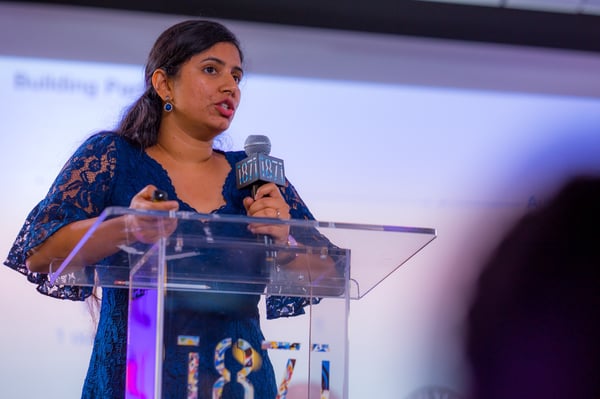 Of all the demographics who don't understand each other, no divide is as great as the gap between shoppers and retailers. On one hand, 31 percent of all shoppers say that they'd wait as long as it takes to purchase a product for the right price; yet, on the other hand, retailers send 52 percent of weekly or monthly promotions to shoppers who would have paid a higher price. While this might seem like a classic mix-up between buyer and seller, Geetha Natarajan believes that this miscommunication can have costly consequences.
"What you see is that a lot of merchants miss out on potential revenue through incorrect/non-optimized promotion and pricing. This is particularly true in the e-commerce space where there is a significant cart abandonment rate. The disconnect happens mostly because retailers don't understand their customers' intent to buy and their willingness to pay."
To help entice customers, many retailers will offer flat discounts -- which doesn't always mean more profit. But despite the best efforts of retailers, Natarajan saw that the biggest obstacle for most sellers was that they couldn't look at the shopping experience from the buyer's point of view.
"You have to increase the conversation between retailers and customers so that both parties are on the same page. There's no way a retailer can provide the right discount for a customer if there's no communication and there's no way a customer can get the right discount if they can't interact with the retailer."
Having realized the problem, Natarajan quickly began working on a solution. By building a platform with patent-pending technology, she provided shoppers with a way to 'wish' -- or express how much they're willing to pay -- on a product of their choosing and know instantly if that worked. For shoppers, Natarajan's platform provides an opportunity to shop, and save, on their favorite products. For retailers, it provides an opportunity to increase their bottom line and customer loyalty.
"We've seen a 12 to 18 percent increase in profit within companies that use WishYourPrice. The profits of those retailers continue to climb as they reduce the number of abandoned carts by offering their customers the right discount."
As a SaaS platform, WishYourPrice works on an annual or monthly subscription basis and the integration is quick and simple. Retailers can integrate the software onto their own e-commerce website powering a premium experience that can be extended exclusively to just a portion of their customer base (think, top customers) or to everyone. Then, when a shopper visits their site to purchase an item, they can punch in the price that they're willing to pay. From there, WishYourPrice's AI driven decision engine will either approve of or refuse the shopper's price instantly depending on a series of factors. What's more, WishYourPrice also gathers and sends information to retailers about how much shoppers are willing to pay for a certain product along with discerning the serious shoppers from the casual ones – to optimize marketing spend & retargeting.
"Our patent-pending technology helps retailers get instant access to data points like real time willingness-to-pay, purchase intent strength etc. directly from each individual shopper that they don't get from any other marketing tools or platforms today so retailers can better understand the demand and price perceptions that shoppers place on their merchandise to unlock higher customer value. This helps merchants in two unique ways; first, it cuts down on inventory and customer acquisition costs, and second, it helps them match the right shopper with the right promotions."
With a variety of offerings, WishYourPrice is becoming a popular asset for many merchants. Still, Natarajan has some big plans for her company -- such as expanding internationally and collaborating with major market retailers like Macys and Nordstorms of the world. Given the scope of her objectives, Natarajan thought it best to expand her entrepreneurial network and joined WiSTEM, 1871's 12-week accelerator for women founders.
"I've been learning so much at WiSTEM. It's a program where you can share your challenges and get feedback from a community of knowledgeable and accomplished women entrepreneurs. It's really helpful from a practical standpoint, but as a woman entrepreneur, it also inspires me to achieve greater things."
That's not just talk -- Natarajan is in talks with a number of potential high profile clients right now. And with a rapidly growing team, it seems like Natarajan herself is poised to serve as inspiration for future women entrepreneurs.
"I always say that having a clear mind and a positive attitude are the keys to success. If you can stay clutter-free and optimistic -- but still realistic -- during your toughest times, you can achieve anything. The right awareness, the right attitude, and having an open mind are the qualities that you consistently find in a good entrepreneur."
Learn more about WiSTEM and the other companies of Cohort 7.