1871 is excited to announce the 12 incoming companies that will make up the seventh cohort of WiSTEM, an accelerator program that connects women entrepreneurs to capital, community, and technology resources.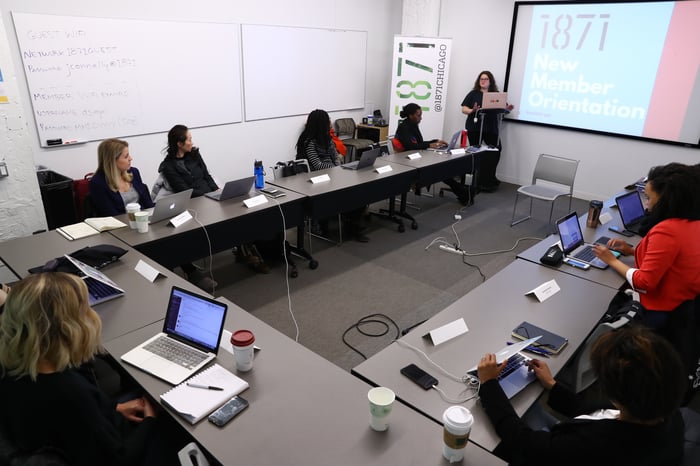 WiSTEM C7 starts their first day of programming.
The 12 entrepreneurs of WiSTEM Cohort 7, or C7, will participate in an intensive 12-week course that includes curated programming, mentorships, introductions to potential investors, and a culminating showcase event in front of local tech and business leaders at 1871.
"I spent much of my first two days in the role of CEO meeting with and selecting our next cohort of women entrepreneurs, and I am in awe of the talent, energy, and commitment that this group brings to solve challenging, important problems. We've seen many success stories come out of the WiSTEM program, and we're confident that this cohort will have a tremendous impact." – Betsy Ziegler, CEO, 1871
Member companies in C7 include:
"I'm delighted to join WiSTEM C7 and collaborate with other high caliber entrepreneurs, especially as we work together to drive our revenues upward and sharpen our messaging. I'm looking forward to giving my knowledge and energy, and likewise learning from fellow cohort members and beyond." – Sara Taylor-Demos, CEO and Co-Founder, Cora
Led by WiSTEM Facilitator and Ms. Tech Founder Nicole Yeary, WiSTEM gather each week to receive training, assistance, mentorships, and networking connections, as well as to celebrate and share in their successes. The program covers all aspects of the startup process and prepares founders for critical tasks like customer growth, company expansion, and strategic investment.
"I'm impressed with and inspired by the 12 companies and innovators participating in WiSTEM's seventh cohort. I look forward to working closely with all of the powerhouse entrepreneurs in this cohort, and providing them with the resources, insights, and connections that will help them join the growing number of successful businesses in Chicago and the greater Midwest." – Nicole Yeary, Facilitator, WiSTEM
To date, WiSTEM has graduated 76 companies and created more than 250 jobs. Collectively, participants have raised more than $10 million in capital over six cohorts. In addition to the WiSTEM program, 1871 has launched a number of major efforts to support and empower Chicago's women entrepreneurs and business leaders including ChiBuys, a first-of-its-kind program supporting women- and minority-owned food vendors, and a collaboration with the YWCA to expand sexual harassment awareness initiatives for businesses throughout the Chicagoland area. Furthermore, the 1871 team strives to make diversity and inclusion a priority in their recruiting efforts, events, programming, membership, and every other facet of the organization.
Learn more about WiSTEM at www.1871.com/wistem.