Disha Gulati, CEO and Founder of Style545, is helping shoppers save time and save stress with a personalized, stylist-approved online shopping experience.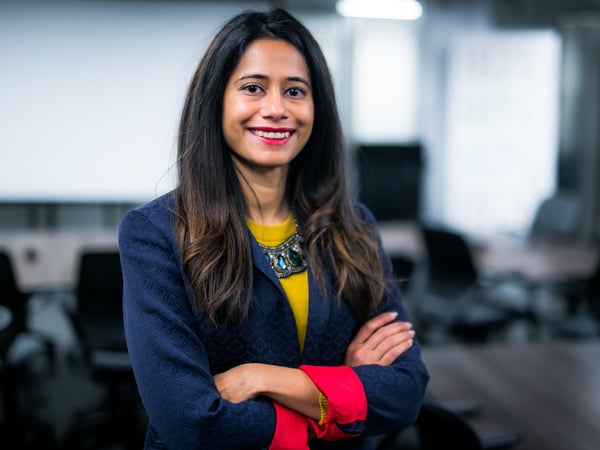 If you've spent hours upon hours trying on clothes then you're already familiar with everyone's not-so-favorite shopping struggle -- finding that perfect style and fit. That's a problem that Disha Gulati, a self-described 'certified shopaholic,' decided she would solve when she realized that she was spending too much time in fitting rooms.
"The average person spends five minutes and 45 seconds in a fitting room -- that's where the name comes from, and I really wanted that time to be productive. Sizes are so non-standard that ordering exclusively online often results in a rinse and repeat cycle of buying and returning. What's more, the inefficient in-store experience hasn't evolved in a very long time."
As a seasoned leader with extensive management consulting and consumer product experience, Gulati leveraged her industry expertise to build a company that could help shoppers cut through the clutter and only be exposed to fashion choices that were relevant -- creating a more efficient shopping process for both shoppers and retailers, which makes Style545 just as effective as a B2B platform as it is for consumers.
"I identified a consumer need but I also saw a gap in the retail ecosystem. Retail has been going through a low point lately and you see a lot of decline in sales and foot traffic."
So Gulati got to work creating a shopping platform that was uniquely backed by data and personalization and also easily integratable into the digital landscape of any retailer. She wanted to ensure that her platform was personalized to the individual needs of each, so that users could engage in a targeted online browsing experience based on their personal style and shopping preferences.
She started by assembling a strong mix of stylists and tech experts who could combine the convenience of online browsing with the accuracy of in-store fit and personalization. Next, Gulati built a platform where shoppers could input personal preferences (such as the occasion they were shopping for), budget, and desired styles which could be instantly browsed through personalized looks; she ensured that customers could easily order these stylist-curated looks to try on at their nearest clothing retailer. And now, she's ready to take her business to the next level.
"One of the reasons why I joined WiSTEM was to grow my business. I knew a lot about running an already-scaled business, but I didn't know much about starting something from the ground up. WiSTEM definitely gives you that startup 101 knowledge, which has been so valuable for Style545."
Gulati came to WiSTEM, 1871's accelerator program for women-founded businesses, for two major reasons; the first was to learn best practices for her startup and the second was because she wanted to connect with the program's growing community of over 3,000 women.
"I really loved the sisterhood that developed. We actually have a Slack channel with 97 women entrepreneurs from all six cohorts, and you can literally ask any question on there and someone will answer it. There's incredible value in our network -- after all, where else can you find a connected network of so many women entrepreneurs in Chicago?"
Having recently graduated from WiSTEM's sixth cohort, Gulati says that the depth of experience among WiSTEM members has helped her learn valuable entrepreneurial lessons that she's applied to her company. On the flipside, Gulati -- who held multiple roles at Mondelez International as the Director of Global Analytics and Director of Strategy, Enterprise Business Services -- has also shared her own professional experiences and expertise to to assist fellow WiSTEM members.
"I take pride in helping others, because I think we all need help at some point in our lives. One of the things that I am learning to develop is a mindset where you 'hold your position lightly.' That's when you have conviction in your idea, but enough flexibility and clarity of mind to pivot if there are signs that are telling you to reconsider something. It's a bit of a fine line; you have to have personal conviction, but at the same time, you can't get married to your ideas."
You can, however, get married to that new pair of jeans that you've had your eye on -- after all, now you can rest assured that it's a perfect fit.
Learn more about WiSTEM and the other companies of Cohort 6.