Jugl CEO and Co-founder Amy Rosenow is on a mission to make things easier for working parents and bring back the 'life' in 'work-life balance.'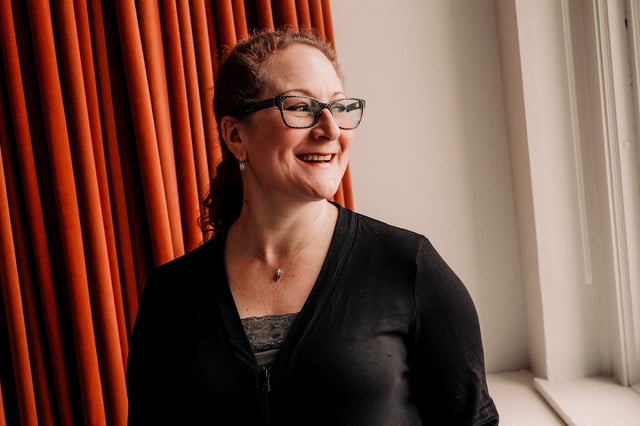 Take a quick moment to close your eyes and imagine this scenario: you're a parent of two young children, married to a busy neurosurgeon, a dog owner, and both the COO and CCO of a billion dollar hedge fund. If you're feeling stressed just reading this, imagine how Amy Rosenow -- who had to juggle all these different roles -- felt when she wanted to just sit back and catch up on Netflix.
"Being a working parent means that you're always trying to provide for your family, provide your kids with opportunities to grow and develop, provide your company with value, and, at the same time, have a life of your own. You get very, very busy."
Rosenow quickly realized that she had to streamline a number of daily tasks, both at home and at the office, in order to stay on top of everything. So, like most of us, she turned to tech -- hoping that the latest apps and programs could help her better manage her busy modern household. However, Rosenow found most of the existing technology underwhelming and decided that if she couldn't find a better way, she'd make one.
"I was compelled to create a better platform to manage lives of busy modern families because I was trying to solve my own problem. I was seeing all this time-consuming work that I could cut down on by streamlining information or improving coordination, and I knew that we could offer a lot of value for other working parents."
That's when Rosenow met Peter Jameson, father of four and, at the time, manager of a business development team at Hewlett Packard. The two realized that they shared a similar struggle. With years of combined leadership experience under their collective belt, they made the decision to launch their own company -- and thus, Jugl was born.
It wasn't long after founding Jugl that Rosenow learned about WiSTEM. Having been an 1871 member for some time, she had been to a number of WiSTEM showcases and, impressed by what she had seen, decided it was time to join the accelerator program.
"By far, the best part of WiSTEM is the community of other women and knowing that you are not alone with your fear, your doubt, your confusion, and your highs and lows. You know that there are other people sharing a similar experience and that's very powerful."
Rosenow says she plans on using her experience at WiSTEM to eventually turn Jugl into a solution that employers will want to provide for their employees. And though the path of an entrepreneur isn't always easy, Rosenow believes that you can head down any road -- no matter how rocky -- as long as you put one foot in front of the other and keep going.
"The best things in life happen when you are excited and terrified at the same time; my sister-in-law likes to use the immortal words of Dory in Finding Nemo -- just keep swimming."
Learn more about WiSTEM and the other companies of Cohort 6.