1871 is excited to announce the launch of its Chicago Blockchain Initiative, a program that will expand its blockchain offerings with specialized workshops, mentoring, events, meetups and more.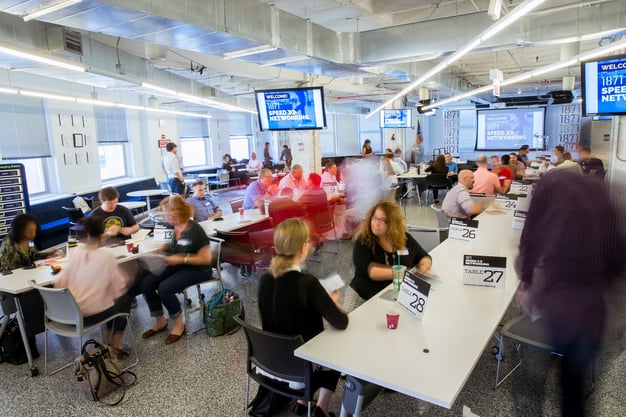 Through the Chicago Blockchain Initiative, 1871 will help drive the national discussion around blockchain and its role in tech and entrepreneurship. The initiative will be open to all members of the 1871 community.
"As the number one incubator in the world, we have a responsibility to provide education and resources around the major technologies that are shaping our community. The Chicago Blockchain Initiative will give our members the training, insight, and tools that they need to fully comprehend and leverage blockchain technologies within the innovation ecosystem." – Howard A. Tullman, CEO, 1871
As part of the initiative, 1871 will partner with the Chicago Blockchain Project (CBP), a local blockchain and crypto community, to develop blockchain-focused educational programs, digital content, workshops, media opportunities, and events.
The collaboration will expand 1871's blockchain offerings to include:
Curated programs, workshops, and activities for 1871 members and partners.

Increased communications and recruiting efforts surrounding blockchain.

Designated spaces for blockchain meetup groups.

Efforts to increase blockchain-focused members.

One public facing blockchain event each month.

Educational training and classes.
"We're thrilled to partner with 1871 and work alongside the leader in Chicago's tech and entrepreneur communities. With this partnership, we're able to reach and enhance the blockchain experience for an even greater portion of innovators, builders, and pioneers." – Joe Hernandez, Founder, Chicago Blockchain Project
Hernandez will provide a special presentation for the Chicago Blockchain Initiative's first event, Building Chicago to be the Blockchain Capital of the World, which will be held at 1871 on April 10. Hernandez's presentation, titled Blockchain Concepts You Need To Understand, is a basic introduction to blockchain technology and its use for entrepreneurs. The CBP will also support 1871's efforts to grow its blockchain community by adding at least 20 blockchain mentors to 1871's mentor roster.
"I'm honored to be a mentor with 1871's Chicago Blockchain Initiative and add value to a program that will grow and expand blockchain's offerings in the Midwest. I'm passionate about innovation, and I look forward to helping Chicago's growing community of entrepreneurs leverage relevant tech and business trends like blockchain." – Rumi Morales, Advisory Board Member, Chamber of Digital Commerce
In addition to the Chicago Blockchain Initiative, 1871 has launched a number of efforts on blockchain including The Basics of Blockchain & Bitcoin, the first of a four-part educational event series launched in collaboration with the Sun-Times Media Group and Behind Bitcoin: Why Your Cash Is Going Digital, a blockchain presentation capping 1871 and UNIQLO's joint Chicago Made event series. 1871 also marked the launch of its Fintech Forum, presented in partnership with Capco, with a discussion on blockchain's real-world applications and its potential to revolutionize the business world.
Reserve your spot for the Chicago Blockchain Initiative's first event, "Building Chicago to be the Blockchain Capital of the World," right here.