1871 joined UNIQLO today to announce Chicago Made: Innovating for Tomorrow, a free series of four events that will cover topics on global tech trends, sustainability, retail, and social impact, as well as how Chicago-born innovations are impacting the landscape. Beginning February 8 and running through March 1, the series will feature 1871's senior executives and key members of the community who will speak and participate at each event.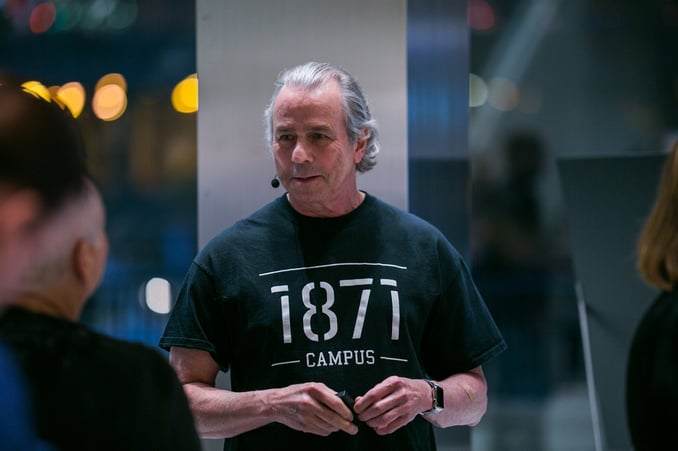 1871 CEO Howard A. Tullman, who will kick off the series on February 8, 2018.
The event series, which marks the second collaboration between 1871 and UNIQLO, affirms the apparel brand's commitment to creating a more inspired, culturally relevant shopping experience which is specifically tailored to the Chicago community.
"We're honored to once again join UNIQLO in an effort to drive engagement and value for the innovators and designers in our community," said 1871 CEO Howard A. Tullman. "Working closely with UNIQLO, we're able to share our knowledge on relevant tech and business matters with creators and pioneers who embody the same entrepreneurial spirit as our members at 1871." —Howard A. Tullman, CEO, 1871

The Chicago Made series includes the following events, all hosted at UNIQLO's Michigan Avenue global flagship store and held from 6 p.m. - 7 p.m. CDT.
February 8: "Futureproofing Your Business" by Howard A. Tullman, CEO, 1871
February 15: "Breaking Ice: Improving Inclusion at Work" with Julie Felix, Manager of Diversity and Inclusion, Mesirow Financial, and Tom Alexander, COO, 1871
February 22: "Chicago Made Better: Entrepreneurship for Social Good" a panel discussion featuring a dynamic group of Chicago entrepreneurs with social impact missions
March 1: "Behind Bitcoin: Why Your Cash Is Going Digital" by Joe Hernandez, Founder of the Chicago Blockchain Project
The event series will also kick off a coat drive from February 8 - March 1, reflecting both organizations' commitment to sustainability and giving back to the community. Customers are encouraged to bring in gently-used outerwear that will be donated to Cornerstone Community Outreach.
"We are excited to build upon our partnership with 1871 and open the door for thought-provoking conversations that will benefit our customers and community. UNIQLO's mission is to create innovative, high-quality apparel that improves the daily lives of its customers. Through hosting this event series, we look forward to providing local innovators with the ideas and tools they need to make a positive impact in the tech and business industries." —Victoria Simpson, General Manager, UNIQLO Chicago North Michigan Avenue Store
RSVP here.
This announcement is made shortly following an official partnership between 1871 and UNIQLO announced November 8, which involves the display of products from five 1871 member companies at UNIQLO's Michigan Avenue store. 1871 also recently partnered with the Apple Michigan Avenue store to provide a similar, month-long series on entrepreneurship as part of Today at Apple: The Chicago Series.
Interested in other awesome events? Check out our Upcoming Events calendar.