The Chicagoland Entrepreneurial Center and 1871 are thrilled to announce that 1871 will be one of three Chicago institutions to partner with global apparel retailer UNIQLO, with visual displays from five innovative and design-forward 1871 member companies to launch inside the brand's three-story, 60,000 square-foot flagship store on Michigan Avenue.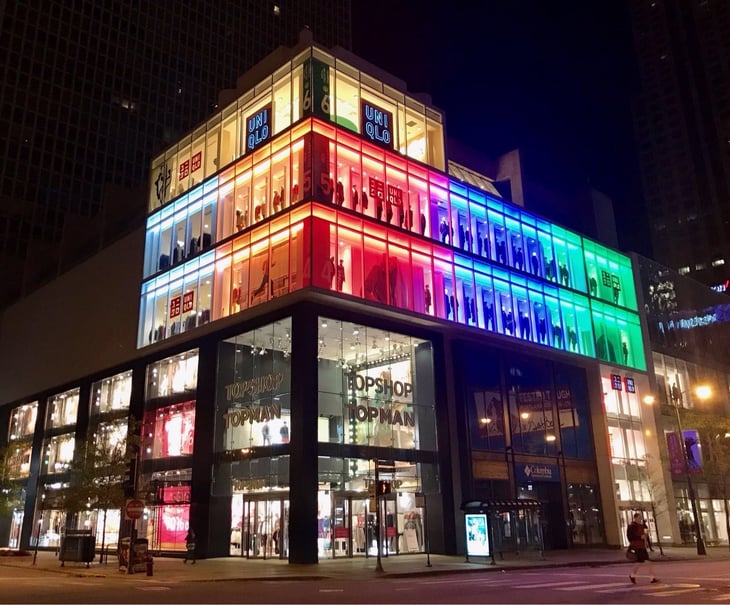 Photo credit: UNIQLO

The partnership is reflective of UNIQLO's mission to create innovative, high-quality apparel that improves the daily lives of its customers. It also affirms the brand's commitment to bring a more inspired and culturally relevant shopping experience tailored to the Chicago community. UNIQLO, which has more than 1,900 stores in 19 markets worldwide including 46 in the U.S., has partnered with local organizations in several cities including Paris, Toronto, Denver, and now Chicago.
"UNIQLO apparel is designed according to Japanese values of simplicity, quality and longevity, made for everyone, everywhere. We are always searching for new, innovative ways to engage with our customers, and look forward to partnering with 1871, a hub for forward-thinking companies in Chicago." —Victoria Simpson, General Manager of UNIQLO Chicago North Michigan Avenue Store
As part of the partnership with UNIQLO, which lasts from early November through January 2018, five 1871 member companies will have the opportunity to display their products inside UNIQLO's Michigan Avenue store, located across from Water Tower Place.
"We are incredibly excited about being represented at the UNIQLO store. It's a constant challenge for young startups like Dresscode to gain visibility in a competitive market. Our dual mission to break stereotypes for girls and women and educate the community about STEM is one that we are deeply passionate about, and we are grateful to 1871 and UNIQLO for this unique and rare opportunity." —Kayte Malik, Founder, Dresscode Tech
Additionally, 1871 - its story, mission, and impact on the city of Chicago - will be displayed visually throughout the store.
This announcement is made shortly following the official partnership between 1871 and Apple announced October 19, which involves a weekly month-long series on entrepreneurship hosted by 1871 at the new Apple Michigan Avenue store as part of Today @ Apple: The Chicago Series. Both partnerships illustrate 1871's longstanding commitment to deepening relationships with other community-oriented brands in service of Chicago's aspiring entrepreneurs, as well as creating new opportunities in unexpected places.
"1871 is home to the forward-thinking, design-obsessed innovators whose products and services are shaping their industries. We're excited to showcase both 1871 and these incredible companies to UNIQLO's community." —Vanessa Yeh, Director of Brand, Marketing, and Communications, 1871
The other Chicago institutions partnering with UNIQLO are the Jazz Institute of Chicago and River North ramen shop Slurping Turtle.
About UNIQLO and Fast Retailing
UNIQLO is a brand of Fast Retailing Co., Ltd., a leading global Japanese retail holding company that designs, manufactures and sells clothing under seven main brands: Comptoir des Cotonniers, GU, Helmut Lang, J Brand, Princesse tam.tam, Theory, and UNIQLO. With global sales of approximately 1.7864 trillion yen for the 2016 fiscal year ending August 31, 2016 (US $17.31 billion, calculated in yen using the end of August 2016 rate of $1 = 103.2 yen), Fast Retailing is one of the world's largest apparel retail companies, and UNIQLO is Japan's leading specialty retailer.
UNIQLO continues to open large-scale stores in some of the world's most important cities and locations, as part of its ongoing efforts to solidify its status as a truly global brand. Today the company has more than 1,900 stores in 19 markets worldwide including Japan, Australia, Belgium, Canada, China, France, Germany, Hong Kong, Indonesia, Malaysia, Philippines, Russia, Singapore, South Korea, Spain, Taiwan, Thailand, U.K. and the U.S. In addition, Grameen UNIQLO, a social business established in Bangladesh in September 2010, currently operates several Grameen UNIQLO stores in Dhaka. UNIQLO manages an integrated business model under which it designs, manufactures, markets and sells high-quality, casual apparel. The company believes that truly great clothes should be supremely comfortable, feature universal designs, are of high quality and offer a superb fit to everyone who wears them.
With a corporate statement committed to changing clothes, changing conventional wisdom and changing the world, Fast Retailing is dedicated to creating great clothing with new and unique value to enrich the lives of people everywhere. For more information about UNIQLO and Fast Retailing, please visit www.uniqlo.com and www.fastretailing.com.