1871 is excited to announce a new partnership with the Exclusive Professional Women's Networking Group (EPWNG), a member network of professional women in the Chicagoland area. The partnership will expand resources for professional women within 1871's community.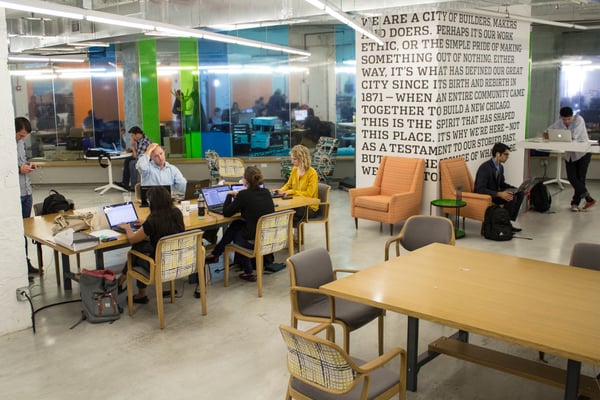 This collaboration will include an exchange of resources to better serve women entrepreneurs from both organizations. EPWNG will source and add mentors from its membership community to the 1871 mentor roster and also identify and recommend key members from its community to host several workshops at 1871 throughout the year. Towards the end of the year, EPWNG will host an event at 1871 focused on the importance of diversity.
"As a leader in Chicago's tech and entrepreneur space, we're always looking for more ways to promote our core values of diversity and inclusion for our members, partners, and community at-large. Through this partnership with EPWNG, we're able to expand our robust suite of resources for professional women, and we look forward to working alongside their growing network in our shared mission." – Veronica Rodriguez, Manager of Programming at 1871
Along with its partnership with EPWNG, 1871 has led a number of efforts to support and advance professional women across all industries including a collaboration with the National Association of Women Business Owners (NAWBO) to exchange information, resources, and event opportunities; WiSTEM, a 12-week, curriculum-based accelerator for women entrepreneurs, whose companies have raised more than $10 million in capital and created over 250 jobs; and ChiBuys, which supports local women- and minority-owned vendors in the Chicagoland area.
"EPWNG is thrilled to share the talent, energy and expertise of our members with the 1871 community. The founding premise of our organization is building substantive relationships through generosity and authenticity; our collaboration with 1871 is an extension of these values." – Julie Bordo, EPWNG's 1871 Partnership Chair.
Learn more about EPWNG at http://www.epwng.com.