Another set. Another rep. Grind, rinse, lather, repeat. At some point, even the most committed gym rats need to come up for air and change up their fitness routine; it's not easy though -- as an adult, it's much harder to jump into an organized sport or fitness group and just get started. Fortunately, Zak Kates founded FitLocal to solve that very problem.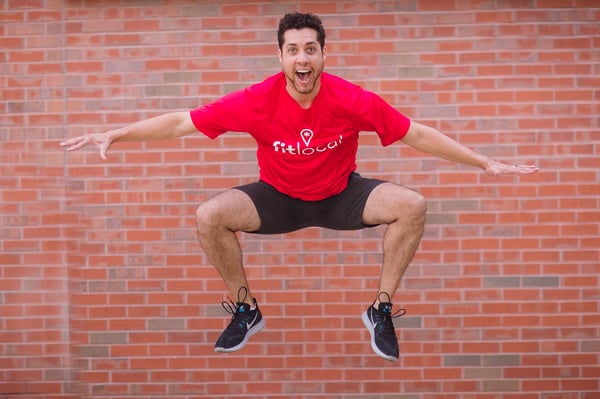 It's an all too familiar story -- you call up 10 of your friends and arrange a pickup game at a specific court and an agreed-upon time. You're excited to catch up with them, get your daily workout in and of course, show off that new layup you've been working on. You're feeling confident that your team will dominate this five-on-five matchup.
The problem is that it's hard to play a five-on-five game when only seven people show up. In fact, the best you can do is four-on-three -- not exactly the perfectly planned game you had in mind.
Zak Kates knows how frustrating this scenario is because he's been through it dozens of times.
"I was in a number of basketball leagues, and I would see the group chats where you had people saying that they couldn't make the game at the last minute. You had people saying that they had to wait to confirm whether or not they'd show up. I kept thinking, 'there has to be a better way to organize these games.'"
That's when Kates drew upon his experience as a developer -- along with his many years in the tech and innovation industry -- to create a concept for a new platform that could quickly and effectively find substitutes for last minute no-shows. However, he held off on launching his idea as it would've been a substantial endeavor at the time. It didn't take long before his plans resurfaced.
"I would go to the bar with my friends and we were all hanging out and sitting down. We were inert so this got me thinking about the different ways where we could still hang out and stay active. We could have been playing basketball or soccer at the park."
Kates decided to launch his platform so that he and his friends could get fit while having fun. Combining the ideas of fitness and community, Kates called his platform FitLocal. Using web-based technology, the FitLocal app helps users organize and discover group sport activities around them. The platform gives organizers the ability to set a minimum or maximum amount of players for each activity, but unlike online sports leagues or social clubs, FitLocal allows organizers to immediately target, brief, and recruit potential substitutes.
"We're focused on helping group leaders determine and manage their numbers for each activity whether that's a pick-up basketball game, an organized run, or a group-fitness class. Our users have the ability to find substitutes in the event of a last-minute cancellation and that's still a major problem for the sports leagues."
Another major problem that league sport members have to deal with is commitment. As a father, Kates realized that even though he wanted to join a league, he wouldn't be able to attend every game. He factored that into the development of FitLocal and shortly after working on his app, Kates began to see traction.
"When I started FitLocal, the concept was really simple. Basically, it would find two people who wanted to play a basketball game and connect them with a few other players so they could arrange a game. There are other good online tools trying to accomplish a similar goal for tallying up commitments to participate in an activity, but no one who's doing it really well specifically for sport teams and athletic groups."
Along with making social fitness activities more accessible, Kates wants to use the platform to help users meet new friends or connect with their current friends in different ways. He's been growing the platform and says that his network has been instrumental in its progress.
"I've always had the goal of starting my own business and being a startup founder so I was hungry for knowledge. I knew that the first step was to find a community of like-minded people along with mentors and founders who have been through the process before. I found that network at 1871 and it's been very helpful and rewarding."
And though Kates credits 1871 for a much of his success, perhaps good things go both ways.
"I actually developed the 1871 website and it was an opportunity that literally fell into my lap. I was having small talk with the COO at the time and he asked me if I'd be willing to build out the company website. Of course I said 'yes.'"
It's no coincidence that Kates was selected for the task. With an always enthusiastic attitude, Kates embodies the definition of a spirited entrepreneur; his outlook on business is simple -- listen to your customers and keep creating.
"I think there are different strategies on what it means to be an entrepreneur. Some people are reactive and that's fine, but I work better by being proactive. I believe you have to be an active participant in your success. You have to be active in asking for what you want, you have to be active in learning from others, and you have to be active when it's your turn to give back. As a startup founder, there's always something to do -- if you're having a moment where you think you've done all you can, then you've missed something."

1871 provides work space, education, resources, and curated connections to help Chicago's entrepreneurs build and scale their business.