Food distribution is a long and complicated process. In fact, most retailers and brands will tell you that the national distribution system is more than just outdated -- it's ancient. You might be surprised to learn that a good portion of today's food industry is still operating on a distribution system first designed in the 40's. It's a problem that Larissa Russell, CEO and Co-founder of Pod Foods, and her cofounder Fiona Lee, are all too familiar with --and that's why they're the right people to solve it.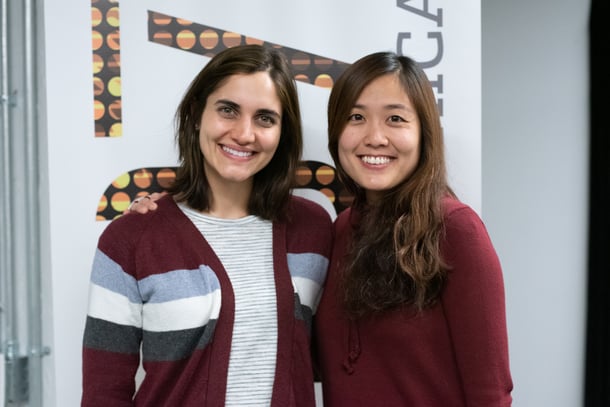 From Left to Right: Pod Foods Co-founders Larissa Russell and Fiona Lee
At one point in her life, Larissa Russell and Fiona Lee made cookies. Not just any cookies mind you, but green pea cookies that they had perfected through hours of practice and refinement. Based out of San Francisco, Russell and Lee quickly found that their recipe was a hit among locals -- but Russell says there was just one problem.
"Fiona and I started Green Pea Cookie back in 2014 and we had a lot of good business. There was demand nationwide thanks to Kickstarter, but there were issues when it came to distribution -- that is, how our cookies reached grocers and other retailers . We weren't satisfied with the options that existed because they were expensive and opaque.We asked a lot of other emerging food makers as well as grocery stores about distribution and the feedback we got was that distributors were a "necessary evil." That's when we realized that this was a big problem in the food industry."
After reflecting on their distribution woes, Russell and Lee decided to pivot their company -- and began working on a B2B platform that could simplify and improve the current food distribution process between brands and retailers.
"One of the biggest problems was that when brands worked with distributors, they didn't know which retailers were actually buying their products. We knew the importance of those connections and information from our previous business, so we were able to bring that with us. Transitioning from the cookie business was actually a really smooth process and knowing the frustrations of the distribution system gave us a lot of perspective as well."
According to Russell, those frustrations are many.
"It's very costly to go to distributors and it can really hurt your margins and bottom line -- not to mention that distributors generally hold product in a warehouse for a long time. That can mean that your product won't be as fresh, which is important to consumers these days. There are just so many inefficiencies with the distribution system when it comes to smaller manufacturers, and it can be really frustrating to navigate if you're a vendor."
Given these problems, it's easy to see why some vendors try to skip the distributor and sell directly to the stores; unfortunately, that's not as simple a solution as it might seem.
"Going direct can sometimes be even harder than going to a distributor. It's really expensive to do and there's no standard process. If you don't have the experience or the connections, going direct can be tricky."
Russell and Lee knew from first-hand experience; that's why her company, Pod Foods, is specifically built around solving these issues for vendors. And because so many local producers have problems getting their products to a store, buyers often suffer as well -- particularly given the fact that locally grown and sourced foods are in high demand among consumers.
With Pod Foods, Russell says distribution becomes far less of a hassle for both parties. Leveraging modern software, Pod Foods' platform gives users the ability to access a dashboard that makes once-complex tasks, such as managing deliveries and inventory, a breeze. What's more, the technology allows suppliers to track the stores that are carrying their items and and see exactly where their products are going. Suppliers can also put their products on Pod Foods to increase their visibility to local retailers.
"Believe it or not, there are still people who are using fax machines for distribution. That's just one of the reasons why there are so many issues in the supply chain. With today's technology, you can really get rid of some of those problems and that's what we're doing with Pod Foods. Not only does it simplify the distribution aspect, but there's also a huge focus on transparency. We want brands and suppliers to see where their inventory is going. We also use data to help predict trends and plan inventory for the future."
Vendors also benefit from Pod Foods' intuitive tracking platform. Through the dashboard, they can see how each product is selling. It also gives the vendors the ability to easily source new products.
With its offerings of simplicity and transparency, it's no wonder that Pod Foods has become a popular resource for suppliers, brands, and vendors in the San Francisco Bay Area. And given the platform's success, it's no surprise that Russell and Lee are expanding their business. The next stop? Well, it's a city that isn't known for its cookies -- but you'd be hard-pressed to find a better deep dish pizza.
"We're looking to enter the Chicago market, and we're really fortunate to be participating in the Food Foundry. It's an opportunity for us to learn key value chain skills, connect with experts, and grow our offerings."
The Food Foundry, which was built in partnership with Gordon Food Service, Relish Works, and 1871, is a 16-week accelerator program specifically designed to support, connect, and propel innovative startups with solutions across the foodservice value chain.
And though Russell has gained many valuable insights from her time at the Food Foundry, she also has some of her own lessons -- gained through long nights, hard work, and years of experience.
"I think it's important to stay focused on the vision. We started with a cookie company, but our vision really hasn't changed. When we had that company, the goal was to bring better food to the world in a positive way. Ultimately we're building a solution to achieve that original goal -- so that so many other good brands can actually grow and stay in business. And then, I also think it's entirely possible to do something that you haven't done before, especially if you really believe in what you're doing. We had to change on the fly from our original business idea to what we're doing now, and I think a lot of that has to do with our trust in what we were creating."
It's good advice; after all, not everyone can pivot a food brand into a thriving B2B software company -- for that, it takes some smart cookies.
1871 provides work space, education, resources, and curated connections to help Chicago's entrepreneurs build and scale their business.