In this profile of WiSTEM C4 members, Veda Konduru of VectorScient talks about the AI marketing cloud platform for predictive consumer e-commerce.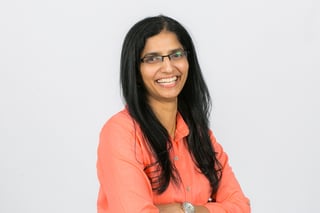 Q: Tell us a little bit about your personal history and background.
A: I have over 14 years of experience in developing, architecting, solutioning in various Oracle technologies, advanced supply chain, sales forecasting and financial applications. I have majored in Statistics and master's in computer applications.
All my education was in India. Born and brought up in south India. I came to the U.S. in 2003 January after my marriage with Suresh in 2002 December and all of my professional career and experience has been in the U.S.
I have a strong foundation in science, core values, beliefs and spirituality. Every life has a purpose. Every belief I have, molded me to question, reason and make the best choice.
My husband and co-founder, Suresh and I founded a startup company, VectorScient about a year and half ago. I quit my job in early 2015, intending to take a brief break, slow down and spend more time with my family and self-reflect for myself. My kids wished that I was home to receive them when they came back from school. The possibility of that was factored into my decision.
I was requested to stay back at my previous job for 6 weeks after I resigned and it was officially announced to all departments within the company. A few days into the official resignation announcement in the office, on the following Friday, Suresh and I sat down casually conversing and recollecting our professional careers up until that time, self-reflecting on life. A casual conversation slowly sped up to an idea of starting/doing something using our strengths and be able to partake in an idea that will help directly/indirectly to our society and communities at large. All the questions I had in my mind that were partially answered until that time all came back together, perfectly connecting the dots like a lightning bolt, convincingly proving to me that everything I did/learnt/choices made etc., were perfectly preparing me for that day of inception and idea of VectorScient. Questions like, "Why I had to make a choice of majoring in Statistics?," "Why not engineering?," "Why did I come to the U.S?," "Why Chicago?," "Why quit my previous job?."
Like many of you already do, we also want to pay back to the community using this as a vehicle and do something that benefits the younger generation in some form or shape. Suresh and I believe that we are all in this together in spirit and purpose.
Q: Tell us a little about your company. What's your elevator pitch?
A: VectorScient is the only AI powered marketing cloud that delivers consumer predictions for e-commerce and retail businesses in an easy-to-use platform. Our unique industry-specific algorithms provide highly accurate predictive consumer lifetime value, purchase likelihood, dynamic personas and micro-segmentation along with product and promotion recommendations. Our predictions and recommendations help marketers increase their marketing ROI, increase revenue, gain customer trust and prepare for effective decision making.
Our differentiation comes from a high degree of accuracy of predictions delivered in a cost-effective manner. VectorScient's robust platform incorporates in a comprehensive manner the consumer interactions/activities that are typically spread across disparate systems throughout their buying journey. We then link them up one-one to create a true 360-degree view of the consumer. The machine learning models are trained based on this comprehensive dataset, delivering highly accurate predictions.
Q: How did you come to join the WiSTEM cohort?
A: VectorScient was a member company of 1871 as of December 2016, and I learnt more about WiSTEM only after I submitted the form in time. I was excited to be a part of this 12 week program that enables you to get exposed to an increased visibility and attention when bootstrapping the business.
It was a needed program. I would consider this as a jump starter kit as we can expand the business further based on the foundational principles, aspects that an investor would look for or any stakeholder of your business would look for.
Q: What about the program do you think helped your business the most? Are there any specific examples?
A: The WiSTEM program helped specifically with new introductions, connections to individuals in various business strengths. I see this program as a connector and an awareness/exposure to what is needed for the business and what is available to complement that need.
I did not know what an "Executive Summary" was before the program and I learned how it is helpful to have a well thought out version ready. Financial modeling was another eye opener with a thorough example demonstration.
Having some conduit and a methodical, organized instructions or information is so invaluable to startups. All information that is available out there is hard to evaluate for fit using a trial and error method. Within a short span, gaining enormous insights into every fundamental aspect is like a blessing for me as a startup founder. I feel like I graduated some business program for entrepreneurship.
Without a program and support and resources of this nature, I can't imagine growing, evolving and knowing any more than what I know today. I have deep gratitude for this program and hope it continues to impact several female founded companies in the future too. It has been very valuable to me.
Q: What's the greater good your company is trying to accomplish? How will it impact the community? What problem does it solve?
A: Our company, VectorScient is set out to help e-commerce businesses of average annual revenue size of $30MM to $500MM. The big boys like Amazon and the like have a powerful muscle to invest in data science and Artificial Intelligence (AI) to attract new customers and retain existing ones. Many e-commerce companies are coming up and trying to survive and thrive is this highly competitive marketplace. But, these companies lack the access to advanced AI technologies are suffering and losing sales and market share.
VectorScient is an initiative to help and muscle up the companies that are at a disadvantage so they regain their position and keep themselves relevant and grow their business. Our goal is to democratize predictive insights and help create a level playing field for such companies. As we grow, we are committed to giving back to our community in a variety of ways. Some specific initiatives are being planning around mentoring, developing an open-source variant that could be used for schools and higher education, training and internship opportunities and embracing diversity.
I have two children 12 and 8 years old. I get promotions related to baby products. It bothers me to see how in an age like this we can't solve these issues? Having worked in the industry for many years and knowing the power and possibilities of AI, it frustrates us to see how lack of personalization and relevant messaging is hurting the businesses.
Our target client is already sitting on a wealth of customer data capturing their activities and interactions in various data applications. We take all of it, link them up one-one across disparate data systems, cleanse it and extract the right features needed for predictions, run through our unique machine learning algorithms to provide with predictive lifetime value, product and promotion recommendations and various dynamic micro-segmentation and customer profiling.
Q: Give us a little insight into your perspective on diversity in the tech community. Why is it important? What do you hope to see?
A: Diversity brings different perspectives. Different perspectives are needed for novel solutions. I'm a direct beneficiary of diversity personally. As an immigrant, I see how I have personally evolved multi-fold just by the virtue of being around multiple backgrounds/ethnicities/cultures/disciplines etc., for all the past several years. Only new perspectives can challenge our thoughts/ideas enough to bring novelty in solutions.
Diversity is very important and it can be in multiple criteria or dimensions. It can come in diversity of thought, ethnicity, race, gender, culture, background, educational disciplines, generational gaps etc., Diversity in every dimension is important and it is more pronounced in some dimensions such as gender, race and ethnicity due to fundamentally different up-bringings and community culture they must have been exposed to. Our ideas are a function of our experiences and hence different perspectives are valuable when shared with a reasoning.
I would hope to see that tech community encourages diversity in every form and shape by consciously suppressing the unconscious bias involved in selection. I want to see companies selecting more women in board for key executive decision making, a mix of various genders/ethnicities while merit is all on par. I want to see diversity and inclusion and want to be a great contributor in ensuring equality, diversity, inclusion in bringing on mixed cultural background to the executive mix.
Fourteen businesses made up the fourth cohort of WiSTEM, which is 1871's innovative and customized program designed to accelerate and cultivate opportunities for women in technology. The 14 women-owned companies began the 12-week program beginning in March and participated in a showcase event where they pitched to investors, business leaders and supporters.