In this profile of WiSTEM C4 members, Shaniqua Davis, Founder and CEO or Noirefy, talks about her digital platform that connects diverse professionals with corporations in order to create inclusive workplaces.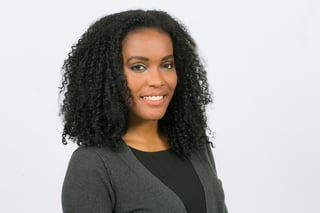 Q: Tell us a little about your company. What's your elevator pitch?
A: Noirefy is a digital platform that connects diverse professionals with corporations through referrals. Our mission is to create diverse workplaces and inspire inclusive environments.
Q: How did you come to join the WiSTEM cohort?
A: I've followed WiSTEM for a while now and I've always thought it was a great opportunity for women. In February, I noticed that the applications were open for the next cohort. I initially didn't think to apply because I was in between making a decision to relocate from Chicago to San Francisco. I was confident that I would be relocating so applying then wouldn't have been a good time. I then decided that I should apply anyway, and if I got accepted, it would be a sign that I needed to stay in Chicago. Well, I'm still in Chicago and thankful that I got to be a part of the WiSTEM and 1871 family! WiSTEM helped confirm that Chicago is where I need to continue to build Noirefy.
Q: What about the program do you think helped your business the most? Are there any specific examples?
A: WiSTEM has helped me truly understand fundraising and working with investors. This was a completely foreign area to me before, but I understood how important developing relationships within the investment community was. I now feel confident approaching and speaking with the investors.
Q: What's the greater good your company is trying to accomplish? How will it impact the community? What problem does it solve?
A: Noirefy is trying to help bring diversity into corporations globally. We are working to connect diverse talent with corporations who need them. In addition to helping increase diversity, we are also working to inspire inclusive environments. Diversity doesn't work without inclusion and Noirefy focuses on both.
Q: Give us a little insight into your perspective on diversity in the tech community. Why is it important? What do you hope to see?
A: Diversity is important in the tech community because it gives everyone a voice and a seat at the table. Diversity brings diverse perspectives, talents, and influence. It is necessary to inspire a future of inclusive workspaces. I hope to see a future where everyone is on the same playing field.
Q: Now that the program has concluded, what do you think was the most valuable experience you gained personally and for your business?
A: I believe the most valuable experience I gained through this program was being able to hear the stories of so many inspiring women and learn how they've grown their business. I learned at the core we all face problems, no matter what level you may be on - from a first-time entrepreneur to someone leading their second company. It's how you grow through it that matters!
Fourteen businesses made up the fourth cohort of WiSTEM, which is 1871's innovative and customized program designed to accelerate and cultivate opportunities for women in technology. The 14 women-owned companies began the 12-week program beginning in March and participated in a showcase event where they pitched to investors, business leaders and supporters.