In this profile of our WiSTEM C4 members, Lisa Souter, Founder and CEO of Sparkl, introduces her on-demand car wash that's eco-friendly and caters to businesses and residential buildings in addition to consumers.
Q: Tell us a little bit about your personal history and background.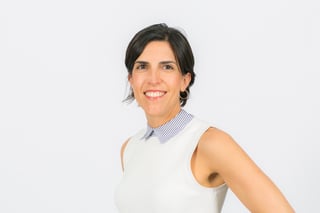 A: I have always been fond of starting things. At Georgetown University (MSB '97), I co-foundedUncommon Grounds cafe to fill the need for a coffee shop on campus. While an investment banker at Merrill Lynch, I co-founded the Client Coverage Group, which helped cross-market the different products and services the firm had to offer. And while at Harvard Business School (MBA '04), I co-founded the Boston chapter of Minds Matter, a non-profit dedicated to helping bright, motivated high school kids from low-income families achieve their dream of attending college. Three years later, I did the same in Chicago. Most recently, I am a proud mom of three boys who got tired of driving around in a filthy car...so I started Sparkl. And now I drive a much cleaner car!
Q: Tell us a little about your company. What's your elevator pitch?
A: Sparkl is a waterless, eco-friendly car wash that comes to you. With the touch of an app on your smartphone, you can order a car wash anytime anywhere, and our background-checked professionals bring all of the equipment necessary to get the job done. In addition to the B2C market, Sparkl provides convenience to businesses, residential buildings and apps that offer complementary services to increase operational efficiencies and to provide additional benefits to consumers.
Q: How did you come to join the WiSTEM cohort?
A: Friends of mine and people within my network spoke very highly of WiSTEM and encouraged me to apply.
Q: What about the program helped your business the most? Are there any specific examples?
A: The exposure to funding sources, mentors, media outlets, and fabulous successful female entrepreneurs!
Q: What's the greater good your company is trying to accomplish? How will it impact the community? What problem does it solve?
A: Let's face it. We all love a clean car, but at what cost? Life is too short to waste your time waiting in line at a car wash. We live in an on-demand economy, where people value convenience more than ever. In addition, there is constant pressure in society for consumers and businesses to protect the environment. Up to 60 gallons of water are wasted on a single car wash, and harmful chemicals are being washed away and absorbed into the earth. By using Sparkl, you no longer have to waste your precious time - or our Earth's precious resources - waiting in line at the local car wash!
Q: Give us a little insight into your perspective on diversity in the tech community. Why is it important? What do you hope to see?
A: As a first generation American, I'm a big believer that diversity in the work environment breeds better teams, better discussions and better outcomes. Diverse perspectives are what lead to innovative solutions in the tech community and beyond. Diversity in tech has been a hot topic, and I hope these discussions continue until we see a more equal representation of women and minority-led businesses.
Q: Now that the program has concluded, what do you think was the most valuable experience you gained personally and for your business?
A: On a personal level, I've had the amazing opportunity to be around like-minded women, sharing our ups and downs, and learning from one another along the way. From a business perspective, the most valuable experience has been getting my pitch deck created and refined.
Q: Is there anything else you would like to add or say? Please include any big wins, awards, funding or news articles you want to celebrate that have happened while you have been in the program.
A: While in WiSTEM, I was featured in Chicago Inno, WGN Radio Technori, and the Tribune-- thanks to the access and notoriety WiSTEM provided. I also won the SBAC Venture Pitch competition, in part due to the guidance and counsel of mentors at WiSTEM.
Fourteen businesses made up the fourth cohort of WiSTEM, which is 1871's innovative and customized program designed to accelerate and cultivate opportunities for women in technology. The 14 women-owned companies began the 12-week program beginning in March and participated in a showcase event where they pitched to investors, business leaders and supporters.
For more information on Sparkl follow them on Facebook and Twitter