In this profile of WiSTEM C4 members, Kim Lewis, founder of CurlMix, talks about her subscription-based program that allows women with curly hair to easily and affordably mix their own hair products.
Q: Tell us a little about your company. What's your elevator pitch?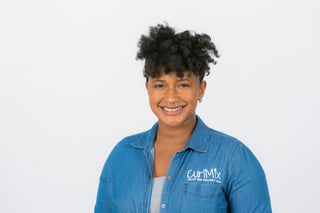 A: Seventy-percent of curly haired women currently cocktail and mix their own hair products at home because they want control over these ingredients.
The problem is that these products take several hours and hundreds of dollars to create. And then you never know if you're going to love them. That's where we come in. CurlMix is the Do-It-Yourself box for curly hair. We provide our monthly subscribers with all-natural ingredients, pre-measured, to mix their own hair products in just 15 minutes with a $25 investment.
There's a new recipe each month and we currently have about 300-400 customers.
Q: How did you come to join the WiSTEM cohort?
A: I was active in a diversity initiative that 1871 partnered with called "Im Black In Tech" led by Thomas K.R. Stovall. Tom dropped by our event one day, mentioning WiSTEM. Afterwards, I read up on the program, then attended the C3 showcase and I fell in love with the women pitching.
They looked amazing and had achieved some real success with their businesses. I wanted to be like them.
Q: What about the program do you think is helping your business the most? Are there any specific examples?
A: I learned the next steps regarding fund raising, whereas before, I had no clue. I know how much money we need, what that money could best do for our business, and I am in talks with a couple VC firms now, after they heard my pitch.
Never before was this even on my radar. Not only are we in funding conversations, but I also have mentors and advisors who would love to be a part of making CurlMix a multi-million dollar company.
Before WiSTEM, I didn't know it was important to have a board of advisors. I thought it was only non-profit organizations that needed them. However, I learned that one of the reasons many female and minority companies don't get funded (minus the obvious discriminatory issues), is that we often don't have a board of advisors, experts giving us guidance along the way.
And if you think about it, it makes sense. As an investor, I want to make sure the money I'm investing is being overseen by some mature experience, not a 20 something who is starting their first company, that'd make me very nervous.
Q: What's the greater good your company is trying to accomplish? How will it impact the community? What problem does it solve?
A: We want to change the standard of beauty. CurlMix aims to empower the conscious curly consumer through education. In an industry that values blind consumerism, CurlMix encourages transparency. We put people first. We want our subscribers to be mindful of the ingredients in their products and have the freedom to customize their hair and skin treatments. We believe you shouldn't have to sacrifice integrity for beauty. CurlMix educates our subscribers and provides easy mixes, with all natural ingredients that help you create customized, honest to goodness products, that flat out work.
Q: Give us a little insight into your perspective on diversity in the tech community. Why is it important? What do you hope to see?
A: According to US News, "the minority population is expected to rise to 56 percent of the total population in 2060, compared with 38 percent last year. When that happens, 'no group will have a majority share of the total and the United States will become a 'plurality' [nation] of racial and ethnic groups,' the U.S. Census states."
Tech is the wave of the future and without diversity in tech, companies are leaving its future majority population out of the equation. This will negatively impact the economy, the success of their businesses, and the growth of our country. Entrepreneurs solve problems, but without the inclusion of diverse entrepreneurs in tech, companies are only solving problems for small portion of people in our country, and if they don't change, their businesses won't stand the test of time when this countries population of diverse talent succeeds the current majority.
Q: Now that the program has concluded, what do you think was the most valuable experience you gained personally and for your business?
A: The most valuable takeaway for me was the access to information about raising capital. Being a subscription box company, that is post revenue, I hadn't really considered raising money, mainly for two reasons. I didn't think I could because I thought I'd be shunned the moment the investors heard "subscription box", and second, we weren't in dire need of mooney because we were generating our own cash flow.
It wasn't until WiSTEM that I learned that investors are interested in making money, and as long as your business does that, someone's always interested in at least a conversation. I also learned that we were in a great position to begin pitching VC's. When you don't actually need VC's is when they actually want you.
That was pretty much us. I also LOVED hearing from real female entrepreneurs in our weekly sessions. They were amazing and so inspiring. They are what motivates me to keep fighting the good fight. Some days are tough and I think about quitting but I realize that I've only been going at this for two years and so many of the women who spoke took at least five to really get off the ground with their work.
It really put the saying "entrepreneurship is a marathon, not a sprint" into perspective.
Fourteen businesses made up the fourth cohort of WiSTEM, which is 1871's innovative and customized program designed to accelerate and cultivate opportunities for women in technology. The 14 women-owned companies began the 12-week program beginning in March and participated in a showcase event where they pitched to investors, business leaders and supporters.