In this profile of WiSTEM C4 members, Kara Scanlin, CEO and Co-founder of Lystr, introduces her innovative IoT hardware solution and app that helps users quickly build grocery lists using the UPCs of items in their kitchens.
Q : Tell us a little bit about your personal history and background.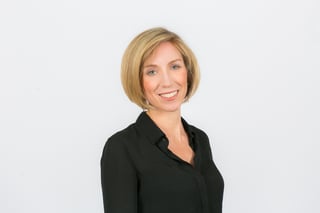 A: I have always been interested in solving problems and I have a knack for figuring things out. I have a fairly structured view of the world and never dreamed of being an entrepreneur – I had always envisioned myself in a more traditional career. However, at each turn in my career, the traditional paths didn't seem to have the potential and the long-term engagement and fulfillment that I wanted.
I stumbled upon entrepreneurship somewhat accidentally and never turned back. I became obsessed with solving small problems we identified and as we peeled back layers of the onion, we discovered even more facets to the problem and opportunities for the business. Ever since my first taste of entrepreneurship, I knew this was what I wanted to do for a few key reasons. First, I am hard working and nowhere else does hard work pay off like it does in entrepreneurship, and second, I love that every day brings a new challenge. It is the one thing that I know can keep me motivated and fulfilled. I'm also a tad competitive and pretty darn resilient, which helps me through the journey.
Q: Tell us a little about your company. What's your elevator pitch?
A: Lystr is like the Amazon Echo or Dash Buttons for everything that you don't want to get from Amazon. We have a small IoT device that lives in your kitchen and compiles your grocery list for you. You can use your list to shop at the store, share it with a household member, or send it to a third party for pick-up or delivery. Beyond convenience to consumers, we offer third party partners like retailers and marketers valuable insights and opportunities for stronger customer retention and engagement.
Q: How did you come to join the WiSTEM cohort?
A: I applied for WiSTEM for two main reasons. First, a few of colleagues of mine that had gone through the program already suggested I apply. Second, I wanted to become more involved in the female tech community in Chicago. The WiSTEM program is a linchpin for promoting the Chicago female tech community and I knew that being involved with the program would not only advance my skills as a leader for my business but also as a leader for other female tech entrepreneurs.
Q: What about the program do you think helped your business the most? Are there any specific examples?
A: The program brought tremendous value to my business because of the diverse perspectives I gained. I was able analyze my initiatives and create a better strategy for how to communicate effectively to customers, this all being a result of feedback from my colleagues. In addition I gained so many diverse perspectives on not only my business but also into how others were running their businesses as well. For me, it is all about the WiSTEM community. It's inspirational to be around so many talented women doing so many great things.
Q: What's the greater good your company is trying to accomplish? How will it impact the community? What problem does it solve?
A: For families, we aim to streamline a process that, until very recently, had seen little change. Families today are evolving and we are seeing a growing need to distribute household responsibilities among adult members in dual-income households. There is also a growing need for improved communication, as either member might be responsible for different household tasks. For these families, we offer a solution that distributes the responsibility of grocery management and provides a more streamlined, efficient process for replenishing items as the household runs out of necessities. For dual-income families, there is no longer one member who can dedicate time to household organization – we offer a technology-enabled solution to enhance organization.
Busy consumers are adopting technologies faster than ever and are constantly seeking ways to bring more efficiency and organization to their daily lives. Millennials expect instantaneousness and efficiency in their daily life, and they expect it to be delivered by technology. For Millennials, a pen and paper list seems so outdated, and a routine chore like managing household groceries seems mundane. As Millennials begin to start families, emphasis on the home life increases, and we can offer them a streamlined way to manage their groceries.
Brick and mortar grocers face an even more significant challenge – projections estimate that they will lose up to $125 billion to new models of online shopping and delivery in the next five to eight years. For retailers and CPG marketers, we offer a strategy to stay engaged with their customers, as the needs and preferences of these customers change.
Q: Give us a little insight into your perspective on diversity in the tech community. Why is it important? What do you hope to see?
A: Diversity is important for every type of business, not just high-tech businesses. However, in technology-enabled industries, diversity is even more important because of the fast-paced nature of businesses competing in the sector. To innovate quickly and not miss an opportunity, leaders of tech startups need to be exposed to diverse opinions. For example, diversity of opinions may shed light onto a new customer segment that the startup had not identified as an opportunity.
Personally, I have a sense of humility that makes it important for me to bring diverse opinions to the table. While moving confidently full steam ahead, we as a team are always second-guessing ourselves and searching for new answers. With that, it is important for me to bring diverse opinions to the business. And, if we as a tech community do not prioritize diversity in our field, some individuals will not feel welcome, opinions will be missed, and we all lose.
Q: Now that the program has concluded, what do you think was the most valuable experience you gained personally and for your business?
A: The most value that I derived from the program personally was the sense of community from the WiSTEM cohort and the diversity of opinions. I gained insights into other businesses' opportunities, challenges, business models and how they were solving their challenges. All these insights helped me with my business. Through speakers and sessions, I also learned from mentors and leaders in the tech community. For my business, the most value came from refining our value proposition and positioning through rigorous communication and examination as well as improving our pitch.
Fourteen businesses made up the fourth cohort of WiSTEM, which is 1871's innovative and customized program designed to accelerate and cultivate opportunities for women in technology. The 14 women-owned companies began the 12-week program beginning in March and participated in a showcase event where they pitched to investors, business leaders and supporters.
For more information on Lystr follow them on Facebook and Twitter