In this profile of WiSTEM C4 members, Angie Rivera, co-founder and CEO of InReach talks about the communications platform she is building to connect prospective college students with current college students for a more authentic and informative experience when selecting schools.
Q: Tell us a little bit about your personal history and background.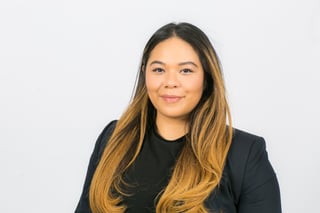 A: My personal history starts with the immigrant roots of my parents. As a first generation American, I understood at an early age the struggles that marginalized communities had and knew I wanted to spend my life improving the quality of life for those people. Education, I discovered, was the key factor that improved upward mobility for underprivileged people. I spent years working in Chicago Public Schools, San Francisco Unified School District, among other institutions to build products that ensure equitable access to quality education.
Q: Tell us a little about your company. What's your elevator pitch?
A: InReach addresses the current, inefficient process that students experience when trying to make decisions about college. InReach is a communication platform that connects prospective college students with current college students for a more authentic, informative, and connected experience. Research shows, that the current ratio of high school students to their college counselor is 450:1, leaving them with 20 minutes of advice. So in essence, we are asking 17 year olds to make a $160,000 decision based off of 20 minutes of advice. The college admissions process hasn't had any major technological innovation infused with it, the process at its core remains the same. InReach empowers students to make informed and confident decisions on higher education, one personalized conversation at a time. Students can share meaningful connections on college readiness via text, phone, and video chat.
Q: How did you come to join the WiSTEM cohort?
A: I've always been a major fan of 1871. Previously, InReach was selected for an incubator fellowship at the Lean Lab and was encouraged to apply to WiSTEM. After WiSTEM, InReach will participate in the Google/Manos accelerator to scale InReach globally.
Q: What about the program do you think helped your business the most? Are there any specific examples?
A: The connections and access to resources was invaluable. Being able to meet high profile entrepreneurs and CEO's across a wide variety of industries was helpful.
Q: What's the greater good your company is trying to accomplish? How will it impact the community ? What problem does it solve?
A: InReach is trying to bring more equitable access to students all around the nation. As I mentioned earlier, education is a main factor that improves quality of life for marginalized communities. If InReach can ensure that every student has a fighting chance to find a place in higher education, then our mission is on track.
Q: Give us a little insight into your perspective on diversity in the tech community . Why is it important? What do you hope to see?
A: As a Latina, diversity in tech is something I eat, sleep and breath every day. I've definitely had my share of ups and downs with it. I've attended my fair share of tech conferences where I was consistently mistaken to be a custodian or server, rather than a software engineer. I have, however, been fortunate to be a recipient of diversity initiatives from Facebook, Google and Adobe to attend conferences and workshops that are geared towards building innovative technology. Even as a double minority, I still feel a sense of privilege (with my career experiences and education) and work hard every day to use that privilege to bring more people of color and women into the tech community. I have so many exciting ideas for the future of diversity in tech and how to actually increase the numbers and not just report on them. I hope to see more diversity initiatives that have a more holistic approach.
Q: Now that the program has concluded, what do you think was the most valuable experience you gained personally and for your business?
A: Personally, I gained a quiet place to debug until the early hours of the morning and a place with endless amount of post-its for design sprints. I'm especially lucky to take friendships with me from this incredible group of women. The most valuable experience I gained for my business are the connections to high-profile entrepreneurs that are more than willing to help further your business.
Fourteen businesses made up the fourth cohort of WiSTEM, which is 1871's innovative and customized program designed to accelerate and cultivate opportunities for women in technology. The 14 women-owned companies began the 12-week program beginning in March and participated in a showcase event where they pitched to investors, business leaders and supporters.
Follow Angie on Twitter.