1871 is proud to announce that innovative, multi-national food company, Tyson Foods will join its community of over 100 companies, institutions, and centers of higher education as a corporate partner.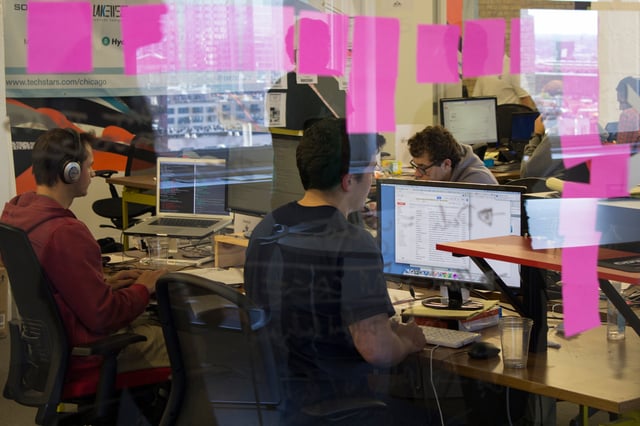 Tyson Foods has joined 1871 as a coporate partner and will receive access to its space, member network, technical workshops, lead-generating events, and curated programming specifically tailored to their mission and objectives. This partnership will also aid both 1871 and Tyson Foods in their mission to support Chicago's entrepreneurial community.
"We are thrilled that Tyson Foods is joining 1871 as a corporate partner. This partnership is a testament to the fact that Chicago's economy stands to benefit when corporations and startups work together. With their support, we are able to provide additional resources, capital, and value for the city's entrepreneurial ecosystem and tech community at large." - Howard A. Tullman, CEO, 1871
As an 1871 corporate partner, Tyson Foods will add value for its team by leveraging a number of 1871's resources including the 1871 community, full-time recruiters who have access to the best entrepreneurial talent, branding and event collaborations, more than 500 technical and non-technical workshops, and participation in mentoring office hours with more than 600 industry experts and successful entrepreneurs..
"Our partnership with 1871 is an exciting part of how we will foster innovation at Tyson. 1871 provides expanded access to thought leaders who share our passion for building successful businesses." - Justin Whitmore, Executive Vice President Corporate Strategy and Chief Sustainability Officer, Tyson Foods
Alongside Tyson Foods, 1871 collaborates with more than 100 other corporate, community, and education partners to help power its programming, events, inclusion efforts, and other activities and initiatives that enrich the member experience and establish roots throughout the Chicago business and technology community. Other recent additions to 1871's corporate partner roster include Mesirow Financial, which helps to provide a 401k benefit exchange, DyMynd Angels in support of the WiSTEM program, and a new perk for 1871 members provided by password and asset security platform Keeper Security.
Learn more about 1871's Corporate Memberships right here.