1871 is excited to launch a new partnership between WiSTEM and DyMynd Angels. Lakshmi Shenoy sat down with Monika Black and Carolyn Leonard from DyMynd Angels recently to learn more about their organization and the WiSTEM collaboration.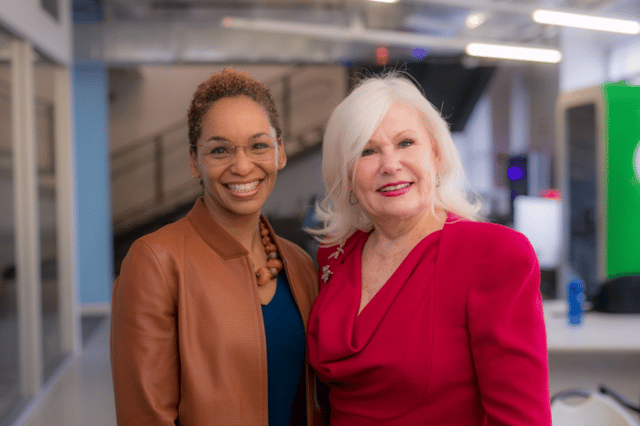 Pictured from left to right: Monika Black and Carolyn Leonard
What is DyMynd Angels? What problem does your organization seek to solve?
DyMynd Angels is an angel investing initiative, not a traditional angel network. We are building a pipeline of women who are interested in one day becoming angel investors. At a recent event, we asked the audience, 'how many women are financially supporting other women?' Everyone raised their hand. These women are unaware but they already are on the pathway to angel investing. We believe we can cultivate the talents and capital of these women through education and networking to help them become angel investors.
Only three percent of women are active accredited angel investors in Chicago and throughout the Midwest. Female founders are only raising $2.90 for every $100 that a male counterpart raises. We believe that if we increase the number of female angel investors, we can increase the number of funded female entrepreneurs because a female investor understands the problems a female founder is solving.
Tell us about the DyMynd Angel Fund, and how is it different from a traditional angel fund?
The traditional angel investing model relies on continued capital from the founders of the fund. As a fund looks to grow, they often turn to other forms of capital, which are often considered to exclusive and more rooted in patriarchal values. To be frank, it often feels like a "boys' club."
If we can remove the exclusivity and engage a broader section of the population, we can include more people and invest in more founders. That is what is driving the DyMynd Angels model. Through non-equity contributions, we can build a fund and offer investments of $50,000-$100,000 to female founders.
The fund will be guided by an investment committee made up of diverse female (and some male) professionals. With the initial fund, the goal is to make 20 investments. The returns of the fund will enable future investments, so those initial contributions are enabling a legacy of investments in female founders both today and tomorrow.
We love investing in women. When they ask for investment, they are looking to scale the business they are looking to grow. You get a greater return. The return DyMynd Angels receives will be converted into the next round of female founders for ongoing impact.
We hope that this community-minded, long-term view will enable and educate more women to learn more about how they can support other women. Women who are a part of the DyMynd network will be invited to our regular Angel Hour events to meet up-and-coming female founders and to network with other female leaders interested in angel investing. Women who want to become accredited angel investors can attend our bootcamps to learn how to make angel investments. She then can invest alongside DyMynd's fund (or make investments of her own).
How will WiSTEM and DyMynd Angels collaborate?
As you know, WiSTEM is 1871's 12-week pre-accelerator program for female founders. Through our community partnership, WiSTEM participants will have the opportunity to present at our Angel Hours and will have the opportunity to apply for an investment from our fund. DyMynd's foundation is about helping women change their relationship with money so that it's not based in fear. WiSTEM participants can take advantage of those services as well.
Who are some of your favorite female founders? There are so many to admire, but some of our favorites include: Liz Tilatti of ZipFit, Jamie Migdal of FetchFind and Kristi Ross of tastytrade (formerly Dough) We also love serial entrepreneurs like Marsha Serlin of United Scrap Metal. Marsha started her business in the 70s and now does half a billion in annual sales with no outside funding to get started!
Get in touch with DyMynd Angels at dymynd.com.
Is your corporation interested in plugging in to our community? Learn about our Corporate Membership.