In January 2018, 1871 was selected, by the Kauffman Foundation, as one of six entrepreneurial support organizations nationwide to serve as a policy advocate for entrepreneurs. In partnership with the Kauffman Foundation, 1871 is using the grant to fund a three-year program that will convene entrepreneurs, investors, and policymakers in one room to address the issues that are impacting entrepreneurs the most. The program features two policy forums a year in which entrepreneurs, investors, and policymakers will gather to discuss the most relevant challenges facing entrepreneurs. Together, the objective is to find policy-driven solutions and to amplify entrepreneurs' and investors' voices in Chicago, Washington D.C. and beyond. Read more about our grant from the Kauffman Foundation here.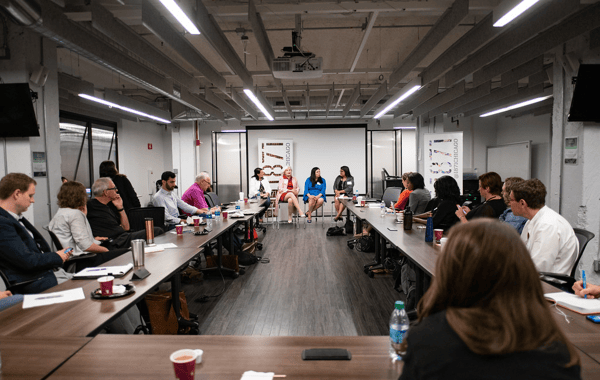 In August, entrepreneurs, investors, and policymakers convened at 1871 to participate in our inaugural Policy Forum powered by the Kauffman Foundation. The topic for the Forum focused on policies that were either helping or hindering access to capital for diverse entrepreneurs.
The Policy Forum kicked off with a powerful, women-led panel of policy influencers who led a discussion on the many challenges that diverse entrepreneurs face -- especially when they have tried to access capital. The panel of thought leaders included Kelley Francis (Interim CEO of the Illinois Hispanic Chamber of Commerce), Maria Colangelo (Manager of Women's Business Development at the Illinois Department of Commerce and Economic Development), Carolyn Leonard (Founder and CEO at Dymynd Angels), and moderator Geri Aglipay (National Women's Entrepreneurship Manager at the Small Business Majority).
3 Key Takeaways
A Definition for Future Forums

-- In order to better understand overarching policies that can impact diverse entrepreneurs, there needs to be agreement on how policymakers define entrepreneurship and new business versus small business.

According to the United States Congress Economic Forum

, "the core elements of ... entrepreneurial growth are the entrants of new firms, the rapid growth of young firms, the shifting of jobs from less productive to more productive businesses, and the movement of workers into and out of jobs."
The US Department of the Treasury defines a small business by "using size guidelines for the different categories of business enterprises...which is determined by the amount of average annual receipts or by the number of employees." For the purposes of these policy-related forums, 1871 will focus on general policies affecting entrepreneurship and new business development.
There is a Lack of Representation Among Lenders --

Aside from the Community Reinvestment Act, there is a lack of diversity in lending organizations -- and that many biases still exist within these organizations. For example, the value of a founder's solution or vision is significantly diminished if a lender cannot relate to the issue or challenge that the founder is trying to solve.
In order for more diverse founders to access debt financing, lenders must receive greater education and additional resources so that they can better understand the challenges that diverse entrepreneurs face when trying to secure funds. In terms of policy reform, the federal government could change underwriting policies at banks, making it easier for lenders to loan money to diverse entrepreneurs.
Policy, Education and Foundation

-- A lack of financial literacy and a shortage of generational wealth can negatively impact diverse entrepreneurs who are seeking capital gains. According to the Global Entrepreneurship Monitor report, entrepreneurs seek nearly

82% of their starting capital from friends and family

. Without a foundation of generational wealth, seeking funding from personal connections can be difficult, if not impossible, especially for diverse entrepreneurs.
Furthermore, policies that were written in the past can still impact entrepreneurs today. One such policy was the Equal Credit Opportunity Act, which made it possible for women to apply for credit in 1974. It can be inferred that many women lacked the financial literacy necessary to start or scale a business. Today, female entrepreneurs are still trying to overcome hurdles - only 2% of all venture capital dollars were given to female founders in 2018.
Though some existing policies make it more challenging for the broader entrepreneur community to access venture capital dollars, women and diverse entrepreneurs are certainly making strides to overcome these barriers.
You may be asking, 'what can be done to support diverse entrepreneurs who are seeking capital?' Entrepreneurs can start by educating themselves on the policies that can impact them the most. Check out the links below for more information on the policies that can help diverse entrepreneurs access more capital:
Want to get involved in the conversation? Please take this quick survey to help us determine which topic we should focus on for our next Policy Forum.