Selected as one of six entrepreneurial support organizations nationwide, 1871 will a receive a grant from the Kauffman Foundation to serve as a policy advocate for entrepreneurs.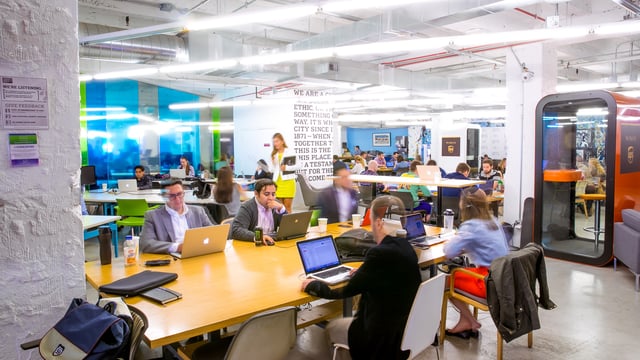 1871 announced today that it has been selected as a grant recipient to form the first-ever Kauffman Foundation Entrepreneurs' Policy Network, an alliance of organizations that will bring the voices of entrepreneurs to policy debates at the state level.
1871 is one of six entrepreneurial support organizations selected from an invitation-only nationwide RFP process. The Entrepreneurs' Policy Network seeks to remove barriers to new business creation and entrepreneurial success by improving public policy at the state level. Applicants included nonprofit and for-profit organizations that provide technical assistance, access to finance, education and other resources to entrepreneurs.
"This first-ever Kauffman policy advocacy RFP drew strong interest among entrepreneur support organizations. 1871 recognizes the role public policy can play in removing barriers to entrepreneurship so that more makers, doers and dreamers can pursue their entrepreneurial ambitions." —Jason Wiens, policy director in Entrepreneurship, Kauffman Foundation
Among other actions, grant recipients will:
Identify state policies that inhibit entrepreneurship,

Educate policymakers about the impact of those policies in erecting barriers to entrepreneurship,

Build support for entrepreneurs and entrepreneurship generally, and

Facilitate informational interactions between policymakers and entrepreneurs.
"We're honored to receive this grant from such an influential institution in order to help bolster our support for local entrepreneurs. This funding allows us to create a forum where local and state entrepreneurs can share their voices on policy debates and converse with key stakeholders in a coordinated and collaborative way." —Howard A. Tullman, CEO, 1871
1871 will use the grant to fund a three-year program that will assemble entrepreneurs, investors, and policymakers in a mission to address the issues impacting local business leaders and financiers. The program will feature two policy forums a year in which entrepreneurs and shareholders will educate policymakers about entrepreneurial challenges in an effort to make their voices better heard in public policy.
The Kauffman Foundation is forming the Entrepreneurs' Policy Network to bring the voices of entrepreneurs to policy debates by empowering the support organizations that champion them. The Entrepreneurs' Policy Network is part of the Kauffman Foundation's Zero Barriers movement, which seeks to identify and remove barriers to new business creation.
For more information on the Kauffman Foundation, visit www.kauffman.org.