Private violin lessons can range up to $75 -- or more -- an hour. And while there's no denying the benefits of 1-on-1 instruction, it can still be a hefty price to pay. But what if there was a more convenient way to learn the violin? One that not only cost less, but also allowed students to learn from the comfort of their own homes? That's what Sam Walder's building with Trala, an app that teaches users how to play the violin. In this post, Walder talks about technology as therapy, the importance of a strong support system, and why feedback should be one of the first things on every entrepreneur's to-do list.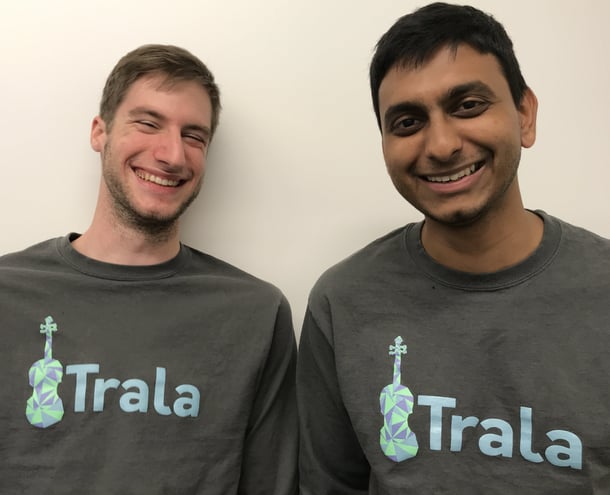 From Left to Right: Trala Co-founders Sam Walder and Vishnu Indukuri
Look, we know that high school orchestra isn't for everyone -- but if you thought the violin was an instrument that you'd only find at classical music concerts, think again. In case you missed it, the violin is making a pretty big cultural comeback; after all, who can forget Lindsey Stirling's jaw-dropping rendition of Imagine Dragons?
And though Stirling may have inspired many to learn the violin, it can still be intimidating to take the initiative to learn an unfamiliar instrument. Thankfully, Sam Walder -- who had experience in both music and technology -- realized that he could combine his skills to help potential violin players find their rhythm.
"The standard rate for violin lessons is roughly $75 an hour and it can take months to learn basic techniques. I've been a violinist since I was four, and I'm also a computer engineer by trade so I thought about combining those disciplines to make it easier for people to learn to play the violin."
And that's exactly what Walder did.
It wasn't long before he built a platform that could teach users how to play a violin. He named the platform Trala. Today, Trala has evolved into an app that provides customers with everything they need to master the violin including tutorials, instant feedback through signal processing, and songs that range from beginner to advanced.
As a first-time entrepreneur, Walder entered the startup space armed only with his tech savvy and a musical background -- but if there's anyone who personifies the old saying 'where's there's a will, there's a way' -- it's Walder.
"We've been very fortunate. I've got so much help from so many people. First, there's my co-founder Vishnu Indukuri. We've done everything together from the beginning. Then we went through Techstars Chicago and that's been an amazing resource as well. We are lucky to have fantastic mentors."
And though Walder's created a tool for users to learn the violin from the convenience of their own phones, he says that Trala's intent isn't to create performers; rather, it's meant to create peace of mind.
"We want people to play the instruments that they want to play and feel good about it. Trala is as much of a violin app as it is a happiness app. I spoke to a user a couple of days ago who happens to be a recovering alcoholic. He's stationed at a naval base and he's using the violin to help him recover, but there aren't any violin teachers over there. That's what Trala is for."
With an annual subscription of $119.99 (or $9.99/ month), Trala is not only more practical, but also more affordable than one-on-one instruction. Perhaps that's why, according to Walder, Trala receives an average of 1,000 downloads every week. It's an impressive number for a first-time founder and when asked about his entrepreneurial journey, Walder shares an old adage -- it takes a village.
"The best advice I've ever received was to work hard and figure it out on your own. But 'figuring it out on your own' simply means finding the right questions to ask to people who are much more experienced than you. You still want to find your community as well, because you want to be around people who are doing the same things. Building a business isn't easy, but surrounding yourself with people who have shared experiences is a major benefit."
Though Walder is extremely grateful for the guidance of those around him, his 'community' encompasses more than just peers and mentors.+
"As an entrepreneur, clarity is rare. You have to make so many decisions and you don't always know what to do. Having people around you who can guide you is important, but it's just as important to listen to your users. That feedback is key. It provides so much clarity because it tells you how other people view your product. That's why user-testing is one of our priorities."
After a steady stream of user-testing, Trala is quickly gaining popularity among those with an interest in the violin. Whether it's sweat, luck, skill, or a combination of all three, one thing's for certain -- Walder keeps hitting all the right notes.
1871 provides work space, education, resources, and curated connections to help Chicago's entrepreneurs build and scale their business.