If you're stocking up on spices for all of those delicious Fall recipes, don't forget to add saffron. Known as the 'queen of all spices,' saffron has a unique flavor that's hard to forget -- perhaps that's why authentic saffron is so hard to find. Fortunately, Keith Alaniz -- along with co-founders Kimberly Jung and Emily Miller -- brings saffron from the Middle East straight to your front door with Rumi Spice.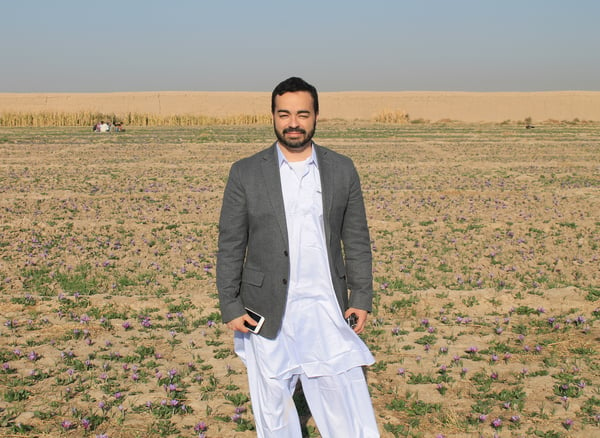 Dodging roadside bombs in the back of a Humvee, Keith Alaniz kept looking through the fields of purple flowers. Alaniz thought it was surreal to see so much beauty in war-torn Afghanistan; but at the moment, he was just enjoying the view -- little did he know that those same purple saffron blossoms would come to define his career in the future.
"I was working for the U.S. Army at the time, and I would often speak to Afghan farmers. I met a farmer who was growing saffron as a crop and looking for buyers. We quickly found out that Afghan saffron was some of the best of its kind in the world. We also found that farmers in Afghanistan were growing saffron at an unprecedented rate. So you have the quality and quantity aspect there and that got us thinking, 'hey, there's a huge market here.'"
So Alaniz called his old friends Emily Miller and Kimberly Jung, both Army veterans who had served in Afghanistan, and shared his idea with them. At the time, Miller and Jung were attending Harvard Business School. After some discussion the three agreed to start a saffron supply and distribution business. Inspired by the 13th-century Persian poet, Jalal al-Din Rumi, they named their company Rumi Spice.
"Once we launched the business, we saw a lot of demand. The saffron helps western markets by providing chefs, Michelin restaurants, and a lot of cuisine establishments with a great ingredient. There's a lot of culinary interest and there's a lot of consumer interest as well."
It's true. In fact, there's so much interest that you can already find Rumi Spice's products at your nearest Whole Foods. Alaniz says he's proud of the fact that it's the first Afghan product launched in the United States -- but he's even more proud of the impact his company has made for Afghan farmers.
"Over 80 percent of the Afghan population relies on their agricultural economy, and we're able to help them connect with economic opportunity by exposing their products to a global market. By connecting Afghan farmers to western markets, we're doing two things. First, we're empowering Afghan communities and second, we're dispelling their stereotypes and labels of westerners and creating a bridge between the two cultures."
As both a social enterprise and for-profit business, Alaniz focuses on doing what's best for both Afghan farmers and Rumi Spice. While some may argue that it's hard to balance both aspects, Alaniz says he follows a mantra whenever there's a dilemma between community and company.
"Do well by doing good. We always want to do what's best for the farming community in Afghanistan and what's best for our partners in Afghanistan. That's actually been the most beneficial and profitable course of action for us, and we've never had to do something that was less impactful because it made more business sense."
And speaking of doing well, Rumi Spice is currently the leader of all saffron distribution coming from Afghanistan. What's more, the company has also helped dozens of Afghan farmers increase their yearly wages by 400 percent. With one success after another, it was only a matter of time before some well-known investors took interest in Alaniz and his team.
"We were invited to pitch our company on Shark Tank last year. We were looking to get our name out there, and it was a great opportunity to present our business model and our mission."
It was that very mission that caught the attention of billionaire entrepreneur and investor Mark Cuban. After some negotiation, Alaniz and his co-founders walked off the set of Shark Tank with $250,000.
"That was a big win. It gave us the ability to scale and bring our brand to even more consumers. And then, having Mark Cuban back your idea, your company, that's obviously a pretty big deal in its own right. Right now, we're actually in discussions for a Series A investment with InFrontier, an Afghanistan focused fund. With this raise, we will be growing our impact to include hundreds of more farmers and will be bringing out another exotic spice from Afghanistan. "
Along with Mark Cuban, Rumi Spice has had a number of backers along the way including Bunker Labs, a nationwide business incubator for veteran-owned startups, and Chobani, the nation's top Greek yogurt brand. And though Alaniz is grateful for all the support he's received in recent years, there's one group that continues to stand out.
"At the end of the day, it's about Afghanistan and the farmers that are over there. They do amazing work and we're proud to call them our partners. If we can be a positive influence over there, help their economy, and bridge the gap between our two cultures, then we've achieved a really important mission."
1871 provides work space, education, resources, and curated connections to help Chicago's entrepreneurs build and scale their business.