The 1871/IHCC Hispanic Technology Incubator is a cohort-based accelerator that provides Latinx-led businesses with programming and mentorship. We asked each of the participating entrepreneurs about what makes them tick, and this week, we say hello to Ricky Regalado, CEO and Founder of RozaRoute, a B2B app solution for the commercial cleaning service industry.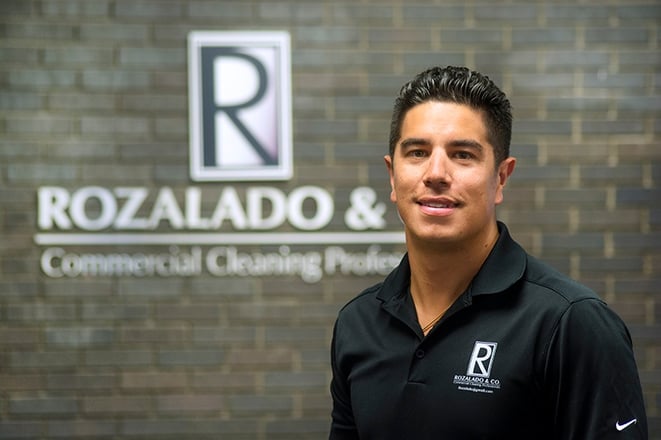 Ricky Regalado, CEO and Founder of RozaRoute
Q : Tell us a little bit about your personal history and background.
I love being a Entreprenuer. I am motivated everyday and can't wait to get to work on my to-do list every morning and then see where the rest of my day takes me. It's hard for me to plan out a week's schedule because there is so much that happens in my life in one week.
I always knew I would work for myself because no matter what position I held in my jobs during school and after I graduated, I always treated them as if I was the owner. I have held many different roles in sales, marketing, events, and even cold calling -- you name it! This ultimately led me to become a Jack of all trades, which I cherish immensely because it helped shape the type of person I am today.
Q: Tell us a little about your company. What's your elevator pitch?
RozaRoute is a data driven phone and smartwatch app that will be a B2B solution for the commercial cleaning service industry, but has the potential to serve the field service industry as a whole.
Q: What about the program do you think is helping your business the most? Are there any specific examples?
Learning more and more about the technical aspects of building a tech-based startup has been invaluable. The amount of resources and the fellow cohort relationship building that I have encountered has been phenomenal. Connecting and getting to learn more about the other companies, their concepts, passions, and past experiences has been eye-opening.
Q: What's the greater good your company is trying to accomplish? How will it impact the community? What problem does it solve?



RozaRoute is trying to change the perception of cleaners and the cleaning industry as a whole. We are trying to gather data in an industry that lacks it and is in dire need of it. We're solving inadequate workflows and inefficient productivity of teams in the field.
Q: Give us a little insight into your perspective on diversity in the tech community. Why is it important? What do you hope to see?
As I have embarked in this crazy tech startup world I can't help but notice the number of Hispanic entrepreneurs is very minimal, which boggles my mind because I know the drive and work ethic of the Hispanic community and how successful we are in so many other industries, but most commonly in labor intensive industries. It's time to bring that work ethic and drive into the technology space.
Q: What is the most valuable experience you gained personally and for your business during the program?
I have learned so much in this past month in regards to technology building in the app space, as well as financial modeling, technical terminology, agile development, sprints, scrum, VC funding, fundraising, and last but not least -- entreprenuership and camaraderie.
Q: Do you have any closing thoughts about the program or your experience at 1871?
I'd like to thank 1871 and IHCC for putting this type of program together and highlighting the diversity aspect in this industry and allowing myself and the other fellow cohort members to spend some time together and have the opportunity to meet so many great people in this space, this great city of Chicago. There is so much greatness going on right here in Chicago that amazes me everyday. We are a technology HUB, and it is only growing and growing. I am jumping on this crazy ride and enjoying every moment.
The Hispanic Tech Incubator provides access to mentors and tailored content designed specifically around the individual businesses admitted to the incubator. It also contributes to IHCC's ongoing partnership with 1871, which supports Hispanic entrepreneurs, technology professionals, and students with educational programming, networking opportunities, and other resources. Learn more.