Most of us don't need to know anything about our insurance other than a provider name and an identification number, but like a Swiss watch, there's a whole lot going on beneath the surface than most of us realize. Unfortunately, the similarities stop there -- while most Swiss watches are efficient automated wonders of Swiss engineering, the insurance industry runs closer to the opposite end of the spectrum. Thankfully, Richard Perrott of WatchTower is bringing the industry into the 21st century.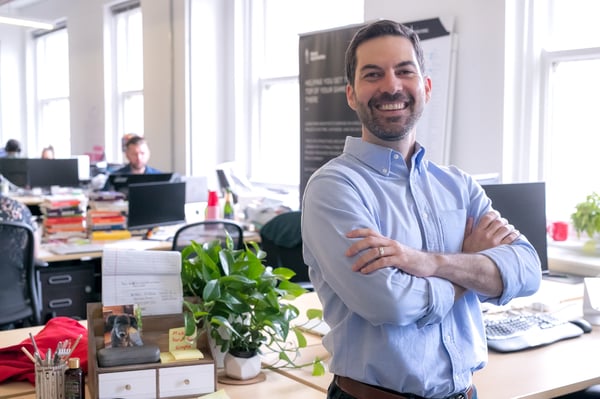 At 17-years-old, Richard Perrott made a promise to himself that he would one day start and run his own business.
"I always knew that I wanted to start my own company. It wasn't something that I had to do immediately, but there was always something pulling at me to swing the bat."
Though Perrott eventually made good on his promise, he started his professional career in a sales role at Sun Life Financial, an employee benefit insurance company. Throughout the course of nine years, Perrott gathered extensive knowledge about how employee benefit insurance is bought and sold, and what drives consumer behavior. And while he enjoyed his experience there, he acknowledges that it was anything but easy.
"In the employee benefit insurance space, everything was being done manually – especially in the mid-to-large end of the market. Brokers and carriers would spend months putting together insurance programs for their clients, and in the end they'd be implemented wrong. The mistakes were costly to fix, and even resulted in claim denials that impacted real people's lives."
Perrott wasn't the only one in the benefits insurance market experiencing headaches, especially since a whopping 56 percent of Americansreceive their health insurance through work. Behind the scenes, a giant machine involving insurance companies, brokerage firms, and employers serve this demographic by liaising to ensure that insurance programs are running smoothly. Unfortunately, outdated tools, resources, and systems often ensure that these programs are a source of frustration rather than comfort.
"Fifty years ago insurance companies were some of the earliest adopters of technology. Unfortunately, many are still running on decades-old, disconnected systems. They're doing their best with the tools they have at their disposal, but it requires a lot of manual workarounds strung together with duct tape and chicken wire. There's a clear opportunity for new entrants without that legacy system baggage to better connect the industry and expand the surface area of what's possible."
After uncovering one pain point after another within the insurance industry, Perrott realized that he had found a perfect opportunity to realize his long held dream of becoming a founder and entrepreneur. After nearly a decade at Sun Life Financial, Perrott left the organization to help build and launch WatchTower -- a cloud-based solution that simplifies the entire insurance distribution process.
"The supply side of the employee benefit insurance deal flow involves hours upon hours of review, data collection, and data entry. We help significantly reduce time and effort by automating processes, reducing human error, and increasing workflow efficiency for all of the parties involved. What we get most excited about though is that by moving from a manual environment to one that's facilitated by software, we can use data to drive better decision making and outcomes in the future."
On average, WatchTower reduces time and labor for brokerage firms by 50 percent. What's more, WatchTower helps optimize the arduous and expensive underwriting and distribution process, which saves insurers money and lowers the cost of insurance premiums. Perrott credits his company's success and its ability to deliver consistent results to the lessons he's learned during his professional career -- along with the people who teach them.
"My cofounders and I had been dealing with these problems for over a decade so we were acutely aware of the pain points. When we launched WatchTower we knew we had a lot to learn about building a business so we came to 1871 to make contacts, network, and find mentors. While mentorship has been the main draw, we've also learned a lot by just being around other companies -- it gives you a lot of perspective on how other entrepreneurs are approaching similar problems in different industries."
And when it comes to learning key lessons, Perrott has been a stellar student. Along with co-founders, Shaheeb Roshan and Ryan Sachtjen, Perrott has driven rapid growth for WatchTower. In fact, the company is looking to double their team before the end of the year. While one might dismiss his progress as luck, much of what Perrott and his team have achieved is the result of hard work and careful planning.
"An old friend once told me that luck smells like sweat. In my experience that's always been the case. The harder we work, the luckier we get. I also love the Eisenhower quote, which is 'plans are useless but planning is indispensable.' A lot of founders look at the Lean Startup and use it as an excuse to not plan, but the spirit of it is really about experimentation. You still have to think ahead. Then analyze where you're at and course-correct as reality unfolds. Action is important, but it should be paired with a blueprint."
And right now, the blueprint for WatchTower is looking pretty good.