With Halloween just around the corner, we thought we'd share a scary thought with you -- more than half of all Americans are not currently investing in the stock market. That's why Brian Curcio and Myles Gage developed Rapunzl, an app that teaches young adults how to invest in the stock market through simulated competitions. In this post, Curcio and Gage talk about the need for financial education, what it's like to be a young entrepreneur, and why you always get what you give.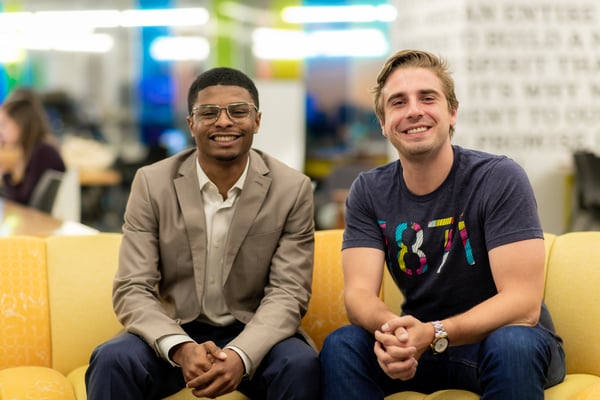 From Left to Right: Myles Gage and Brian Curcio
Complicated, abstract, and often perplexing, many of us are at a loss when it comes to navigating the stock market. Full of charts, tickers, and three-letter symbols, stocks are often difficult to understand. According to Brian Curcio, that's not a surprise considering that there's not a whole lot of education around the subject.
"Many young adults -- and even some people in their 30's or 40's -- don't understand the stock market. That's mostly because they lack the means to learn more about it, and there aren't any existing tools that can help prepare them. Most schools don't teach you how to invest in the stock market so people just avoid it." – Brian Curcio, Co-founder, Rapunzl
Which is a shame, because prudent investing practices are a crucial part of accumulating and growing one's wealth. Fortunately, Rapunzl Co-founder Myles Gage attended one of the few schools that taught financial literacy -- a skill that Gage says is all too rare among younger generations.
"Having attended Ariel Community Academy, I began learning about economic and investment concepts in first grade, by sixth grade, I was managing my own portfolio of stocks. Through my subsequent participation in the teen investment club Ujamaa Jr, it became apparent that having financial market acumen at a young age was a rarity. However, I felt these were topics all young people should be discussing, especially in communities of color, thus a major driver in wanting to help educate others about the stock market." – Myles Gage, Co-founder, Rapunzl
So when Gage met Curcio at the University of Chicago Lab School, he began discussing the lack of financial education in most modern schools. From there, an idea was born -- if no one is teaching young adults about the stock market, why not do it themselves?
"A lot of the communities here in Chicago have minimal interaction with financial markets. There's almost a sort of self-perpetuating cycle of financial illiteracy in many places. The students don't want to learn about markets because they're never exposed to it. And on the other end, there's a shortage of supply of teachers comfortable with teaching financial education because it hasn't been a focus in our students' curriculum. At the time, we also knew that the stock market was designed to sound more complicated than it really is, so we started thinking about ways in which we could simplify it for people." – Brian Curcio, Co-founder, Rapunzl
That's when Curcio and Gage developed Rapunzl, a free mobile app that teaches students how to invest in the stock market. Think of it like fantasy football for stocks; the app allows users to compete for scholarships and prizes against an investor community using a simulated portfolio.
By gamifying the stock market for its users and leveraging a web-based investor community, Rapunzl provides millennials with a means to share their investment performance, learn from top investors, and crowdsource investment ideas from their networks. And though the app is free to use, its users can compete for scholarship money; in fact, Rapunzl has already offered over $20,000 in scholarships for its users -- a number that Curcio says is just the tip of the iceberg.
"We saw a lot of success from our pilot in April, where we offered $20,000 in scholarships and over the summer, we took that success and parterened with different financial institutions in Chicago. Currently, we have over $75,000 in commitments and we plan on using it to promote financial literacy from a national standpoint." – Brian Curcio, Co-founder, Rapunzl
And though Rapunzl is mostly accessible through its app, Curcio and Gage have truly committed to their mission to improve financial literacy in much more than a virtual sense.
"Both Brian (Curcio) and I will go into classrooms and explain how the economy works or hold discussions with young students, so that they better understand the power of their dollar. One of the things we're really focused on right now is helping shift young adults from a consumer mindset to that of an investor." – Myles Gage, Co-founder, Rapunzl
It's no easy task, Gage and Curcio are no strangers to adversity. As young entrepreneurs they must disprove stereotypes of being too inexperienced or novice.
"We were 22 when we started, so I think a lot of people were hesitant to work with us. There's a tendency to look at young founders and dismiss their credibility -- but coming to 1871 really helped. Here, we were able to connect with mentors and those connections were really important because now we have seasoned entrepreneurs vouching for us." – Brian Curcio, Co-founder, Rapunzl
Today, Curcio and Gage are still working to become those seasoned entrepreneurs that they look up to and relied upon, but seem to have picked up some insights along the way that are well beyond their years. The most important one?
Every situation is a learning experience.
"As we create these scenarios in our heads that a specific set of actions will yield certain results, it is easy to get discouraged when these theories don't materialize despite the effort expended. As an entrepreneur you must be quick to learn there is no universal path to success and to view failure as an educational opportunity"- Myles Gage, Co-founder, Rapunzl
And though it might not be immediate, Gage and Curcio both know that their mission will eventually happen also.
"It'll certainly take awhile, but we want to provide equal access to the stock market for everyone. That's why we're here." – Myles Gage, Co-founder, Rapunzl
1871 provides work space, education, resources, and curated connections to help Chicago's entrepreneurs build and scale their business.