1871 and BMO Harris Bank are proud to hold their second joint innovation program. The program provides participants with BMO mentors with various expertise, mission-essential resources across the bank, a working space at 1871 and the potential opportunity to pilot their technology with BMO Harris. To offer insight on what entrepreneurs can expect from the program, we spoke with some of its current members. This week, we talk to we talk to Shima Rayej, Co-founder and Chief Investment Officer at Safe Rate, about the importance of perspective and how the Chicago Bulls helped her connect with one of the nation's most prestigious banks.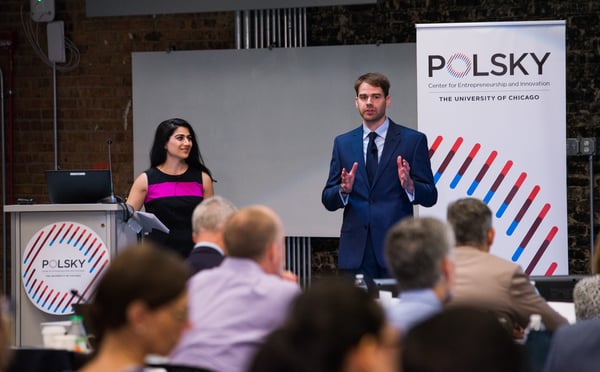 From Left to Right: Shima Rayej and Dylan Hall
"I am excited to work with Safe Rate over the next few months and help them take their idea to the next level," said Eric Hu, Safe Rate BMO mentor. "This program not only allows startups a chance to grow, but give us a chance to gain exposure to how the fintech startup space is evolving outside of BMO walls."
Navigating the housing market is no easy task, but husband and wife duo Dylan Hall and Shima Rayej are making that process more accessible with their company Safe Rate. As a mortgage product for low down payment borrowers, Safe Rate reduces monthly payments during housing market distress or when a home's value drops. According to Rayej, the startup removes private mortgage insurance -- which can be very costly -- for borrowers, and replaces it with a mortgage that offers lower monthly payments and proactively helps borrowers when home values falls.
"We're reducing the incidence of foreclosure and stabilizing home prices. Essentially, we're able to use our service to not only decrease foreclosures, but also stabilize neighborhoods and communities, and enhance returns for investors as well."
Though Rayej is an expert in the housing industry, she wanted to learn more about the technologies that were disrupting the lending space. For that, she sought help elsewhere.
"We wanted to look under the hood of loan-origination technologies and finding access to an expert in that field had been fairly difficult. We looked in a lot of places but at first, didn't have much luck."
That was until Rayej -- a self-admitted Chicago Bulls fan -- began to see BMO Harris Bank headlining a number of Bulls commercials. After seeing the commercials, Rayej, who prioritizes community, began to look into the bank and its offerings.
"When I saw the BMO commercials, I felt like they were very much a community-focused organization -- the kind that was very warm and very welcoming. That's how I found out about the innovation program. And at the time, we had also just received an investment from the Polsky Innovation Fund from the University of Chicago, and they highly recommended BMO as well."
So the decision was made, Rayej and Hall applied to the innovation program and soon afterwards, they were accepted as one of the participating startups admitted to the innovation mentorship program. Although the program has helped Safe Rate in many different aspects, Rayej says the mentorship has tremendously benefited her startup.
"There's so much that you learn through the program. We wanted to learn how lenders might respond to our product, and we also wanted to learn more about the nuances in the highly-regulated mortgage industry. There's no better resource for that than having access to a bank like BMO Harris. They've provided us with mentors and experts that have truly helped us understand and navigate this space."
But perhaps what Rayej finds best about the program is the wide variety of different perspectives that its mentors bring to the table. She says it acts as a barrier against the perils of groupthink.
"Everyone on our mentor team has a different perspective and personality. That's important because now you have experts who are taking a unique approach to brainstorm new ideas and solutions. It's almost like we've doubled our team and then staffed it with senior industry experts."
And as someone who values community -- Rayej has a message for those who work in similar industries.
"I would highly recommend the 1871 and BMO Harris innovation program. It's not every day that you can get feedback and input from the executives at a major financial institution, but this program offers that opportunity and that's incredibly valuable."

Interested in learning more about the 1871 and BMO Harris innovation program? You can find more information by following this link.