For this week's Our 1871, we chat with Joel Pollick, Founder of Percent Pledge, a platform that helps companies engage with-and retain-millennial talent through personalized giving that's simple, trusted, and transparent.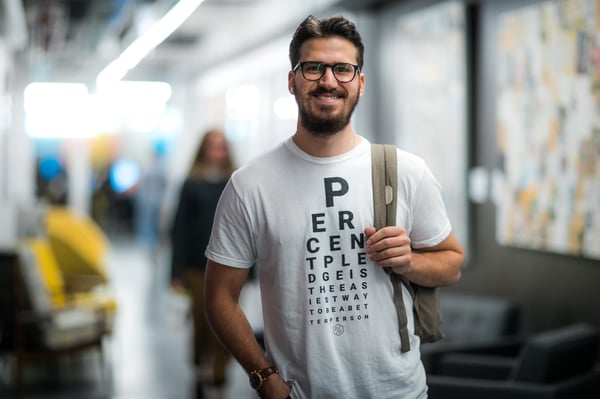 Tell us about your "aha" moment. When did you decide that this business concept was what you wanted to pursue?

One evening, late in 2016, walking to the Blue Line from my consulting job in Chicago's Loop. It was the same walk I made every day and it always took exactly 10 minutes. The perfect length to check in with family and I owed my Dad a call.

My Father, Marc, has worked in philanthropy for 20+ years and philanthropy was the topic we landed on that evening. I told him that I wanted to start giving more to charity and asked him for suggestions. He laughed at first, reminding me that, as a kid, I resisted when my parents donated 10% of our family's money each year or made me donate 10% of my Bar Mitzvah money. "Mom, Dad, why would we do that when it could be better spent on new basketball shoes or the latest Abercrombie & Fitch cargo shorts you never buy me!"

After he got done laughing at the irony of my "personal growth", I pressed him on the way he gave when I was growing up. That notion of giving some percentage of my income to charity had stuck with me, so I asked if he knew of an easy way to do so?

He said he didn't know of anything like that and his response surprisingly excited me. I told Dad "love you, gotta go", then rushed home to jot down everything I thought could go into a platform that made it simpler for young people like me to make giving a bigger part of their lives. To make giving a habit.

I had always wanted to build something and from that conversation, Percent Pledge was born.

As you build your business, where do you find support? How do you cultivate a community around you?

I tend to find support from three places: my mentors, our team, and our community of users.

Mentors: I spent more than a year developing Percent Pledge on my nights and weekends before leaving my consulting job to launch the platform. So, during that time, and even to this day, I worked to cultivate relationships with people that had successfully built something and been where I wanted Percent Pledge to go. And, aside from my father, Mark Achler (who is also an 1871 member) and Neal Sales-Griffin (who was formerly a member) were my two greatest mentors. I was introduced to both early on in the process and they were incredibly helpful as I got going. Percent Pledge probably wouldn't exist today without the support of those 3 mentors.

Our team: I'm a non-technical founder, and was lucky enough to find people that were passionate about the idea and had the skills to bring it to life. Our team has grown beyond Pat Carolan, Aron Macarow and Colleen MacDonald (who essentially built the platform) and now I look to our entire team to help figure out how we bring this vision to life. And, probably most importantly, our team serves as the checks and balance system when I want to do everything at once or don't put new platform features through the lens of feasibility!

Our community of users: This is the most important group we find support from. Without them, we definitely wouldn't exist, and they help us learn as we grow. The platform probably looks 40% different 6 months in that it did day 1, and almost all those changes have come from asking our users for their input. We show as much gratitude as possible for their input, because they deserve it, and they have been more than willing to help us build the ship as we steer it.

Entrepreneurship is hard. What would you say is your main quality that helps you persevere when the going gets tough?

I think gratitude is the main thing that keeps me going when the going gets tough. I read the Mayo Clinic Guide to Stress-Free Living five years back and, even though it sounds cliched, it changed my life. I certainly don't live stress-free, but the book teaches the importance of practicing gratitude and I have carried that with me ever since. It's one of the core values within our company and it's what keeps me going when things get tough. I try to be self-aware when that happens and force a new perspective on the situation. A perspective about what we have to be grateful for (what we've accomplished thus far) that replaces the negative perspective from whatever is going wrong.

Speaking of tough, there are probably plenty of times where you've been knocked down. How do you approach challenges and adversity?

I would say the answer above touches on this (practicing gratitude) and the other piece is putting our focus on what we can control. When we encounter adversity, there is usually a lot within that adversity that's out of our control. And I think it's natural to worry about that stuff, but don't think it's productive. So, when we face challenges, we take some time to identify what we can control and try to put our whole focus there.

What's the most important lesson you've learned as an entrepreneur?

Be self-aware and keep focus. I've learned that we have to follow the money (what actually create revenue, or in our case, giving) and not get distracted by the shiny objects. So, the end result is better prioritization and saying no to certain things, but the initial input needed is self-awareness. I have to be self-aware about everything coming at us and be able to catch myself when the shiny objects get me distracted. It's something I am still not even that good at, but certainly the most important thing I've learned (and am learning!).

Between the "always on" nature of being an entrepreneur and finding time for dinner, family and friends -- how importance is balance in your life?

It's extremely important, and something I'm constantly trying to be better about! I am beyond lucky (and grateful) that my longtime girlfriend Emily has supported me so much and been extremely patient as I learn to keep balance. Whether it's dinner, getting to the gym, or just putting the computer away, I've had help making those important things happen!
Follow Percent Pledge on Twitter.
1871 is where Chicago's entrepreneurs come to build a great business, providing education, inspiration, workspace, and unparalleled startup resources.