Simple 1871 fact -- the people make the place. Today we chat with Emily Santos, Code2040 Diversity Fellow on her experience at 1871. After a full year helping to coordinate diversity initiatives in our community, Emily's fellowship is finally drawing to an end. Here we celebrate her last week with us with a special Our 1871!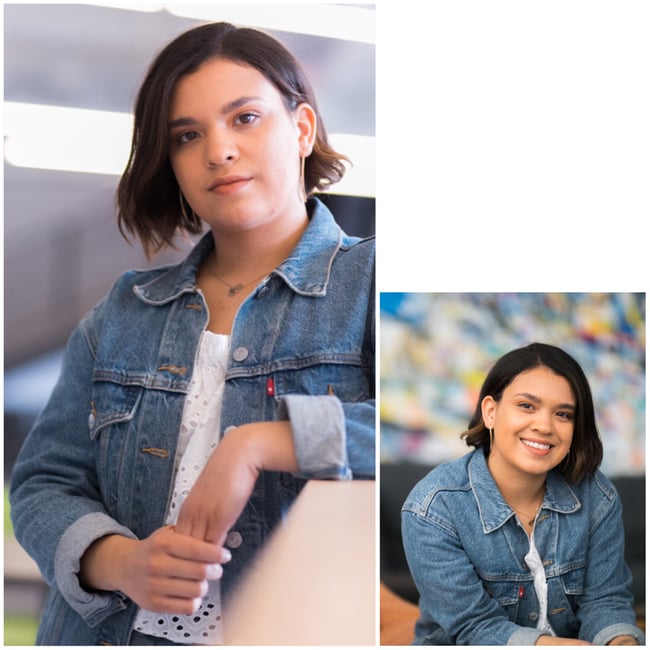 Biggest Challenge
My most challenging moment was [helping to facilitate a high school field trip to 1871] that consisted of 100 students.
I've always had a fear of public speaking and the thought of speaking to 100 high schoolers put me in tears... Literally, I cried. But I knew I had to face my fear.
It was a great learning experience for me because although my first field trip went terribly in my opinion, the more I hosted field trips the more comfortable I became with speaking in a public setting.
Biggest Lesson Learned
During my time at 1871, I learned that it is important to put your money where your mouth is when it comes to investing in people and businesses. Diversity and inclusion is something that needs constant work – it is far from a one time job.
Next Gen
The work with high school students was important to me because when I was in high school I did not have role models to look up to. It sounds really cliche, but that was my reality. I went to a high school where getting an actual education and making something out of your life was not a priority or "cool".
I feel high school students now have such an advantage because they have classes that are specialized in entrepreneurship and business. Even if the students do not find themselves creating their own business in the future they have learned the fundamental skills of building a business, and that is awesome to know at such a young age. I didn't get the chance to learn those fundamentals until I was in college and working at 1871 so for me, this is my way of being a part of the process and giving to students what I wish I had [been given at a younger age].
What's Next
I will be working at DeskLabs, which is a smaller co-working space located in Lakeview as their Social Media Associate. I will be maintaining all their social channels moving forward along with their blog and other branding. I'm excited to continue my journey in a co-working spaces and really put my degree to use with social media.
#Our1871 is a series of articles, photos, and videos introducing you to the amazing people who power our community. Check out our feature on Brian Walker of AE Marketing.
Are you a thought leader? Lend your voice to the 1871 Blog by following the link below.