Our 1871 is a series of articles, photos, and videos introducing you to the amazing people who power our community. Simple 1871 fact -- the people make the place. Today we chat with Davinder Kohli, Founder of XentStudios, a startup that uses virtual reality to help kitchen and bath retailers showcase their products.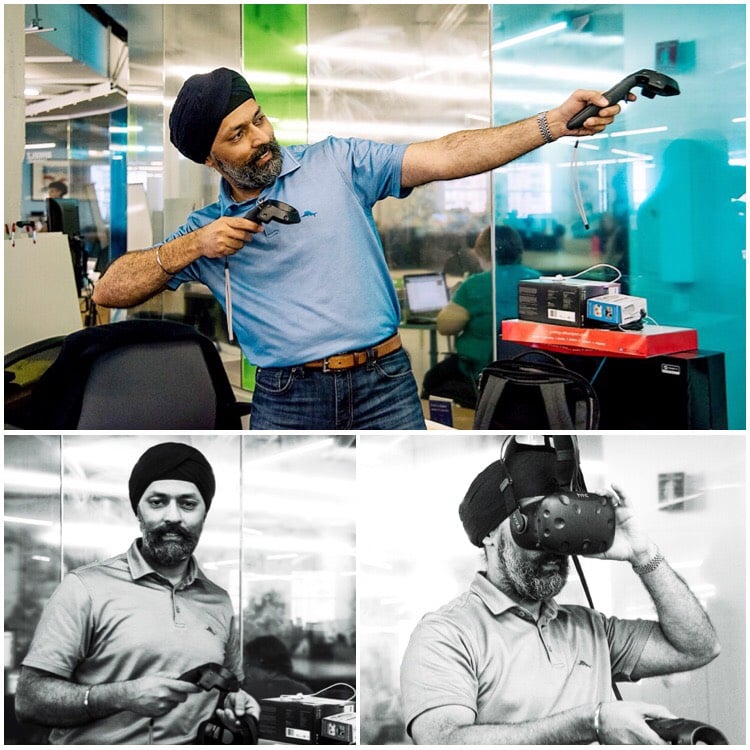 Tell us about your "aha" moment.
Intrigued by virtual reality (VR) and its numerous applications – in addition to the gaming industry – got me dabbling with the technology in 2015. At the time, the VR market was quite nascent. What's more, the devices weren't nearly as sophisticated as they are now – especially in the area of enterprise-level adoption.

I started experimenting with VR in gaming, retail, shopping and social networking. Coincidently, during the same time, my wife and I were in the process of renovating our kitchen and bathrooms. We had made several trips to home improvement and supply stores. Some simply provided us with samples of the building materials that we were interested in. Other stores featured more elaborate in-store displays. However, they did not display the products that piqued our interest. Consequently, we were left to use our imagination regarding how the product samples would look within our home environment.

That was my "aha" moment. I thought, what if we could see these renovations in virtual kitchen and bath displays before we bought them? In other words, experience them as if they were really there – one of the primary benefits of virtual reality. Through research and talking to several kitchen and bath (K&B) dealers, I decided to launch XentStudios.
Where do you find support and community?
Besides finding moral support, I had to think about finding financial, technical and business support. I am blessed to have a very supportive family and close friends. Entrepreneurship is a lonely journey. Therefore, it's important to have someone with whom you can share your thoughts and feelings. You need to find one or two people that you know will listen to you, give you good advice and also keep it real.

For financial, technology and business support, I have searched online to network with people who are experts in the areas where I need support. At times, I have even traveled to different cities to meet such people. I'm also lucky to be part of the 1871 community, that has provided me an ecosystem of like-minded individuals to network.
Entrepreneurship is hard. What's your main quality that helps you persevere when the going gets tough?
There is a lot we can learn from nature. Even after a tree loses its branches and leaves to adverse weather, it remains resilient. It continues to grow new branches and bear new leaves but only stronger than before. When the going gets tough, I remain positive and resilient to the situation. I attribute this quality to my strong roots in my faith.

I consider adversity as nature's way of strengthening my weak areas so that I am better prepared for the next challenge. During adversity, I rely on my faith and look to my advisors for guidance. I tend to excel when there are challenges. It forces me to think differently and most of the time, I have come out stronger and with a better solution.
What's the most important lesson you've learned as an entrepreneur?
The entrepreneurial journey is a roller coaster – fun and grief along the way. We have had downturns - ideas changed, team members left, proposals were turned down, rejections from investors. The most important lesson for me has been to keep believing in myself and marching forward. Having said that, I rely on data points along my journey to make assessments ensuring that I am better off now than I was a month or six months ago.
How are you helping to make the world a better place?
The core principles of our company are character, culture and community. When we contribute back to the community, we grow personally and as a business. As entrepreneurs, we should be willing to part our knowledge and learnings with those who seek. At a personal level, I try to coach and mentor fresh graduates and give them opportunities in our company so that they feel empowered to take on new ideas.

Our long term goal as a business is to make physical kitchens and bathrooms for the underprivileged, as we make virtual kitchens and bathrooms for our customers. The idea is to help them both make the right decisions for their new home or renovation project.
How important is balance in your life?
My family is my biggest support and I love them a lot. There have been countless weekends that I have shown up to work and spent long hours, skipping my daughters' practices and events. Fortunately, my daughters are at an age where I can rationalize things with them. I try my best to make time for dinner everyday with my family.
What do you wish you had known when you started your business?
I wish I knew the time it would take to launch!
Follow XentStudios on Twitter.
1871 is where Chicago's entrepreneurs come to build a great business, providing education, inspiration, workspace, and unparalleled startup resources.