Jonathan Pritchard is the Founder of Like A Mind Reader, which helps people and companies connect with their people through live speaking events, trainings, and entertainment opportunities.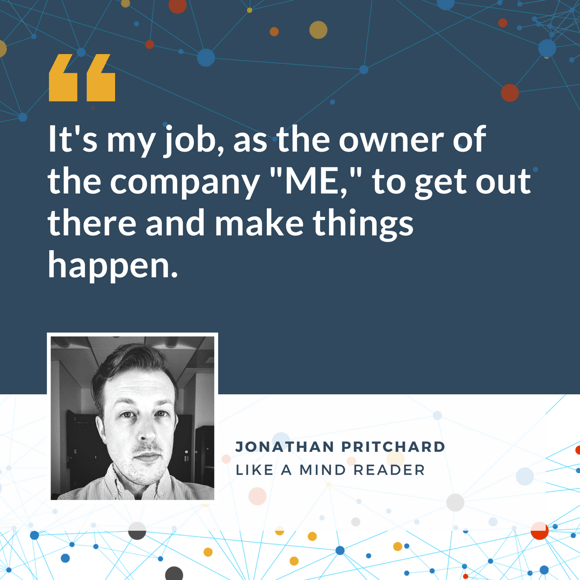 What did you have to learn the hard way in your professional life?
Nobody cares more about your success than you do. For the longest time, I incorrectly believed that my agent's job was to send me work. I sat back and waited for contracts to come rolling in -- how wrong I was! It's my job, as the owner of the company of 'ME,' to get out there and make things happen. The belief that it was someone else's job to do my work for me kept me poor for way too long. Without a bankroll I couldn't properly finance marketing efforts, which fed into a vicious cycle of failure, but I'm glad I learned a valuable lesson from it.
What skills do you think are the most important for an entrepreneur to have?
Communication, presentation, negotiation, influence, and sales skills are make-or-break for any entrepreneur. I believe that time spent improving any or all of those skill-sets is time well spent and ignoring any of them is disastrous. If you can't communicate your value and influence others, negotiate a win-win outcome, or ask for the sale, then you're sunk.
What's your tech/startup prediction?
The pendulum will swing away from digital sales. As we move further into automated processes, face-to-face communication will become more valuable.
What do you consider your greatest success?
Having been self-employed since the day after I graduated college. I had my first paid performance when I was 13 year -old, and I built momentum from there. I've traveled the world, entertained the troops stationed overseas, performed on main stages in Las Vegas, appeared on national TV, and more all because I followed my passion and curiosity. Now I take my clients 'behind the curtain' and show them the secrets I've used over the years, and I teach them how to apply the very same principles in their own lives and businesses. Sharing my knowledge has been incredibly rewarding, and I sleep well at night knowing I'm helping people solve their problems instead of simply forgetting about them for an hour.
Now for the fun stuff...
What is your favorite comfort food?

Ribeye steak with brussel sprouts & mixed green salad.

Which song is the soundtrack to your life?

I Saw The Sign by Ace of Base.

Where is your favorite spot in Chicago?

The grassy area by Fullerton beach, just north of the Buddha head statue installation.

What do you like to do in your free time?

I write for several blogs for fun, practice kung fu every single day, and I do body weight training several times a week.
Follow Jonathan on Twitter @the_pritchard or connect with him on LinkedIn.
Are you interested in becoming a mentor or teaching a workshop at 1871? Learn more here.