We're gearing up for the ChiBuys Winter Tasting and thought we'd interview participating vendors to hear their stories and preview their delicious dishes. Our ChiBuys program supports minority and women-owned food vendors in the Chicagoland area and reflects 1871's wider efforts to promote greater diversity and inclusion in the community. Today, we chat with Nikkita Randle, Founder of Twisted Eggroll, about how she turned her passion for cooking and entrepreneurship into a popular (and very delicious) business.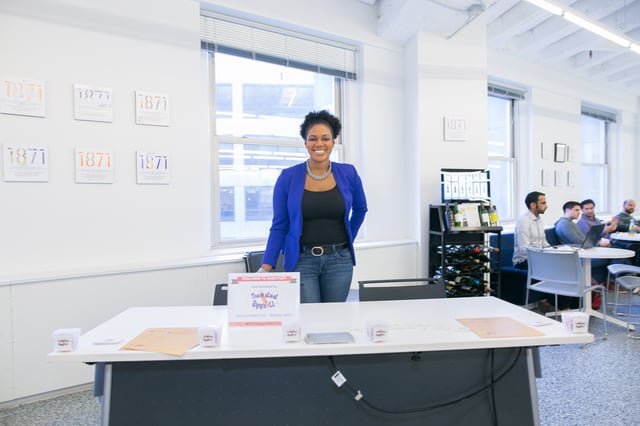 Nikkita Randle, Founder of Twisted Eggroll, stops to take a candid photo at 1871 in The Merchandise Mart.
What or who are your influences?
My parents for sure! They have instilled some amazing things in me and because of the love they poured into me, I live everyday to honor them and make them proud. Michael Jordan has always been an influence as well. His work ethic and business savviness are just a few of the things I admire!
What makes Chicago a great place to build a business?
Chicago is such a diverse city for opportunity. For example, after winning the Red Eye's Big Idea Award, so many doors opened up here in Chicago. The most comforting thing in starting a business in Chicago are the resources. You have co-working spaces, the Chamber of Commerce, networking opportunities, and a multitude of conferences. There is just such a huge support system awaiting any entrepreneur in Chicago.
What was your mission at the onset?
From the original vision that I had, my mission consisted of three things; entrepreneurship, cooking, and leaving an incredible legacy. The constant push for those things came from the loss of my father. He was a strong believer in being in business for yourself, and I finally found a way to turn one of my passions into a business.
How is running a business different than what you thought it would be?
I think most people know that it will be hard work, restless nights, and a lot of money. But actually experiencing it is a totally different thing. Honestly, the biggest difference I notice is how much professional help I need. Even with having my MBA, there are still so many things with taxes, employees, pricing, etc. that were foreign to me and trying to learn it all can become overwhelming.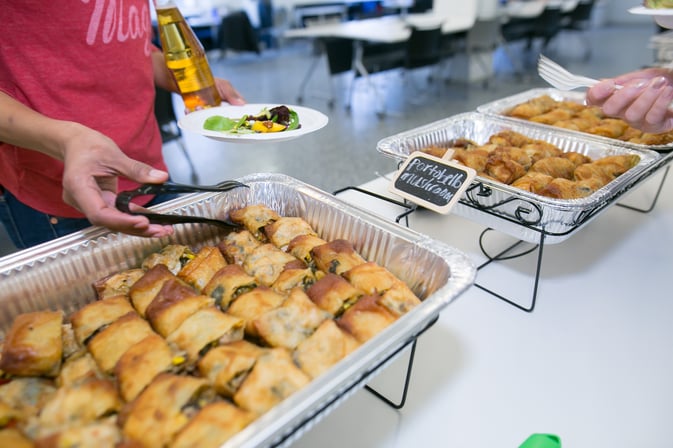 Few things hit the spot like Twisted Eggroll's delicious offerings; fair warning though -- they go fast!
If you had one piece of advice for an entrepreneur just starting out, what would it be?
Be open to absorbing as much advice as you can -- so many people have already failed or succeeded and can help you along the way. You can avoid a lot of stress by just asking for or accepting advice from fellow entrepreneurs and along with friends and family.
What are your goals for 2018?
My main goal is to have my own commercial kitchen space, and my continuous goal will always be to bless as many people as possible with yummy food!
Can you sum up your approach to hospitality in one sentence?
A warm smile will always make the customer feel welcomed.
What's one cookbook that everyone should read?
I'd recommend "LaBelle Cuisine: Recipes to Sing About."
What's one thing on your menu we have to try?
The Buffalo Chicken!
Through the ChiBuys initiative, we put our money where our mouth is – literally! Over the past year, we have developed relationships with dozens of local, minority and woman-owned caterers throughout the city in an effort to direct our purchasing power with intention and thoughtfulness.
On January 25, we're hosting out first-ever ChiBuys Winter Tasting! You'll meet a ton of amazing ChiBuys vendors and hear (and taste!) what they have to offer. Together, our community can move the tide towards fostering diversity and inclusion in every aspect of our businesses.
RSVP to the ChiBuys Winter Tasting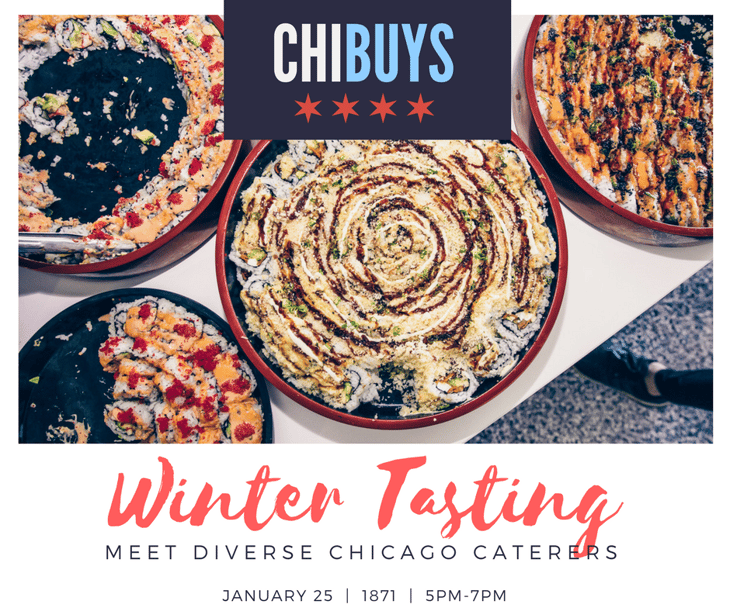 Learn more about ChiBuys at www.1871.com/chibuys.=