The 1871/IHCC Hispanic Technology Incubator is a cohort-based accelerator that provides Latinx-led businesses with programming and mentorship. We asked each of the participating entrepreneurs about what makes them tick, and this week, we say hello to Phil Castro, Founder of BarPass, an app to help adventurous urbanites discover new bars, meet new people and expand their drink horizons.
Q : Tell us a little bit about your personal history and background.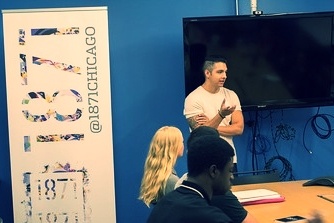 I have been an entrepreneur for over 12 years. I have started a few successful companies in the past; including an event planning company, marketing company and a few others. I also worked for multiple startups under the Lightbank (local venture capital firm that started companies like Groupon) umbrella, so I have a good handle on the startup/venture capital world and understand the potential of what scaling tech has on newly found businesses. Naturally, I am combining both sides of my experiences and marrying them into what BarPass is today.
Q: Tell us a little about your company. What's your elevator pitch?
BarPass is a better happy hour for adventurous urbanites who seek to discover new bars, meet new people and expand their drink horizons. Also, the first cocktail is always on us with RSVP on our free app!
Q: What about the program do you think is helping your business the most? Are there any specific examples?
Financial modeling and cap tables; anything with diving into the fine details of procedures and processes as a business owner.
Q: What's the greater good your company is trying to accomplish? How will it impact the community? What problem does it solve?
We are changing the way professionals go out after work! BarPass is alleviating the pain of consumers having to plan happy hours and offering exclusive incentives to save money (not to mention offer a overall better experience).
Q: Give us a little insight into your perspective on diversity in the tech community. Why is it important? What do you hope to see?
It is important to understand that success has no color and ambition has no status. Anyone could start a successful company regardless of your background and I hope to see more diversity with tech founders resulting from this universal understanding.
Q: What is the most valuable experience you gained personally and for your business during the program?
The camaraderie between the fellow entrepreneurs and the ability to listen to all forms of feedback from my peers.
The Hispanic Tech Incubator provides access to mentors and tailored content designed specifically around the individual businesses admitted to the incubator. It also contributes to IHCC's ongoing partnership with 1871, which supports Hispanic entrepreneurs, technology professionals, and students with educational programming, networking opportunities, and other resources. Learn more.