The 1871/IHCC Hispanic Technology Incubator is a cohort-based accelerator that provides Latinx-led businesses with programming and mentorship. We asked each of the participating entrepreneurs about what makes them tick, and this week, we meet Nika and Pauly, founders of Hermit- an online platform that connects art lovers with amazing art.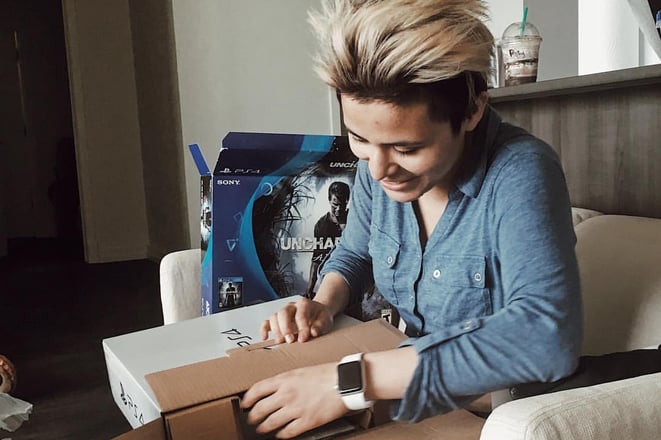 Pauly Parra Ramirez, Co-Founder of Hermit.
Nika and Pauly are both award-winning artists who have been commended by Wacom, Adobe and Wired Magazine. They have been working with clients since they were young and realized there was an issue in the current structure of art buying. As recent graduates from the The Art Institute of Chicago, they were both working towards a better environment for future and current artists. This is how the platform was born.
Q: Tell us a little about your company. What's your elevator pitch?
Hermit solves a few main problems many artists and art lovers face. As an artist, our only avenue for finding customers is by networking through social media, real life friends, and sometimes even untrustworthy sites which could steal an artist's work or ruin one's reputation.
As a buyer, you have a hard time finding the right artist to do the job, and in many instances ask the wrong artist, or are unable to source an artist within your budget. A customer can easily spend 4-5 hours on finding the artist and then be turned down because they don't take commissions.
Hermit simplifies and streamlines the process of ordering customized artwork. Creating a new market space for art, Hermit allows the buyer to ask for what they want rather than spending countless hours finding that perfect piece. We use machine learning and algorithms powered by art data we've mined and re-categorized allowing anyone to understand fine art. Our platform helps guide people through the process of ordering art by making everything safe, easy and reliable.
Q: How did you come to join the

IHCC

cohort?
Pauly is a Mexican-born artist with an entrepreneurial vision. When she walked into 1871 for the first time for an IHCC event, she fell in love with the program and immediately knew she wanted to be a part of it.
Q: What about the program do you think is helping your business the most? Are there any specific examples?
Nika has been working more on the business side while Pauly has been working on the design. Consequently, Pauly had smaller roles in learning about the business lingo so the program has been helpful in giving Pauly opportunities to learn in a safe environment. As the business grows and we are slowly showing our product more to the community, the critique and networking opportunities have been helpful to both of us.
Q: What's the greater good your company is trying to accomplish? How will it impact the community? What problem does it solve?
We want to give back to the artists. We seek to change how people order custom fine art pieces by changing the commission process and allowing artists to receive larger compensation.
Q: What is the most valuable experience you gained personally and for your business during the program?
We were able to mingle with startups at different stages, which has given us great insight into what we may become in the next few months to years. Learning from their experience, we've been able to better understand what not to do and what to do. The open discussion environment enhances the adventure at 1871.
The Hispanic Tech Incubator provides access to mentors and tailored content designed specifically around the individual businesses admitted to the incubator. It also contributes to IHCC's ongoing partnership with 1871, which supports Hispanic entrepreneurs, technology professionals, and students with educational programming, networking opportunities, and other resources. Learn more.