The 1871/IHCC Hispanic Technology Incubator is a cohort-based accelerator that provides Latinx-led businesses with programming and mentorship. We asked each of the participating entrepreneurs about what makes them tick, and this week, we say hello to Carlos Frederico Rosenwald, Founder and Chief Story Officer at Story Street Labs, an online community that welcomes anyone to read, write, and share short-stories and serialized works of fiction.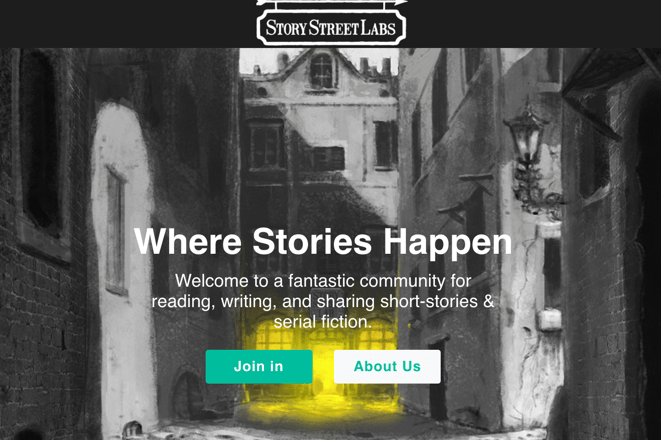 Q : Tell us a little bit about your personal history and background.
I am originally from Brazil, but moved to the U.S. as a teenager with my mother. I attended high-school in South Florida (because this seems to be mandatory to every Brazilian moving to the US) and then got my undergrad at Boston University (because I wanted to see snow), where I double-majored in History and International Relations. Back then I dreamt of a career in international law, preferably working for the United Nations or a similar organization. But that all went downhill when I had the opportunity to spend a summer as an intern at a prestigious advertising agency in New York and the following summer at a dot.com startup. I just fell in love with the business world - well, not the traditional business world, but the business world brought upon by the dot.com revolution in its earliest days. I joined the corporate world soon after graduating college to learn more about the world of business and then went on to pursue an MBA degree from the University of Chicago. In the years prior to joining the startup world I worked as a management consultant and as a business development/project management for a company in the Sports & Entertainment industry. And then I decided it was time to do something I really believed in with my life.
Q: Tell us a little about your company. What's your elevator pitch?
Most people have a story in them that they'd like to one day share with the world - and yet only a few get a good opportunity to do so. We want to change this. Story Street Labs is an online community that welcomes anyone to read, write, and share short-stories and serialized works of fiction. We make people's stories easier to write, quicker to share with the world, and more exciting to experience overall.
Q: How did you come to join the IHCC cohort?
I came for a tour of 1871 in early February, and that's when I first heard of the 1871/IHCC Incubator. Until then I had been associated with the Polsky Exchange, but kept hearing from people that I should join 1871 due to us being a creative business. The tour itself and the potential opportunity to join the incubator were enough to convince me the 1871 community was a great fit for me and my company.
Q: What about the program do you think is helping your business the most? Are there any specific examples?
I think it's a combination of factors. The support from 1871 & IHCC leadership is amazing - I mean, they won't do your work for you, but they are always willing to help in any way they can to help you succeed. Some of the events we were able to participate in were opportunities for being in the spotlight in front of people we might not have had access to was it not for the program. And my fellow cohort members are the best. We are a diverse group ourselves, some of us immigrants, some born in the U.S., ranging in age from the early 20s all the way up to the mid 40s, each one with different professional backgrounds and experiences, and with startup businesses in different sectors and development stages. We are committed to each other's successes because we are able to inspire one another. We feed off each other's energy to keep moving in the right direction, to celebrate each other's small victories, and to offer a friendly shoulder on those days when things don't look as bright.
Q: What's the greater good your company is trying to accomplish? How will it impact the community? What problem does it solve?
Writing poetry helped me cope with my transition from Brazil to the US. Writing dystopian short-stories contributed to my growing interest in politics and history as I considered what to pursue as a career. And beginning to write a novel in College allowed me to dream of the possibilities that sharing that story might open.
Except I never got the opportunity to share any of those works with anyone else back then - and a corrupted hard-drive made sure I wouldn't have the opportunity to share them with others today.
Every story has the potential to teach us valuable lessons. Every story has the potential to provide us some relief from life's hardships. Every story has the potential to bring us closer together.
That is why it's critical that every story is given the proper opportunity to exist by facilitating their sharing with the rest of the world.
Q: Give us a little insight into your perspective on diversity in the tech community. Why is it important? What do you hope to see?
Diversity is not just important to everything we do nowadays, but a critical component to get right. if on the one hand globalization is helping unite people from completely different walks of life through common values we share, it has also become critical for us to learn and respect the small differences that craft our sense of individual identity. I think once we understand that having different people come together is a good thing, instead of a threat to the lives we live, we will quit all the silliness we unfortunately still have to endure dealing with today - because getting a group of diverse people together enlarges the pie for everyone, rather than re-distributing the pieces of the old pie each person was supposed to get. And there's no better way of doing that then making sure we get this right from the start, with the companies that are being born now and want to change the world. They should be diverse because the world they'll be doing business with is a diverse world.
Q: What is the most valuable experience you gained personally and for your business during the program?
I think through our group's interactions I've learned how to accept the type of leader and manager I actually am, rather than trying to be someone else. I've always lived my life trying to learn and become good at things that didn't really come easy to me rather than focusing on what I was already good at. I think the issue as it applies to the startup world - and particularly when you are a solo founder, which is my case - is that until recently I didn't have the sort of constant feedback that the program allowed me to have - which was in the end what allowed me to notice how much more effective I could be communicating my vision from a more personal perspective than a purely business/value-driven perspective. I'm more comfortable in my own skin today then I was two months ago.
The Hispanic Tech Incubator provides access to mentors and tailored content designed specifically around the individual businesses admitted to the incubator. It also contributes to IHCC's ongoing partnership with 1871, which supports Hispanic entrepreneurs, technology professionals, and students with educational programming, networking opportunities, and other resources. Learn more.