AR, VR, MR, XR -- these are just four of many confusing acronyms in the immersive tech space. With so many different moving parts, it's no wonder that many of us don't understand the ins-and-outs of this industry; fortunately, Lorne Rodriguez, the Co-founder and Co-CEO of Reality Bytes, is bringing much-needed education to this frontier technology.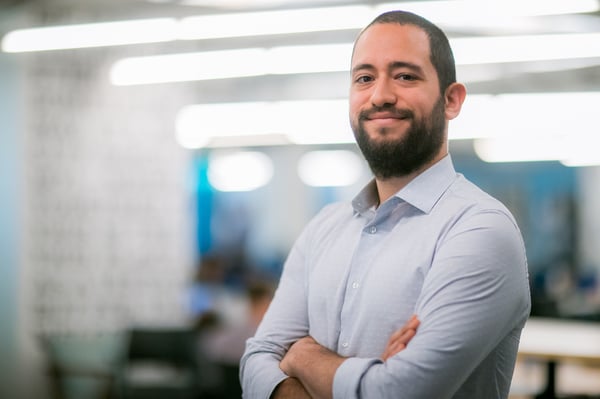 If you've ever had to assemble a chair, couch, or a desk then you know that the first law of furniture assembly is that you MUST read the manual -- skip it and be prepared to pay a heavy toll.
Now imagine that your assembly kit shipped with a poor manual or, even worse, no manual at all. That, according to Lorne Rodriguez of Reality Bytes, is exactly how many people in the immersive tech space feel at the moment.
"There's a lack of education in the virtual reality (VR), mixed reality (MR), extended reality (XR), and augmented reality (AR) space and it's not just the big companies and brands that don't understand it, it's the general population as well. There are a number of ways that people can use immersive technology to their benefit, but first, they need to understand how it works."
And it most certainly works. In fact, Rodriguez has seen these technologies applied in multiple industries. From dental assistance to concerts to marketing campaigns, he says that immersive tech -- although relatively new -- is a rapidly growing enterprise.
"All you have to do to see that immersive tech is expanding is to walk out your front door. Look at Pokemon Go for example, which reached over 50 million users in just 19 days. It's an AR game but there are many applications for the technologies behind it. It's an industry that's expanding and it's expanding fast."
It's not the first fast-expanding industry that Rodriguez has worked in -- he started his professional career working with food trucks. From there, he transitioned into a role developing back-of-house operations and systems for a meal-kit delivery service. In fact, Rodriguez never took an interest in virtual reality until an experience his friend had in London changed his outlook.
"When we put on the VR headset, we saw it's true potential and the numerous practical uses for the technology. My co-founder William Donahue asked me if I wanted to start a VR company and I said 'yeah' -- that's basically how we got started. We brought our friend Alex Paull on board, and Reality Bytes was born. Originally, our idea was to start a VR arcade but then we asked ourselves, 'how many people actually even know what VR is and how it works?"
For Rodriguez, that meant he'd have to hit the streets and share knowledge and education on how others could use immersive technology to achieve their goals and mission.
So that's exactly what they did.
"We didn't have a storefront or anything. We just went to a ton of street festivals to help educate people about this technology. After doing that for some time, I realized that we actually had a business where we could help train and teach people about immersive tech."
As they began working on their business, they came to 1871 to network, learn, and build out their resources. After spending some time at 1871, Rodriguez applied to and would eventually graduate from the Latinx Incubator, 1871 and the Illinois Hispanic Chamber of Commerce's (IHCC) 12-week program for Hispanic entrepreneurs.
"During the Latinx Incubator, we realized that many VR and AR companies had a difficult time explaining their products and services to the general population, so we shifted our business model a bit. After presenting the technology at a collection of fests and parties, we knew we could come in and help the average user understand all the possibilities, capabilities, and nuances of immersive technology."
Today, Reality Bytes has evolved into a platform for both business and consumer clients. On the business side, Reality Bytes provides XR solutions for a collection of industries, including market research, training, and advertising. On the consumer side, the company offers VR for entertainment purposes such as weddings, dinners, and other events. But even with its rapid growth, Rodriguez says he wants to expand into uncharted territory.
"We see ourselves developing a number of different products in the long-term, but right now, we're really focused on the education industry. We want to help schools increase education with immersive tech and there are plenty of different ways to do that, including our Geometry Bytes prototype that allows students to visualize and adjust 3D shapes in real-time. You can bring textbooks into VR or use headsets to provide in-depth lessons -- there's a really long list of educational applications."
And speaking of education, it's the core foundation of Rodriguez's approach to entrepreneurship. As the famous innovator (among many other things) Benjamin Franklin once said, 'by failing to prepare, you are preparing to fail.'
"When I decided to start Reality Bytes, I invested all my time in learning about the industry. I wasn't about to start anything until I was completely prepared -- and in an industry like this, new things happen every day, so you have to stay on top of it. If you're getting into a new industry like immersive tech, you have to take on as much knowledge as you possibly can in case you have to shift gears, and if you're not ready, you might not be able to catch up."
Along with preparation, Rodriguez says that job satisfaction is one of the most important factors for entrepreneurs.
"As an entrepreneur, you can't let things get you down because you're going to go through really high highs and really low lows. There are days when you think, 'I really don't want to do this anymore,' but if you see yourself enjoying what you're doing, then stick with it. Don't quit. If you truly see yourself doing something else, then maybe it's worth rethinking."
1871 provides work space, education, resources, and curated connections to help Chicago's entrepreneurs build and scale their business.