According to recent studies, more than half of all Americans have used a ridesharing service at some point in their lives. And though ridesharing is an easy and flexible way to get from one location to another, it can also serve as more than just a transportation service. In fact, Rebecca Klor and Austin Jenkins, Co-founders of Roady, are working hard to ensure that your next ride is less about transit -- and more about you.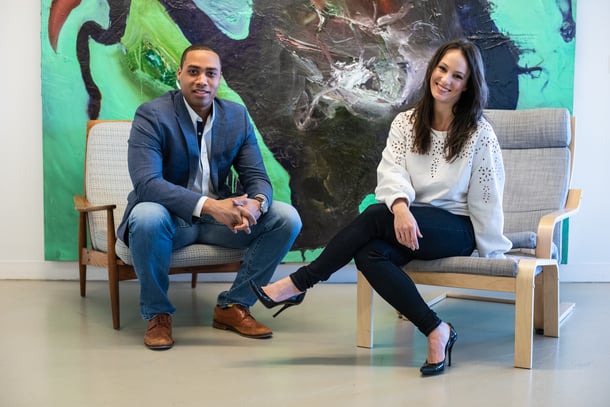 From Left to Right: Roady Co-founders Austin Jenkins and Rebecca Klor
It's late, you're tired, and you promised the kids/spouse/dog that you'd be home before the sun set. Sure, you could take the rush hour train and find yourself stuck in someone's armpit for the next 30 minutes, or you can leverage the convenience of Uber or Lyft and spend a few bucks for a quick ride home.
But despite its convenience, the rideshare industry certainly has its fair share of faults. After all, you might get a ride with an irritating driver or you might even get stuck in the middle of a significant trek with some not-so-savory passengers. Worse yet, you might even have to go through the long wait as you try and figure out which rideshare service has a driver that's actually close to you. It's a problem that Rebecca Klor is all too familiar with.
"I was sitting at the doctor's office and I had to get to work. I pulled up Lyft, I pulled up Via, and I even remember seeing cabs out front as I walked in. The struggle was real and I remember thinking, 'I wish I had all of my rideshare options in a single app.'" – Rebecca Klor, Co-founder and CEO, Roady
It was an idea that stuck with Klor, who quickly reached out to her friend and future co-founder Austin Jenkins about building an app that could serve as a rideshare aggregator.
"We knew that ridesharing was a significant part of people's everyday lives -- particularly in cities and other urban areas. If you're using rideshare service, then you're most likely motivated by cost and convenience. You don't want to spend too much time and effort trying to figure out your best option; that negates some of the convenience factor that motivated you to take a rideshare in the first place. We wanted to optimize the process for finding and booking rides to ensure that people were able find a ride that met their needs quickly and effortlessly." – Austin Jenkins, Co-founder and Chief Customer Officer, Roady
Calling their platform Roady, Jenkins and Klor quickly began working to develop a service that could offer tremendous benefit for rideshare users on the go.
"What we're really targeting are the factors that influence people to use rideshare in the first place. We're tapping into why people select their rideshare -- namely the best price, the fastest pickup, or the quickest arrival time." – Rebecca Klor, Co-founder and CEO, Roady
Half-way into Roady's development, Klor and Jenkins realized that creating the ultimate rideshare experience meant more than just guiding people to finding and booking the best ride – it was also about enhancing their in-ride experience. That's when they decided to pivot and expand upon their offering.
"We realized we had a bigger mission. Roady started with a focus on solving a consumer problem, but we quickly realized that we had an opportunity here to really enhance people's lives by making their rides more fulfilling and productive." – Austin Jenkins, Co-founder and Chief Customer Officer, Roady
And though the platform continues to function as a rideshare aggregator, it now comes with a number of upgrades.
"The Roady app has evolved pretty significantly. We're now using personalization to deliver curated content, news, and entertainment, and users can also use the platform to socially engage with other friends on the move." – Austin Jenkins, Co-founder and Chief Customer Officer, Roady
Roady users not only find the most convenient rides, but they can also use it to read the latest headlines, watch their favorite sports highlights, chat, and share ETAs with friends headed to the same destination.
And though these new features add plenty to Roady's offerings, the decision to pivot -- along with the pivot itself -- wasn't exactly a walk in the park. However, both Klor and Jenkins point to a similar source of support during Roady's evolution -- each other.
"Having a co-founder is essential. It's so important to have someone you can bounce ideas off of and get a different perspective. You need to have challenging conversations so you can really get to the crux of how the company is going to move forward." – Rebecca Klor, Co-founder and CEO, Roady
Along with their co-founders, both Klor and Jenkins cite their entrepreneurial role models as individuals who have helped them push through in difficult circumstances; as the saying goes, 'when the going gets tough, the tough get going.'
"It may sound cliche, but Mark Zuckerberg is a role model. He saw an opportunity to build community, and he found ways to scale it to include everyone around the world. I really admire the fact that he was foremost a computer engineer and discovered through trials and tribulations what it meant to be a CEO. He learned as Facebook progressed and overcame unique challenges as he was building his company. As a first-time founder, Mark Zuckerberg is an inspirational reminder that it's ok not to know or be good at everything. Building a company is a journey and as long as you learn and adapt as you progress, you can be extremely successful." – Austin Jenkins, Co-founder and Chief Customer Officer, Roady
"An entrepreneur that I admire and look up to is the CEO and Co-founder of Away, Jen Korey. She really disrupted the luggage industry and did it by being resourceful and holding herself to high standards. I try to do the same thing every single day." – Rebecca Klor, Co-founder and CEO, Roady
And much like Korey, both Klor and Jenkins are disrupting a particular industry themselves. The two co-founders have had quite a journey navigating through the twists and turns of entrepreneurship, but both have enjoyed the ride -- and quite frankly, that's what Roady is all about.
1871 provides work space, education, resources, and curated connections to help Chicago's entrepreneurs build and scale their business.