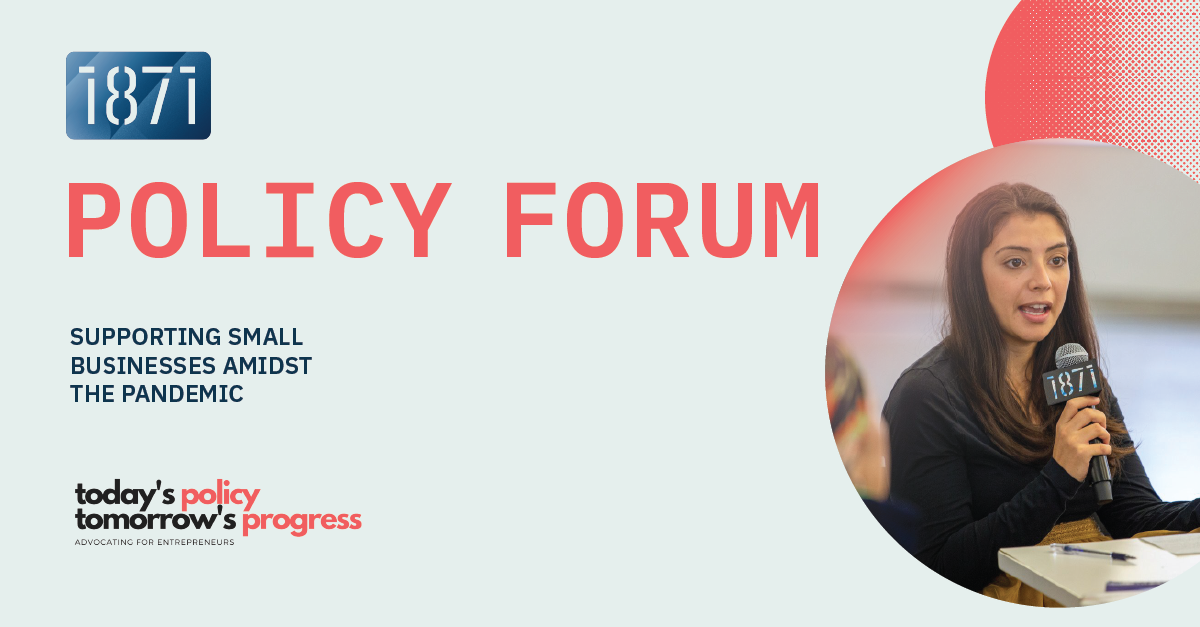 On Tuesday, December 1st, 1871 hosted the final installment in a series of six policy forums supported by a grant from the Ewing Marion Kauffman Foundation. In light of the ongoing COVID-19 pandemic and its economic impact on small businesses throughout the United States, we assembled a panel of leaders to discuss how federal and state policymakers can best support small business owners. Our panelists included:
The entrepreneurs, investors, policymakers, and policy influencers who attended learned about the state of federal relief efforts and the key reforms that can address the ingrained inequities in our economy. While the road to recovery remains long and littered with potholes, the panel discussed ways that the public and private sectors can work together to rebuild a better and more supportive business environment.
The discussion highlighted three important insights for business owners:
TACKLING INEQUITIES IN THE SMALL BUSINESS COMMUNITY SHOULD BE A TOP PRIORITY FOR POLICYMAKERS
Research shows that the COVID-19 pandemic has disproportionately affected Black and Latinx-owned businesses. According to a survey conducted by Small Business Majority, 33% of small business owners will not survive past the next three months without additional assistance, and that percentage increases to 41% for Black and Latino-owned businesses. At the federal level, those surveyed noted that passing a comprehensive stimulus package and protecting the integrity of the Affordable Care Act are among their top concerns.
Our panelists noted that policymakers must begin to address this uneven playing field by working to close the digital divide. Like water or roadways, high speed internet is a necessity for functions such as education and business, and the creation of a standard infrastructure would allow people to better engage in our current economy.
Access to financial credit also serves as a barrier for many owners. Jason Wiens explained that 80% of entrepreneurs start businesses without bank loans or venture capital and instead rely on personal savings, credit cards, and friends and family. State and federal governments have an opportunity to reenvision our current financial systems by partnering with the private sector to distribute more capital and reimagining credit scores in a way that takes into account factors that can't be numerically quantified.
WITH FEDERAL RELIEF EFFORTS STALLED, STATE AND PRIVATE AID REMAIN AVAILABLE
The federal government remains at a standstill in their negotiations for a second relief package, leaving many across the nation in limbo. However, our panelists discussed the many state and local programs that are still in place to help small businesses in need. Entrepreneurs have access to a network of no-cost support services, including Small Business Development Centers that were expanded throughout the state through the CARES Act, the Chicagoland Chamber of Commerce, Women's Business Development Center, and 1871's Small Business Initiative.
Additionally, Illinois continues to run the largest small business relief program in the country, offering support such as the Business Interruption Grant and the Advantage Illinois loan.
FEDERAL INTERVENTION CAN REBUILD AND REMAKE A STRONGER AND MORE EQUITABLE BUSINESS ENVIRONMENT
While the pandemic continues to cause disruptions and threaten local businesses, policymakers have the chance to create a stronger and more equitable economy throughout the recovery process. Conversation around student loan forgiveness has grown in recent months throughout the country, and our panelists discussed how easing debt for young employees and entrepreneurs can spur innovation and economic growth. Other safety net policies such as affordable healthcare and paid family leave could also remove the barriers that make small businesses struggle to attract and keep top level talent.
As we enter onto the long road of recovery, now is the time for federal lawmakers to act in order to not only rebuild, but remake a system to better support entrepreneurs of all backgrounds.
For more information on resources for small business owners or how to get involved in advocating for yourself at the local, state, and federal levels, check out the Kauffman Foundation's Start Us Up and sign up for the Small Business Majority mailing list.
Interested in learning more about 1871's policy efforts? Explore the 1871 Policy Forum Series, powered by the Kauffman Foundation.