After more than two years at 1871, WiSTEM Co-Facilitator Jessica Williams is moving on. In this post, Williams reflects on a number of her most memorable moments and experiences at WiSTEM, 1871's 12-week, curriculum-based accelerator for women entrepreneurs.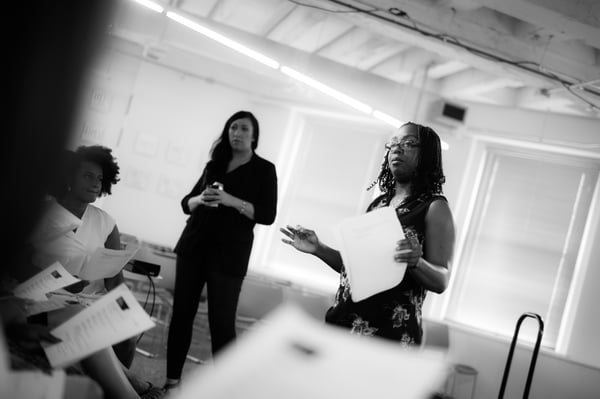 Jessica Williams addresses an incoming WiSTEM cohort.

If I had to sum up WiSTEM in a word, it would be sisterhood. I came to 1871 in October 2015 searching for meaning and fulfillment. I knew that I wanted to empower and encourage women. I wanted to make a difference. I wanted to go to bed with a full heart knowing that I was making an impact.
I have done all of those things and more. Looking back, I remember so many proud moments of seeing women who were afraid of speaking in front of a classroom, stand in front of hundreds and share their stories – confident and powerful. I have seen young girls inspired by the incredible role models in front of them. I have seen women find new possibilities in a world that often seems closed to them.
WiSTEM has created that. What most women are looking for when they join an accelerator program is knowledge and structure but mostly, they are looking for a community. Being an entrepreneur is hard and can be extremely lonely. But being in a room with others like you, who are also going through the same challenges and frustrations as you are, well, that changes things. The cohort confabs we do at the end of our curriculum days give women the space to be vulnerable and share their challenges. What's more, it's also an opportunity to celebrate their successes as a group. By creating space for these exchanges to occur, we've built bonds between these women that extend far beyond the cohort showcase.
Access to people and opportunities is another huge strength of the program. Because WiSTEM is part of 1871 and backed by its incredible ecosystem, we have been able to provide so many speaking and press opportunities to our members. We've facilitated meetings with potential investors, clients, and strategic partners. Oftentimes, just by being in the space, these women learn things, meet people, and hear about resources they wouldn't know about otherwise -- and that's the power of access.
During the past two-plus years, I have shed countless happy tears and felt like a proud mom over six cohorts, 76 companies and 86 incredible women. And I've seen these women become each other's biggest supporters, champions, and oftentimes -- customers. A sisterhood of sisterhoods.
I am so proud of this amazing community we have built and I look forward to seeing it grow.
Thank you 1871 for giving me this opportunity to make a huge impact in the world. Thank you to the greatest team who welcomed me with open arms and always had my back. #squadgoals
Thank you to my Co-Facilitator who asked me to take this wonderful ride with her and work on "the main thing" together.
Thank you WiSTEMers for going after your dreams and allowing me to be a part of your journey.
Thank you all for giving me the inspiration to start this next chapter.
Learn more about WiSTEM at www.1871.com/wistem.