Co-creation is the design of new products, services, experiences, or business models in a collaborative environment. It gives everyone a seat at the design table and allows all voices to be heard in a collaborative and interactive space. On Veterans Day 2017, member company AE Marketing Group led a co-creation lab to bring together top marketers in 1871 to help the veteran-led, CPG startup, Rumi Spice.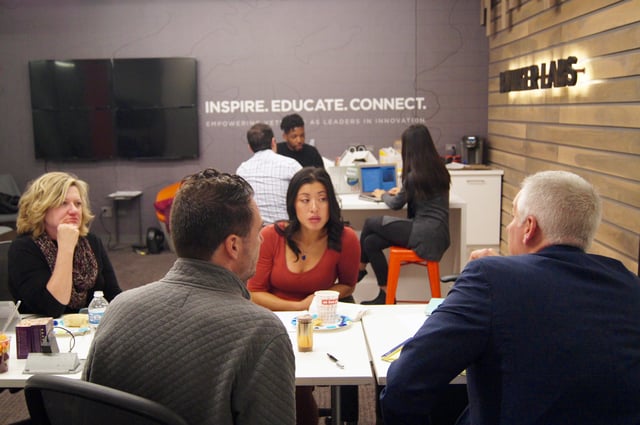 Photo credit: Alexa Jackson
Guest Authors: Brian Walker and Alexa Jackson, AE Marketing
The team at AE Marketing Group uses their expertise in co-creation to help C-level executives and entrepreneurs operationalize their brand to create stronger customer experiences, improve product development, and identify consumers' unmet needs. Co-creation is a strong, yet often underutilized, strategy for startups because it gives entrepreneurs access to resources they otherwise wouldn't have.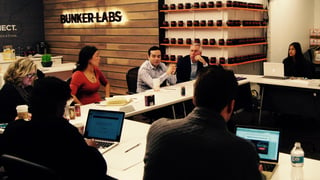 Rumi Spice is a team of US military veterans sourcing the world's most valuable spice - Afghan Saffron. Rumi Spice partners with Afghan farmers to bring top-quality, sustainably farmed saffron to customers worldwide. They are even the largest employer of women in Afghanistan. Rumi Spice has a heart-warming background and a touching story that consumers are drawn to. Unfortunately, this is not leading to sales. Saffron is a niche market and there is little knowledge surrounding how to prepare or serve saffron dishes. Through this co-creation lab, Rumi sought to learn better ways to get their product into consumers' hands. They are a small team with a limited budget; they need to know where their marketing dollars are best spent and how to stretch those dollars as far as they can go.
During the lab, the Rumi Spice team was introduced to a panel of select marketing experts specializing in CPG, social media, advertising, and co-creation. The panel spent a lot of time bouncing ideas off each other, asking questions, and learning about Rumi's story, products, and current strategies. By the end of the co-creation lab, three main ideas emerged:
The Amazon Channel Strategy.

Amazon pays close attention to their products' stories and what products are selling the most. These products are placed among the top search results to drive revenue. If Rumi Spice could leverage their story to get in favor with Amazon, they could drive a great deal of revenue from Amazon's site.

The Content Strategy. Saffron is such a niche product that few non-foodies would try to incorporate the expensive spice into recipes regularly. However, if saffron recipes could be broken down into more easily digestible pieces for social media, it could reduce the intimidation factor surrounding saffron and pull in the millennial generation. These bits could include short videos or photos with simple recipes.
The B2B strategy. This would include a chef meet-and-greet where high-end chefs would come and do a seminar on Rumi's products for other cooks or companies, then take orders at the event with a show-specific deal. Since Rumi Spice CEO, Kimberly Jung, is in contact with several high-end chefs, she could easily draw a crowd looking to learn from them.
By the end of the co-creation lab, the Rumi Spice team was newly invigorated to push their message and products out into the market through these strategies. Their team was given varying areas to focus their marketing efforts on and were given access to some powerful contacts to help elevate their brand and stretch their marketing dollars farther.
"The co-creation lab was invaluable for us, especially coming from a small team where we don't always get the time to really focus on the topic of marketing, and when we do it's only a couple people in a room and not like this, where they've brought in a group with wide and varying experiences. So, it's helpful to just brainstorm ideas, and particularly for us, to prioritize what to do. So, it was great of 1871 and the AE Marketing Group team to put this together, and I think it is going to pay dividends down the road for us." —Keith Alaniz, CFO, Rumi Spice
Participant Charlie Orwig, an expert in the CPG industry, said "I love the spirit of co-creation that comes from these kinds of events. The opportunity to get people with such diverse experiences in a room and really tap into that, lets you get the best of the individuals, and then the best of the collaboration at the end. It is truly a 'one plus one makes three' opportunity, and it's just such a good time. I would do this every day, it's really fun."
To learn more about co-creation and the AE Marketing Team, visit aemarketinggroup.com, and to learn more about Rumi Spice visit their website at rumispice.com.
The opinions expressed here by 1871 guest writers are their own, not those of 1871.