You're halfway through a busy workday and suddenly, your coworker comes back into the office with a slice of pizza. You take one look and see that it's a sausage and pepperoni combo -- but what really gets you is the smell. It lingers and stays with you, and suddenly, your train of thought has shifted from the annual report you're working on to a nice slice of sausage and pepperoni pizza. In fact, you can't think about anything else at this point -- except maybe how wonderful it'd be if there was a way to eat and work at the same time. Thankfully, Maisha Burt, CEO and Founder of WorkChew, has a solution that you can find on the corner of hustle and hunger.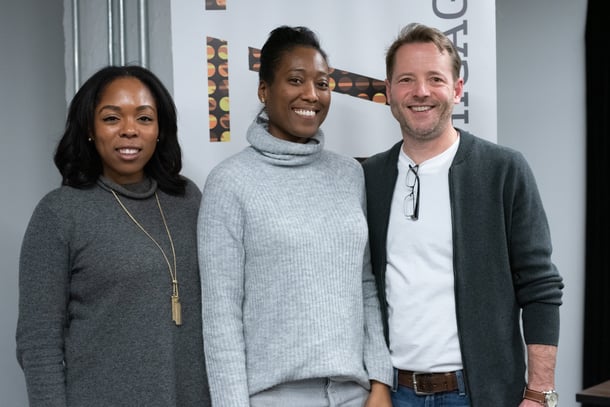 From Left to Right: WorkChew Co-founders Allyson McDougal, Maisha Burt, and Paul Dahm
As technology gets better, more and more professionals have the option to work from home. On paper, it sounds like a great gig; after all, you never have to go into the office, deal with traffic-filled commutes, or work in some cubicle that becomes your living space for the next hours. However, that's not exactly how it works in reality. While it's true that remote workers are happier than their counterparts, Maisha Burt says it's not always a perfect way to work.
"I was a remote worker myself, and though it certainly has many benefits, you can end up feeling isolated and lonely at times. I was fortunate because a lot of my colleagues were also remote workers so we would say, 'hey, let's meet up!' We often picked coffee shops, but found that they were just too crowded."
And though it's common to find individuals working in coffee shops, they're not exactly designed for team projects. Burt started looking elsewhere for space for herself and her fellow remote workers.
"I was looking for an economical option where professionals had the ability to meet, work, and accomplish their mission. You can rent offices but that's expensive and the same can be said about co-working spaces. There just didn't seem to be many economically viable options."
So Burt began to ask around. Where, she wondered, could she find a casual spot where teams could work that wasn't too crowded or expensive?
"One day, someone suggested that we grab a bite for lunch. We ended up heading to a restaurant and though we were there to eat, we got a lot of work done as well. We did it again and again, and we noticed that we were actually getting a lot of work done at these restaurants. In the daytime, most restaurants are fairly empty; having food around you and that communal aspect really helps you get a lot done."
That gave Burt an idea -- what if she used restaurant spaces to bring remote workers together? It was an inexpensive and practical solution for professionals who wanted to meet, connect, and get their jobs done without feeling like they were stuck on their own islands. Along with Paul Dahm and Allyson McDougal, both of whom would eventually become fellow WorkChew co-founders, Burt began building a plan for a new service that could connect remote workers at restaurants.
"We wanted to bring people together at places that are vibrant with great cuisine options. It's different from a coffee shop because our restaurant locations have designated and reserved seats for our users. The other thing is the food -- at most coffee shops, you're limited to pastries. Restaurants can offer a lot more and we wanted to take advantage of that."
After ideating on an offering that could provide remote workers with access to a convenient way to work and socialize, Burt started reaching out to a number of different restaurants.
"I ended up talking to a lot of restaurant managers who said that during their off-peak hours, which usually falls between 11 am to 4 pm, things were really slow. I asked them what they thought about having consultants, remote workers, entrepreneurs, or other professionals who were looking for space to come in and work but also grab a bite to eat, and they really liked that idea."
It was a win-in for both parties -- good for business for the restaurant managers and good for professionals who were looking for economical, practical space. After some more planning, Burt, McDougal, and Dahm launched WorkChew, a startup that helps remote workers find and reserve space while also increasing daytime business for restaurants.
"We started by picking restaurants that are inviting. These are places that have more than one floor so that people can do a variety of work, whether their holding a meeting or just looking for a private quiet space to work in."
WorkChew also offers flexibility in the spaces that they offer, ensuring that their customers have the ability to select the size of their tables, the amount of seats they need, the type of atmosphere, and the price range of the food. This way, WorkChew's customers and partners -- whether that's a group of remote workers or a restaurant -- know exactly what they're getting.
"We partner with restaurants to ensure they provide a discount for our members -- and because our members are already at the restaurant -- they can go through the whole work day and easily transition to an after-hours event. You can finish your work, pack up your stuff, and have a happy hour right then and there."
Though WorkChew doesn't charge restaurants, there is a subscription fee for its members. However, there is a day pass for professionals who are interested in using the service for a single day, which runs at $14.99. Those who are looking for more long-term uses would pay a monthly fee of $24.99 for the neighborhood pass, which allows users to work in locations in their nearby area -- say, River North or Lincoln Park. For a monthly fee of $49.99, members receive the all-access pass, which allows them to work in any location in their current city or even in a different city (WorkChew is currently active in Washington D.C., Northern Virginia, and Chicago).
WorkChew's model was so effective that it would eventually catch the attention of Nick Florek, Director of The Food Foundry, a 16-week accelerator program built in partnership with Gordon Food Service, Relish Works, and 1871, that was specifically tailored to support, connect, and propel innovative startups with solutions across the foodservice value chain.
"We were in Washington D.C. during startup week, and we had just wrapped up a panel covering the challenges that restaurant startups deal with. It just so happened that Nick Florek came to our panel. He met with us and told about The Food Foundry. We spoke with him and learned this program would be in Chicago -- which has an incredible restaurant scene -- and we realized that this was an incredible opportunity, with some incredible mentors, and that there was a lot of potential to network and expand into Chicago."
So if you're tired of working out of the same old coffee shop day-after-day, make sure you take a look at WorkChew's network of restaurants. After all, where else can you do good work, make good friends, and -- for those of us gastronomes out there -- eat good food?

1871 provides work space, education, resources, and curated connections to help Chicago's entrepreneurs build and scale their business.