The 1871/IHCC Hispanic Technology Incubator is a cohort-based accelerator that provides Latinx-led businesses with programming and mentorship. We asked each of the participating entrepreneurs about what makes them tick, and this week, we say hello to Renata Bregstone, Founder of Blazin' Babes, a women's professional networking organization.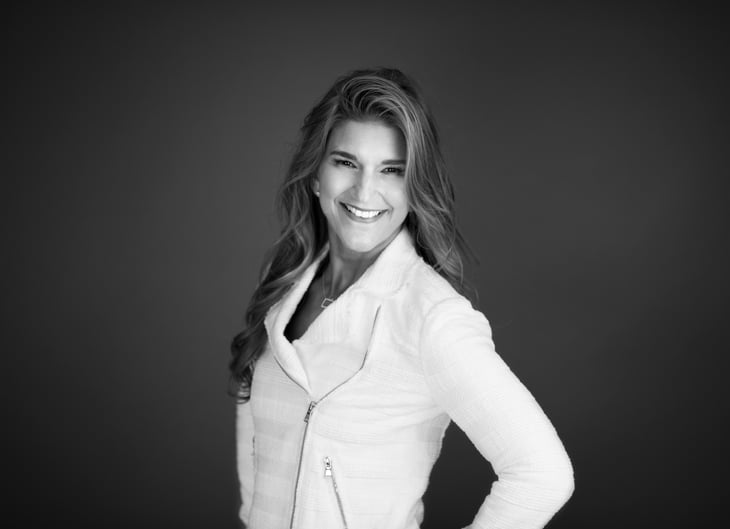 Renata Bregstone, Founder of Blazin' Babes

Q : Tell us a little bit about your personal history and background.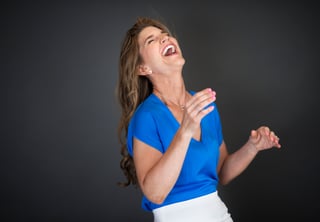 With over 20 years of experience in new product development and strategic marketing at both Fortune 500 and small startup businesses, Renata's professional background includes developing and launching new brands, products and services into the marketplace. Leveraging her new product development and marketing experience coupled with her passion for helping others with their career advancement, Renata launched her first startup in 2008, Strategic Prep, a successful MBA admissions company.
In 2011 after moving from the city to the suburbs, Renata identified an unmet need. Women living in the suburbs lacked a venue, community and support system where they could network with other like-minded women. Renata launched Blazin' Babes in 2015 to help empower women to band together, support one another and utilize the power of networking to advance their careers. By providing career-related programming, speaker series, workshops and networking events in a fun, female-centric environment, Blazin' Babes has inspired women to launch new businesses, gain new clients, advance careers and re-enter the workplace. With over 120 members in its first chapter, Blazin' Babes has helped women achieve career success through the power of networking. Blazin' Babes seeks to replicate this model all over the United States in targeted, well-educated affluent suburbia.
Renata is a recipient of a merit-based University of Chicago Booth School of Business scholarship award, a member of The Chicago Booth Women's Network and Ellevate Network (formerly 85 Broads). She is fluent in Spanish, a recipient of The Girl Scouts of America Gold Award, and an alum of Newton Country Day School of The Sacred Heart, an east coast all women's private high school where she joins the ranks of other Sacred Heart alum including Lady Gaga, Gloria Venderbilt and Rose Kennedy, women pioneers in their own respective career pursuits.
Q: Tell us a little about your company. What's your elevator pitch?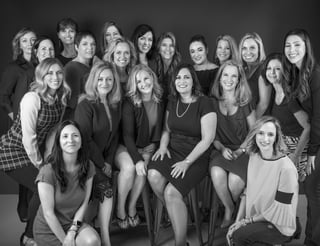 Blazin' Babes is a women's professional networking organization supported by an online platform where women convene to elicit business connections, opportunities for professional growth and offer guidance to other women in achieving their professional dreams and aspirations. Blazin' Babes provides female-centric networking events, including workshops, panel discussions and other career-related programming based on a social platform which encourages women to explore career opportunities, have fun and network.
Q: How did you come to join the IHCC cohort?
I discovered IHCC after applying to the WISTEM Spring 2017 Cohort. I was encouraged to apply to WISTEM by a fellow Blazin' Babes member, friend and previous WISTEM member, Lisa Carrell of Proxfinity. When I was not accepted into the Spring 2017 1871 WISTEM program, I immediately learned of IHCC at 1871 and since I am a female AND Latina, I applied and was thrilled to have been accepted into a cohort that is both male and female AND HISPANIC!
Q: What about the program do you think is helping your business the most? Are there any specific examples?
With respect to the specific areas of the 1871/IHCC program that has been most effective in driving my business forward, there are 3 specific areas: 1) Strategic Growth & Financial Model Planning, 2) Preparation for Investor Meetings, and 3) Support, resources and guidance from the individual members of my cohort.
Q: What's the greater good your company is trying to accomplish? How will it impact the community? What problem does it solve?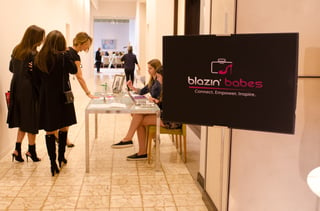 Blazin' Babes is mission-driven Benefit Corporation and a Certified B Corporation. Certified B Corporations are for-profit companies certified by the non-profit B Lab to meet rigorous standards of social and environmental performance, accountability, and transparency. Blazin' Babes became certified in 2016 after passing a rigorous 10-month assessment by the non-profit B Lab.
Blazin' Babes is committed to helping women achieve their career goals through the power of social networking. By offering socially-centric networking events, career-related workshops and programming in addition to a networking website that offers webinars, private forums as well as ecommerce, Blazin' Babes is the # 1 female-centric networking organization that helps women professionally, but on a personal, fun and socially-centric level. In addition, Blazin' Babes gives back. Through their events and online ecommerce site, Blazin' Babes supports non-profits serving those in need.
Q: Give us a little insight into your perspective on diversity in the tech community. Why is it important? What do you hope to see?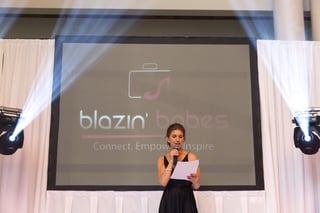 Don't get me started. First as a woman, I have seen and read too many articles where women founders are not supported by the tech community. Whether it's a lack of funding from VCs or discrimination in Silicon Valley, female entrepreneurs must be resilient and must not let the word "no" inhibit them believing in their dreams and their entrepreneurial vision. It's all about trying and trying again. As a women AND Latina, I think diversity becomes even more important especially with respect to showing the younger generations that Latina women are powerful, resilient, smart and creative. With a strong sense of family, commitment, trust, empathy and resilience, female Latin entrepreneurs are the wave of the future. Viva Jo Lo!
Q: What is the most valuable experience you gained personally and for your business during the program?
Two words: My Cohort.
Without the support, invaluable discussions, resources shared and advice offered by my 12-person (male AND female) cohort, I do not think I would be as inspired as I am today. I wholeheartedly can attest that the cohort itself was and is the core competency of the program.
Check out this event video below to see friends, familiar faces and to learn more about Blazin' Babes, our mission and the positive impact we make on women and the world around us:
Blazin' Babes is hosting one of their most popular networking events on Thursday, October 5th at Neiman Marcus, Northbrook. Join women of the Northshore for Denim & Determination, a Neman Marcus Fashion Show supporting women, their career and those in need. Become a Blazin' Babes member for admittance.
The Hispanic Tech Incubator provides access to mentors and tailored content designed specifically around the individual businesses admitted to the incubator. It also contributes to IHCC's ongoing partnership with 1871, which supports Hispanic entrepreneurs, technology professionals, and students with educational programming, networking opportunities, and other resources. Learn more.