The 1871/IHCC Hispanic Technology Incubator is a cohort-based accelerator that provides Latinx-led businesses with programming and mentorship. We asked each of the participating entrepreneurs about what makes them tick, and this week, we meet Mayra Khan, founder and CEO of iDrivio- an online platform that connects individuals and businesses trusted and reliable drivers education services in their area.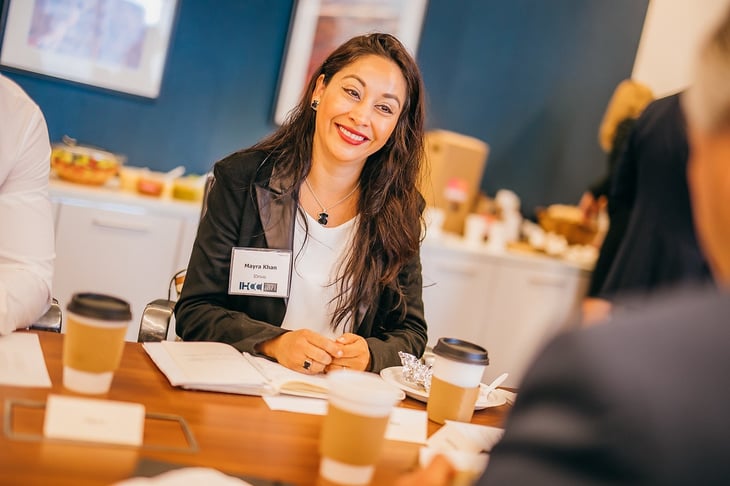 Mayra Khan, Founder and CEO of iDrivio
Mayra grew up in Quito, Ecuador and immigrated to the United States after earning a degree in Business Administration and Marketing. Coming from a family of entrepreneurs, she learned the value of hard work, dedication and persistence early on helping her family with their retail and restaurant businesses. Her driving school has worked with the National Safety Council and City Colleges of Chicago. Here's more about the technology platform she is building:
Q: Tell us a little about your company. What's your elevator pitch?
iDrivio is a marketplace for driving services that conveniently connects individuals and businesses seeking drivers education with top rated providers in the area. iDrivio couples engaging online drivers education with offline in-car instruction while providing a singular platform for booking, scheduling, payment, review, feedback and ongoing learning.
Q: How did you come to join the

IHCC

cohort?
Victoria Elena Nones, a former IHCC cohort member, has been a great contact at the IHCC. I found out about the cohort as well as benefited from her assistance regarding the resources available through the IHCC.
Q: What about the program do you think is helping your business the most? Are there any specific examples?
Being able to meet other entrepreneurs that are at different points in their journey and learning about their experiences and challenges has been very helpful. I am thankful for the tremendous guidance I have received as well as expert resources and mentors that are a big part of the program and help fill in any knowledge gaps from technology to business to pitch development.
Q: What's the greater good your company is trying to accomplish? How will it impact the community? What problem does it solve?
iDrivio's mission is to help create safe, confident and defensive drivers by providing easy, convenient access to vetted driver's ed programs. iDrivio will also raise awareness about the dangers of distracted driving and help reduce teen fatalities on the road. Knowing how to drive is a useful and desirable skill but the lack of technology adoption and inefficiencies in the industry add to a less than desirable experience for most students. iDrivio will leverage economies of scale to provide a convenient and consistent user experience for students as well as a technology framework that allows driving schools to focus on instruction rather than technology and marketing.
Q: Give us a little insight into your perspective on diversity in the tech community. Why is it important? What do you hope to see?
Nova Driving School, where I serve as School Director, is diverse with regard to gender, race, and ethnic background. Although iDrivio is a small start-up at this time, I anticipate having a diverse team across the company as we grow. Tech is a growing part of the economy, and with the support of the IHCC and 1871, it's going to get even stronger in Chicago. We have a terrific talent pool right here in the Chicago area, and I plan to recruit from every corner of that talent pool in the coming months. No business can afford to overlook talented individuals, and I think more and more companies are realizing the value and benefits of diversity in the workplace.
Q: What is the most valuable experience you gained personally and for your business during the program?
I've enjoyed greatly the chance to meet with other entrepreneurs from the Chicago area and share ideas about developing business plans, creating an online presence, working through challenges, and addressing countless other areas. Having a sounding board is tremendously helpful.
The Hispanic Tech Incubator provides access to mentors and tailored content designed specifically around the individual businesses admitted to the incubator. It also contributes to IHCC's ongoing partnership with 1871, which supports Hispanic entrepreneurs, technology professionals, and students with educational programming, networking opportunities, and other resources. Learn more.