The 1871/IHCC Hispanic Technology Incubator is a cohort-based accelerator that provides Latinx-led businesses with programming and mentorship. We asked each of the participating entrepreneurs about what makes them tick, and this week, we say hello to Marco Lopez Founder of TourisTeens, a social enterprise equipping underprivileged teens with social and soft skills to become walking tour guides.
Q : Tell us a little bit about your personal history and background.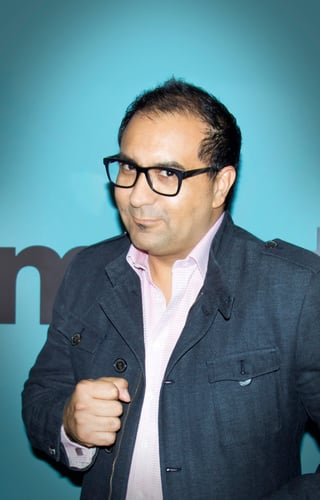 I am an entrepreneur by heart, a marketer by nature, and a social champion by common sense.
I started my entrepreneurial journey with baby-steps, when I would collect my comic books and resell them in front of my house back in Mexico. By age 12, my Grandma would bring me samples of colognes and perfumes from Laredo and I would sell them at school. By age 15, I was kicked out of my English class, because before recess and I would take lunch orders from my classmates and ask the secretaries in charge of the main office to allow me to go and buy the lunch orders. I would get enough to buy them snacks, myself lunch, and make extra profit. I've gotten lucky by the hard work I've put in and have held positions in Marketing and Brand at AT&T and Sprint. I've held other positions in Markeing at Univision, Tribune, and Publicis. I have opened four more businesses in Chicago: Matraca Marketing, Escala 1:100, elemento L2, and now TourisTeen. TourisTeen is what I've been preparing myself for and I believe I can change the Walking Tour Industry.
Q: Tell us a little about your company. What's your elevator pitch?
TourisTeen is a social enterprise equipping underprivileged teens with social and soft skills to become walking tour guides. Our goal is to become the largest network of walking tour guides and contribute to get these teens to College.
Q: How did you come to join the IHCC cohort?
I've been a long-time supporter of the IHCC and it has been a reciprocal relationship. IHCC was a key player in making introductions to get elemento considered for the Markeing RFP of the Affordable Care Act in Illinois, which became the biggest account in the history of elemento.
Q: What about the program do you think is helping your business the most?
The entire program has been an amazing experience. It brings urgency, purpose, and focus to those of us who are in the early stages of our business. There are three areas that have been key for me: 1) The network, 2) Nick Delgado's insight and guidance, and 3) the building blocks of the Value Proposition and Business Canvas Design.
Q: What's the greater good your company is trying to accomplish? How will it impact the community? What problem does it solve?
The objective of TourisTeen is to impact underprivileged teens in two ways: 1) Equip them with the skills to make it in college and beyond (less than 25% of Latinos and African Americans have a college degree and they don't posses a culture of college education in their family) and 2) By gettng more of these teens into college, a larger vision also has emerged which is to impact at a global level the walking tour industry and equip those people in emerging markets with the tools to become better walking tour guides.
Q: Give us a little insight into your perspective on diversity in the tech community. Why is it important? What do you hope to see?
Diversity is important because it is about the collectiveness of our society -- the better we all do, the better we will be individually. I hope to see more businesses not just creating enterprises, but also wealth for themselves; that to me will be the best indicator, so their families can break the cycle and start to think about the value of education. Hard work is already in their DNA, now it's about working smarter and collectively. I hope to see a pipeline of candidates and the continuation of programs like the ENTERpreneur program.
Q: What is the most valuable experience you gained personally and for your business during the program?
The Network. It is a fair assumption that even in the diverse communities, our networks are of people just a bit more successful than we are, but with far less resources, compared to those we have been able to access at 1871. That network must continue and be developed with grater intention to expand on the relationships that can encourage engagement and access to human and monetary capital.
The Hispanic Tech Incubator provides access to mentors and tailored content designed specifically around the individual businesses admitted to the incubator. It also contributes to IHCC's ongoing partnership with 1871, which supports Hispanic entrepreneurs, technology professionals, and students with educational programming, networking opportunities, and other resources. Learn more.