Every entrepreneur has a story of what inspired them to build their dream, and for some, the passion is in their bloodlines. For Hispanic Heritage Month, meet Emily Santos, founder of Aspiring Latinas magazine and learn about her first touchpoint with entrepreneurship - her grandma.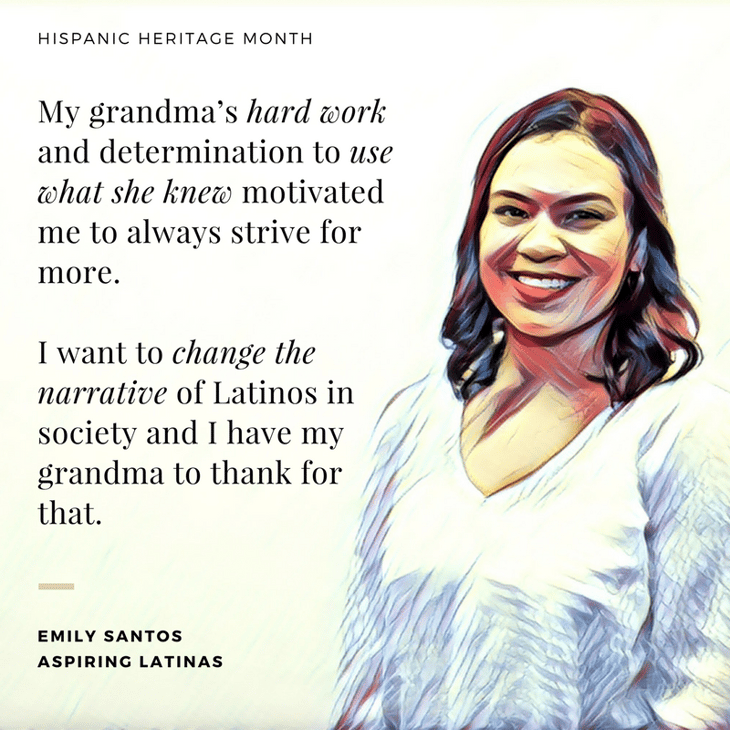 Emily Says...
Growing up I spent majority of my time with my grandma. My best childhood memories where at her house because it was always filled with our closest family and friends. One thing that always brought us together was my grandma's cooking. Every year for the holidays she would spend hours in the kitchen making pasteles and making to-go food plates and selling them to the people who lived in her building. It was at this moment where I saw true work ethic and hustle.
I was my grandma's helper, so my job was to wrap up the white foam to- go boxes in a plastic bag and hand the food out to customers. I would get excited seeing people line up at her door because I knew it meant that her out-of-home business was doing well. At the end of the day, I would count the jar of money with her to see what was made. Looking back on it now, it was the first encounter with entrepreneurship I'v ever had and I didn't even know it at the time.
My grandma's hard work and determination to use what she knew motivated me to always strive for more. Starting my magazine, Aspiring Latinas is a reflection of what I saw in my grandma growing up. I want to highlight young Latinas and their journey. I want to change the narrative of Latinos in society and I have my grandma to thank for that.
Want to hear more voices at 1871? Check out Community to meet more of our amazing members, partners, and supporters.