Every entrepreneur has a story of what inspired them to build their dream, and for some, the passion is in their blood. For Hispanic Heritage Month, we're featuring the stories of our Latinx startup community and the family members who inspired them to start their entrepreneurial journey. Today, Marco Alcala, Co-Founder of Pyroweb, shares his story.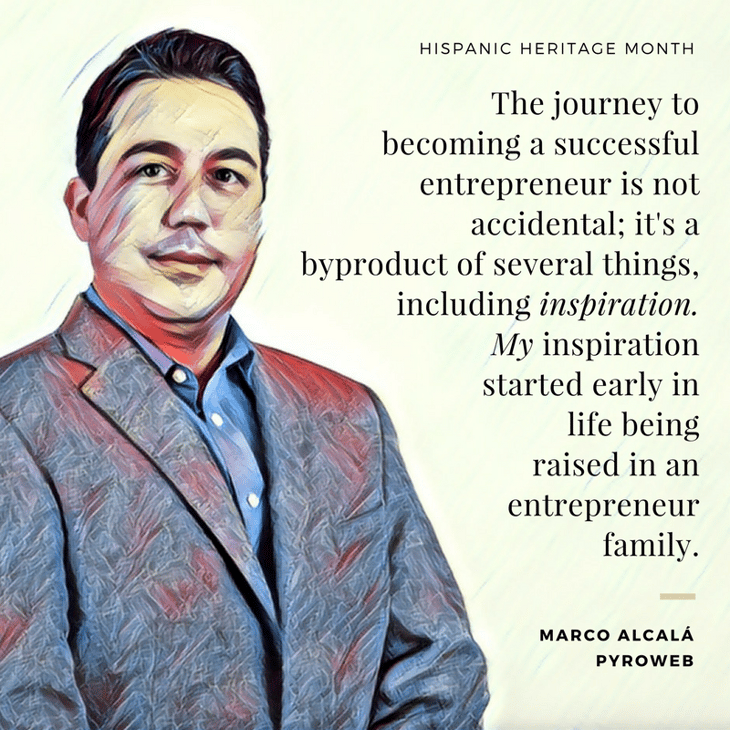 Marco Says...
The journey to becoming a successful entrepreneur is not accidental, it is a byproduct of several things —including inspiration. My inspiration started early in my life being raised in an entrepreneur family. My parents owned a fire safety company which I was a very active part of during my high school and college years. I saw how hard my parents worked to grow a business that started out of our home into a 19,000 square foot facility. Our company was one of the largest providers of fire safety in Chicago serving over 9,000 customers. In my mid-thirties, my parents gave me an opportunity to be CEO and manage day-to-day operations. This experience as a CEO is what gave me the perseverance to be a successful entrepreneur now.
In 2015, I co-founded the company Pyroweb, which helps businesses meet fire code requirements using a web based platform: www.fire-extinguisher.net. The company launched its platform in Chicago last year and currently has presence in nine other major cities. Pyroweb is on target with its business plan and will expand to the entire country within the next year.
To learn more about Pyroweb, you can reach out to Marco here.
Want to hear more voices from 1871? Check out our Community section.