Every entrepreneur has a story of what inspired them to build their dream, and for some, the passion is in their bloodlines. For Hispanic Heritage Month, we're featuring the stories of our Latinx startup community and the family members who inspired them to start their entrepreneurial journey. Today, Dan Trinidad, Founder of DealerFox, talks about his mom's unwavering support.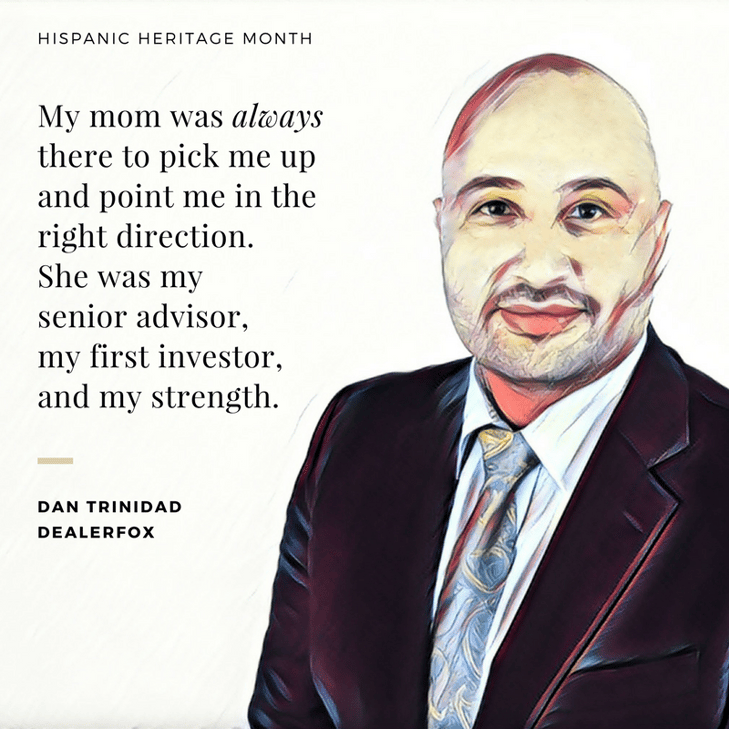 Dan Says...
I can give a few answers to this question, but ultimately I am a born entrepreneur with a creative soul. While others in my family would tell me that my dreams weren't realistic, my mother always encouraged me. Mom always listened to my thoughts, stories and dreams no matter how far-fetched they seemed to be.
There have been several times throughout my journey that I wanted to throw in the towel, quit, cry and do the worse thing imaginable...get a job!
In my younger years, my mom was ALWAYS there to pick me up and point me in the right direction. She was my senior advisor, my first investor, and my strength. I can't believe it took me twenty plus years to write a blog to discover the enormous impact that a selfless, strong woman had on my life. I LOVE YOU MOM, and thank you!
My brother Hank and my life partner and business partner Angela have carried me through the past decade. They have both invested their time, money, sweat and tears and have given me their blind trust. I could never thank them enough.
My 19-year-old son Dan Jr. is a constant reminder of where it all started and listening to him share his dreams with me is all the inspiration I need.
They're all my inspiration to work, to dream, and to succeed.
Te Amo Siempre! -Dan
Want to hear more voices at 1871? Check out Community to meet more of our amazing members, partners, and supporters.